Eminem has made it clear various times throughout his career that Tupac Shakur was a big influence to him—not only as an artist but as a man. Recently, one Reddit user dug up an old letter that Eminem wrote to Tupac's mother, Afeni Shakur and posted it for all to see.
In the letter, Eminem sends Tupac's mother a personal thank you for being such a kind woman and giving him multiple opportunities. He also goes on to explain the impact her son had on his career as well as his entire life, and shares a photo of Tupac that he drew for her.
Although there's no exact date on the letter, it seems safe to assume that it was sometime after 2004—the year when Eminem and Afeni both executive produced Tupac's posthumous album Loyal to the Game—considering the personal tone of the line, "Thank you for always being so kind to me."
Complex confirmed with Shady Records that the letter is in fact real. The letter was featured in the 2007 book Tupac Remembered as well as in the Tupac Amaru Shakur Center for the Arts in Stone Mountain, Georgia.
View the full letter below.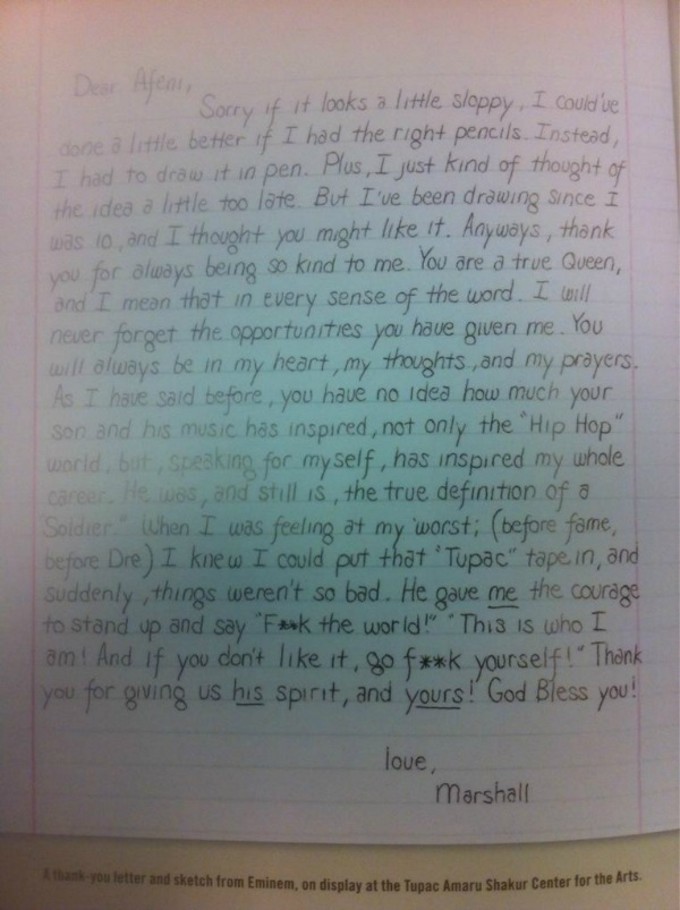 ---