ComplexCon returns to Long Beach Nov. 6 - 7 with hosts J. Balvin and Kristen Noel Crawley, performances by A$AP Rocky and Turnstile, and more shopping and drops.
Secure your spot while tickets last!
In the past 24 hours, Twitter has seen a lot of action. First, Nicki Minaj pointed out how the VMAs had snubbed her, with Taylor Swift inexplicably jumping in, and now Meek Mill has straight-up said that Drake "don't write his own raps." What sparked this one-sided and somewhat forced feud you ask? We don't exactly have a clear reason yet, maybe Meek just found out that ghost-writers exist, but it could also be down to how Drake hasn't used his Twitter to promote Meek's recently released album, Dreams Worth More Than Money. 
In the tweets, which occurred shortly after Nicki took to Twitter, Meek asked people to stop comparing him to Drake: "That's why he ain't tweet my album because we found out!" He went on to say that "the whole game know forreal they scared to tell the truth!" Whether this is true or not, Drake still has more hits than Meek, so who really knows what point he's trying to make. He went on to praise Kendrick Lamar and J Cole, saying that "they in different lanes," before adding that Drake "is all the way outta of it lol."
It's weird to think that even in 2015, people are still mindblown that people collaborate with other writers to make songs. This whole notion of who or what is "real" is just a little dated, especially when it's made clear by liner notes just how many people work on the biggest rap releases going. One of the rappers Meek went on to praise, J Cole, has a writing credit on Drake's "Legend", so does that affect his integrity for writing lyrics for others? Drake has yet to comment, so who know what will happen of this, if anything.
Check out the tweets in the slideshow above.
---
UPDATE: Norm Kelly, a city councillor for Toronto, has weighed in below.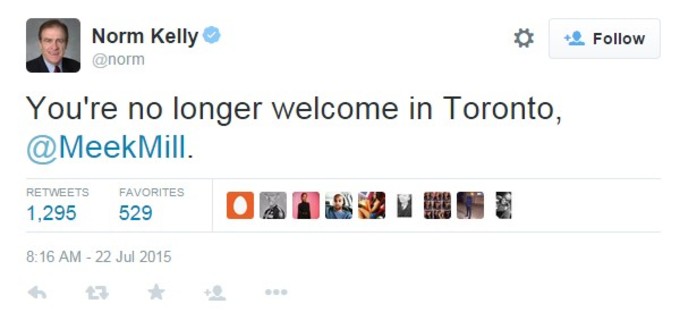 ---
UPDATE 2: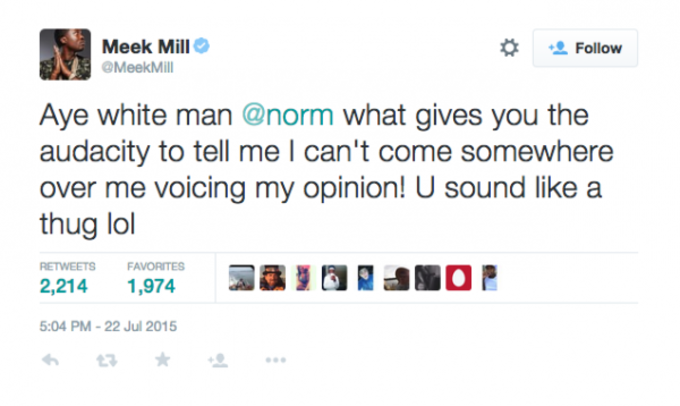 ---
UPDATE 3:
Seemingly at the request of Nicki Minaj, Meek Mill had a change of heart and quasi-apologized for his recent barrage of tweets. TMZ obtained a clip of the couple's performance in Virginia last night, during which Mill shouted out his friend-turned-nemesis and said Drake not writing his "R.I.C.O" feature disappointed him as a fan.
Given the divide still present between the Toronto rapper and Kendrick Lamar following the latter's 2013 "Control" verse, don't expect this bond to mend anytime soon. Watch the video below.