JID Has Mastered the Art of Patience
Complex spoke to JID ahead of the release of his highly-anticipated third studio album, 'The Forever Story.'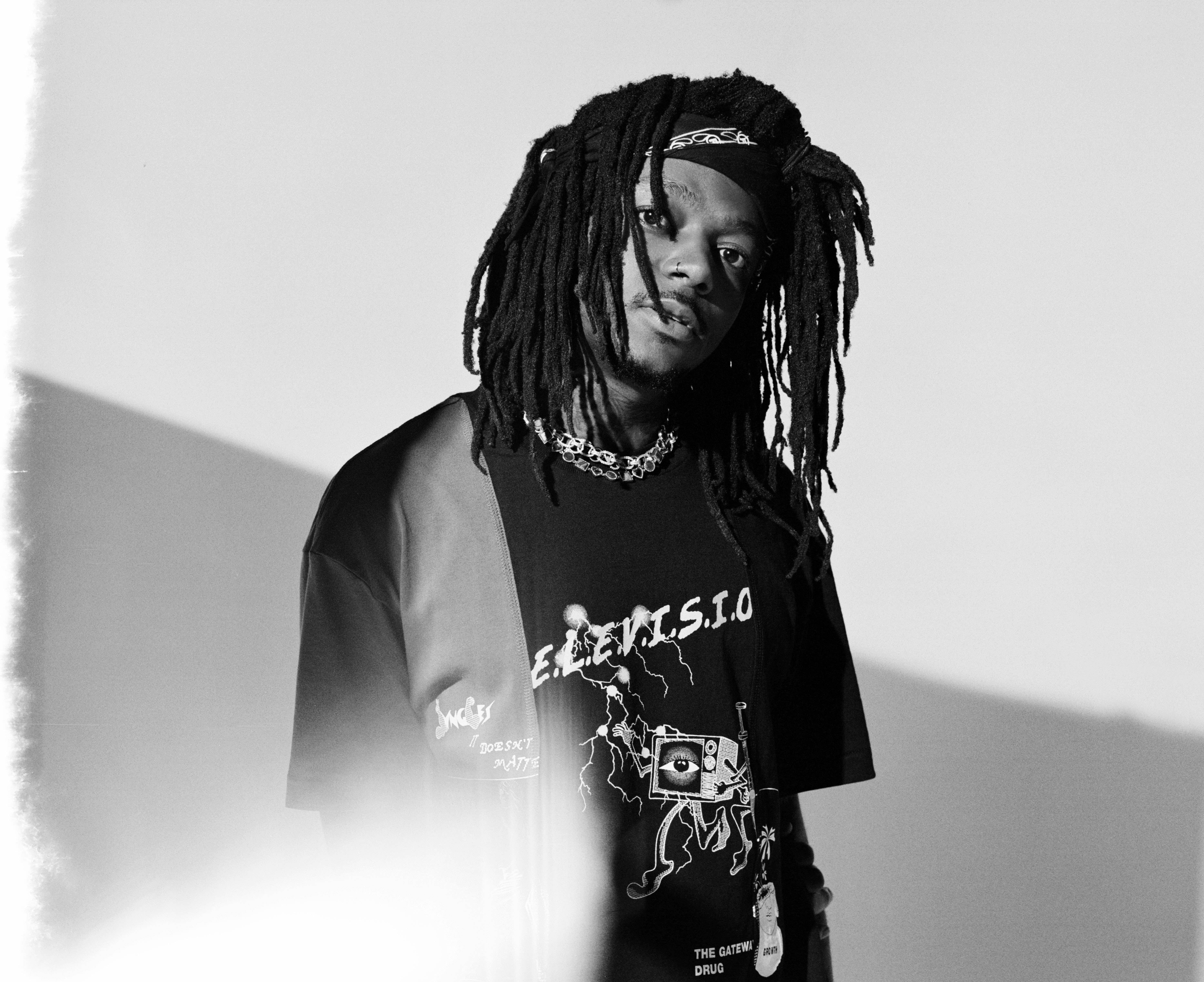 Complex Original
Image via Complex Original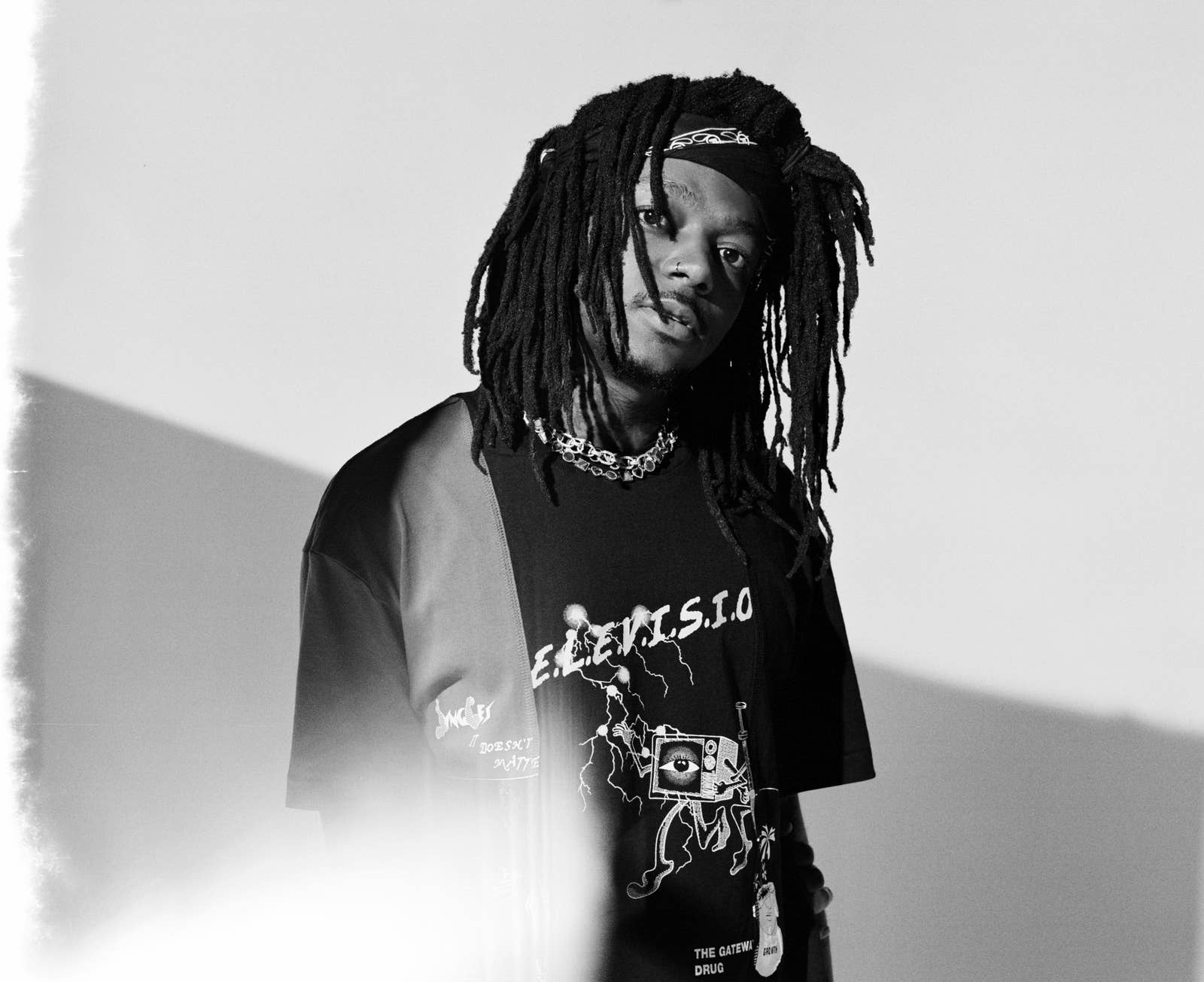 Time is an invaluable resource. No one likes losing it, and JID is no exception.
It's a cloudy Tuesday afternoon when Dreamville's bright star and his team meet me for sushi at the Sixty hotel to discuss his heavily anticipated third studio album, The Forever Story. 
Atop the winding onyx black steps to the second floor lobby of the secluded seafood restaurant, the calm rapper sat nestled into a plush lobby lounge chair—40 minutes early. This was the first time an artist has ever beat me to a meeting spot, but JID doesn't like to waste time. 
"I'm good to go, trust me," he tells his team after they ask if he wants to decompress in his hotel room for a bit since our lunch reservations aren't for another half hour, and his photo shoot in the Complex office a few hours after that. "I hate just sitting in the room," he says, reassuring the gang." That's not me." 
"Compared to the sh*t I used to have to do for money, this sh*t is easy."
JID wasn't wearing his cast when we met, but shares that he's still nursing the right wrist that he broke in a very JID-fashion while delivering an energized performance of "Stick" at Governors Ball a few months back. Having to learn how to eat and write with his off-hand hasn't slowed him down at all, though, because taking breaks has never been JID's style.
The Atlanta rapper hit the ground running after getting signed by J. Cole and Dreamville in 2016, immediately releasing his debut studio album, The Never Story the following year. It acted as a solid introduction to JID's now signature slippery flows and colorful storytelling style for a larger audience using his newfound platform. He quickly gained a cult-like following of hardcore hip-hop heads who appreciated the ways he's able to demonstrate the lyrical ability of a golden era veteran while still delivering rave-ready hooks and songs that reflect the unrelenting curiosity of a newer generation of rap lovers who enjoy discovering music through the digital crates of DatPiff and Soundcloud.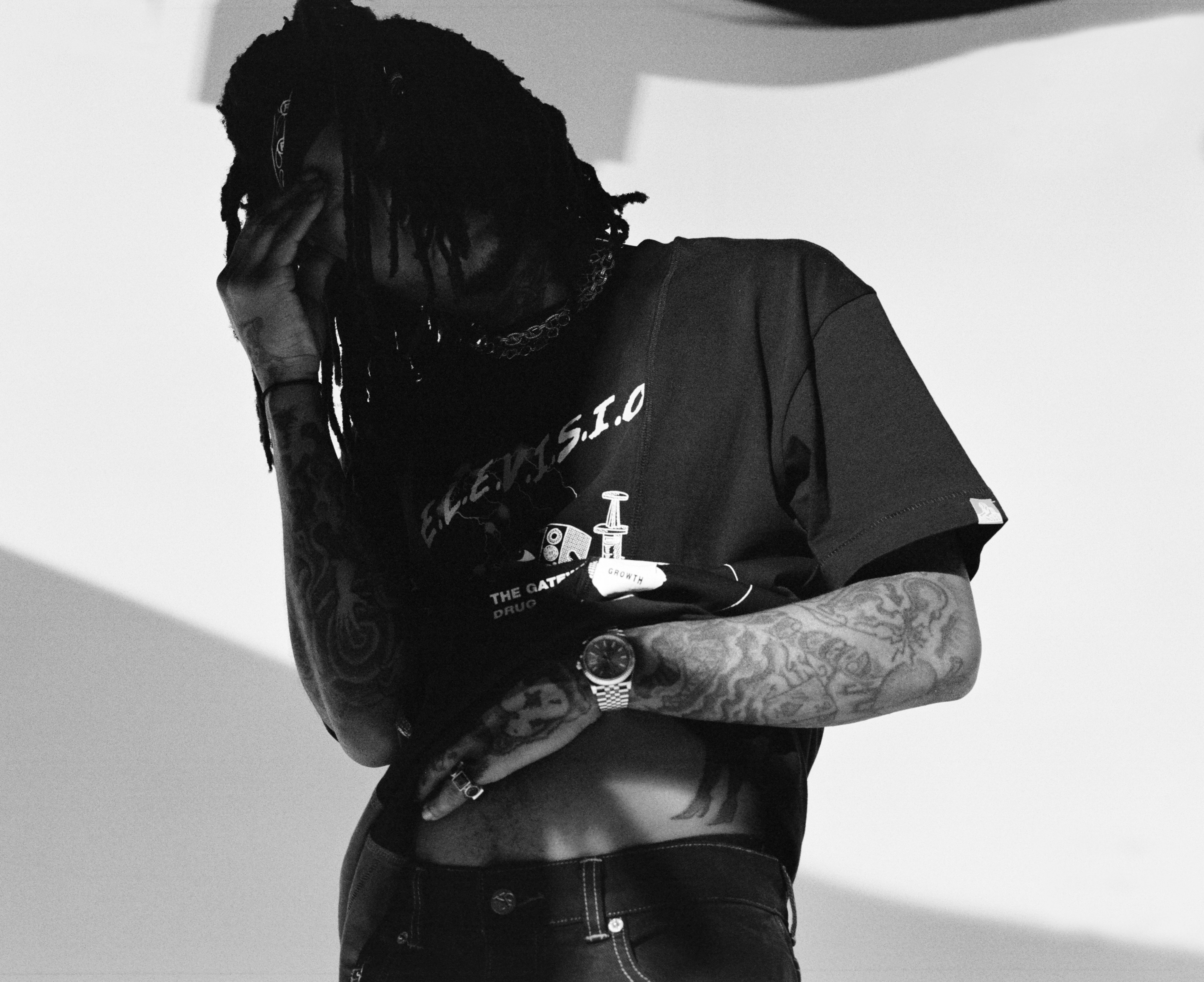 JID's love of film bleeds into how he organizes his projects. After dropping The Never Story, he circled back to his 2015 EP, DiCaprio, and released its follow-up, DiCaprio 2,in 2018. 
"I love movies," he tells me in between sushi roll bites. "If it's a good movie, you don't want it to just be a standalone film all the time." That is the zeitgeist of The Forever Story—technically a prequel to his debut album, his latest release delivers a proper origin story for the rapper: filled with rich familial stories, more background on his upbringing in Atlanta, and how all of the hurdles he's conquered have played a pivotal role in his growth. 
The Forever Story isn't even out when we meet but—because he's always looking ahead at the next installment to his running sagas—JID is already thinking about what's next. He tells us that the third project in his DiCaprio trilogy is going to be a Gangsta Grillz tape.
"Me and [DJ] Drama are really gonna do it right," he says, referring to Drama's now-iconic Gangsta Grillz mixtape series that the DJ has done with Lil Wayne, Tyler, the Creator, and most recently, the entire Dreamville collective. "I'm talkin' about on other niggas beats. We're going to do a DiCaprio 3."
The Forever Story arrives nearly four years after JID dropped DiCaprio 2 in late 2018, but it's not like he's been on vacation in the interim. As much as the rapper hates slowing down, he also knows when to take his time.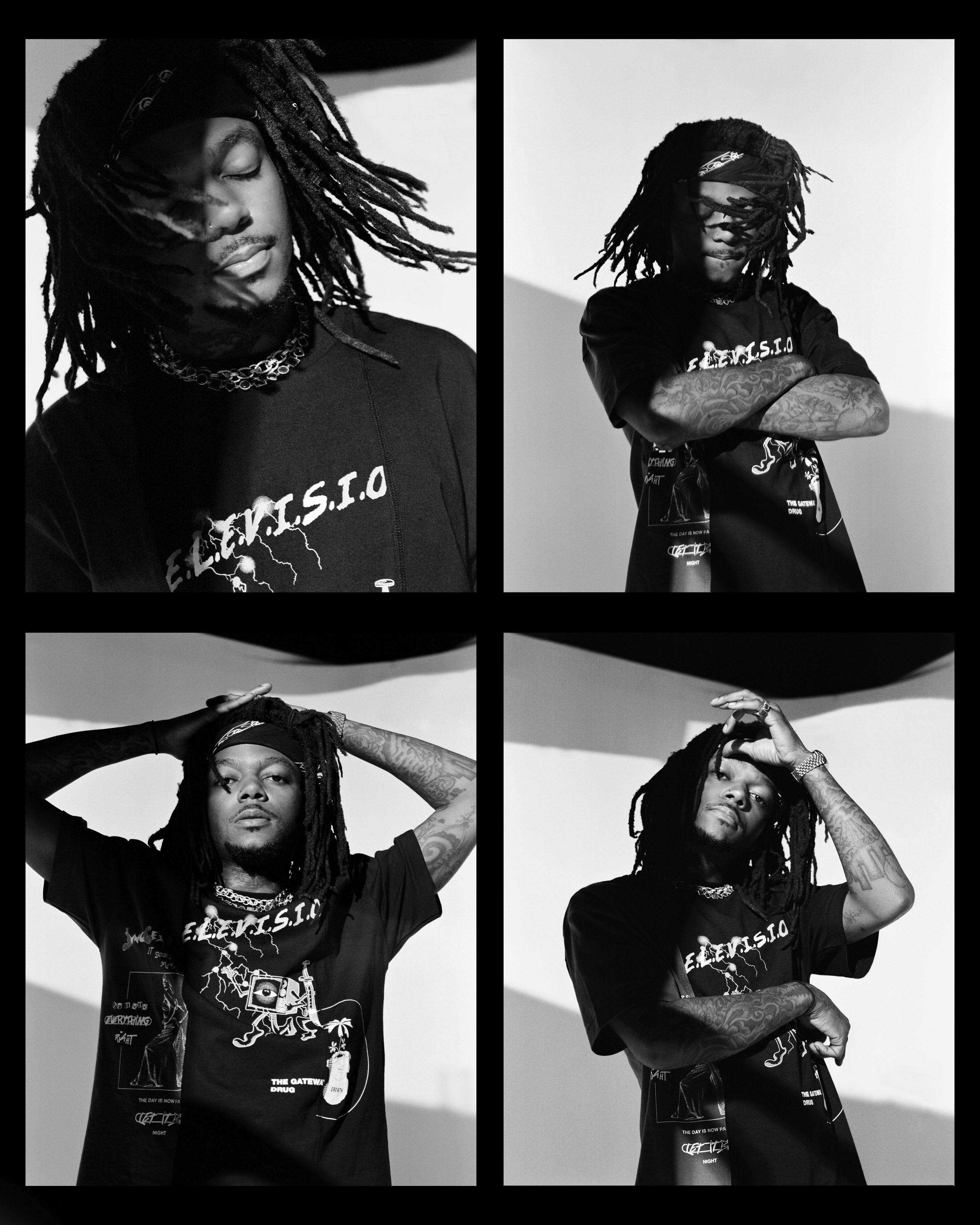 "[I've been working on this album] for two years," JID explains. The 31-year-old recorded nearly all of it by himself in his Atlanta home because he works better in an empty studio. "DiCaprio 2 dropped in November [2018], then in January we go and record Revenge of the Dreamers 3. February, I go straight on tour and I was touring up until January 2020. Then the world shut down," JID says. "I rented a house in Atlanta to work on my album, but then the world shut down so I said, 'Fuck it, let's just do Spilligion [album from Atlanta collective Spillage Village] here.' So I literally started [The Forever Story]in 2020 because in 2019 I was running," he recalls. 
But why stop there? Even through a blockbuster summer album, touring, and a global pandemic, JID adds that there's more to look forward to as The Forever Story wasn't the only solo album he was working on over these last few years since DiCaprio 2.
Family lies at the crux of The Forever Story. Listeners are introduced to the album with a track that is reminiscent of the beginning of The Never Story in that it shares the same melodic, whimsical sonic palette that sweeps you into the album. As if it was soundtracking the opening of a folktale, the narrator flicks through pages to find where to begin the story. From there, JID takes a trip down memory lane as we ride passenger in his discontinued Pontiac G6, learning about the pivotal moments that have shaped him into the man and rapper he is today. 
"This is a good piece of the origin story."
It's common knowledge amongst JID fans that he's the youngest of 7 siblings, but The Forever Story finds the Atlanta rapper at his most transparent, outlining the different relationships he has with his brothers and sisters, and how those bonds have evolved since he's become famous. Some songs teleport you into an East Atlanta club where a 17-year-old JID fights alongside all of his siblings to defend one of his sisters, while others find the rapper analyzing the duality of enjoying the luxuries of fame and success but not forgetting those childhood bologna sandwiches that helped build character. 
"[My family] is basically a part of how I became who I am," JID says when talking about why he wanted to include personal family stories in the album. "It gives inklings of why my [mindset] is a certain type of way. I gave more detail and in-depth stories [on this album], but there's still more layers to be peeled back, which I am going to do because this is going to be a long process of trying to understand me. This is just a good piece of the origin story, and this is me finding that space to be more visible and present with words."
These cathartic reflections become even more pronounced on the latter half of The Forever Story, which also finds JID flexing a more refined vocal pocket he says he's been working on for a while now. 
"I had to get a singing coach," JID reveals when we talk about the melodies he's perfected on another standout song. "Really being able to sing is fire, a lot of niggas can't do that, so I'm trying to rap at the highest level and sing at the highest level." JID's enhanced singing ability on The Forever Story makes it's personal subject matter hit even closer to home. The perils of fame and success are often measured by how it affects friends and associates, but rarely how it complicates family situations. JID raps about the strong bond he has with his brothers on one song, but juxtaposes that with the following track, which discusses the faulty relationship he has yet to successfully mend with one of his sisters. "My family situation is a weird thing and even the stuff I'm talking about on here is kind of touchy, so not a lot of them have heard it," JID says. "Maybe like two, but it's for them to listen to. I'm not going to make them."
All of the themes and introspective storytelling in The Forever Story is summarized in the narratively-driven track "2007," which was originally meant to be the outro for the album before he decided to share it with his fans just a week before its release. JID uses the release dates of different influential albums in his life—including J. Cole's The Come Up, The Warm Up, and Cole World: The Sideline Story, Kendrick Lamar's Section .80, and his own The Never Story—as checkpoints that chart his path from football phenom to rap star. Family is deeper than blood, and not only does JID get Dreamville's head honcho J. Cole to deliver an inspirational story about how they met on the song plus a rare 8 bars from the label's co-founder Ibrahim Hamad, but his father is also featured on the track. 
"You can understand where I got it from," he says when talking about getting his dad's narration. "He's a creative nigga, he be writing poetry and shit. We're really like exactly the same, so that's probably why we bump heads," JID explains with a smirk. "It was nothing to explain to him to do that, he knew exactly what to do. He did that in a couple of takes. He's a natural with anything, honestly." The insertion of his pops isn't the only seamless inclusion on The Forever Story, either; the album comes laced with impressive features that highlight how well respected JID is in the rap world.
"I'm trying to rap at the highest level and sing at the highest level."
JID's father's inclusion on the song marks a full-circle moment for the rapper and reflects how his hard work and dedication has resulted in his family finally being able to see the vision he had in 2007. The song also closes with JID subtly revealing that he almost signed with Coach K and Quality Control before Cole and Dreamville snagged him. 
"I was about to be the fourth Migo," he says with a laugh. "Coach K and Coach P are geniuses, I love powerful Black executives pushing the narrative forward."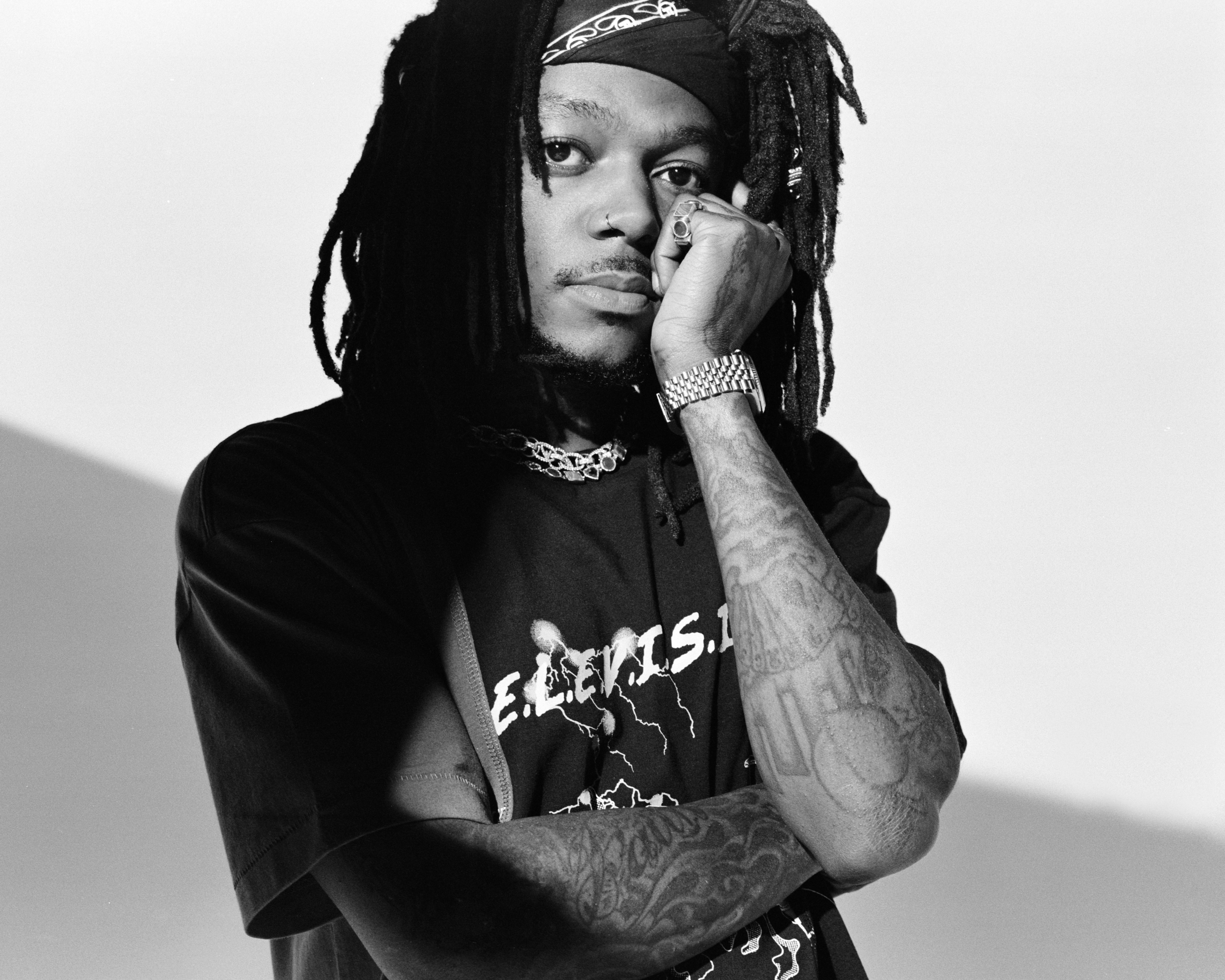 At this point in the afternoon, the sushi has been devoured, the check collected, and because we started so early, we still have about an hour until JID is scheduled to head over to the Complex office for his photo shoot. Still adamant about not needing a break, we talk for a bit longer before he excuses himself from the table to get dressed for the shoot. "I'll be on time" he assures me.
Without missing a beat, JID and his team get to the office at the exact ETA they agreed upon, and we transition seamlessly into the green room while we wait for the shoot to begin. In this brief moment of idle time, JID explains how even the monotony of the album rollout media circuit doesn't bother him: "Compared to the shit I used to have to do for money, this shit is easy," he says with a laugh as he jokes about how other rappers complain about the simplest things. "Unless you're getting off a long flight or something, I don't get how someone could 'need a break' from just sitting down and talking to people." Throughout the entire afternoon that I spent with JID and his team, it never seemed like he lost an ounce of energy. From being early for lunch to upbeat at his photo shoot, it felt like he was embracing every moment, similar to how every song on The Forever Story sounds grounded in a place of comfort and purpose. 
"I play forever, that's why I'm so patient."
Two days later, JID, a select bunch of industry folks and a collection of other Dreamville associates gathered in the dimly-lit LUME Studio near Tribeca for TheForever Story immersive listening experience and an unveiling of the album's cover art. After Dreamville's VP of Creative Services Felton Brown talked about the cover with photographer Naskademini, JID emerged onto the stage and played a select few songs from the project. All phones were placed in magnetically-locked bags to ensure none of the album's secrets were revealed before its official release on August 26. 
After he finished playing a handful of tracks, JID walked around the spacious room to thank everyone for coming out and ask if they enjoyed what they heard. I could overhear some of the people nearby telling him that they knew the album would be worth the wait.
"I play forever, that's why I'm so patient," JID said when I asked why the album is called The Forever Story? during our interview days before. "I didn't get signed as a young artist, I didn't even always want to be an artist. I used to just be a real hard fan of music. We didn't even expect to be here. So we're going to be around regardless." After three years of work—and a lot of patience—that message is arriving right on time.