Fivio Foreign Says the 'King of New York' Title Doesn't Matter. He's Aiming Higher.
Fivio Foreign wants to elevate Brooklyn drill with his debut album 'B.I.B.L.E.,' and he's eyeing something even bigger than the 'King of New York' throne.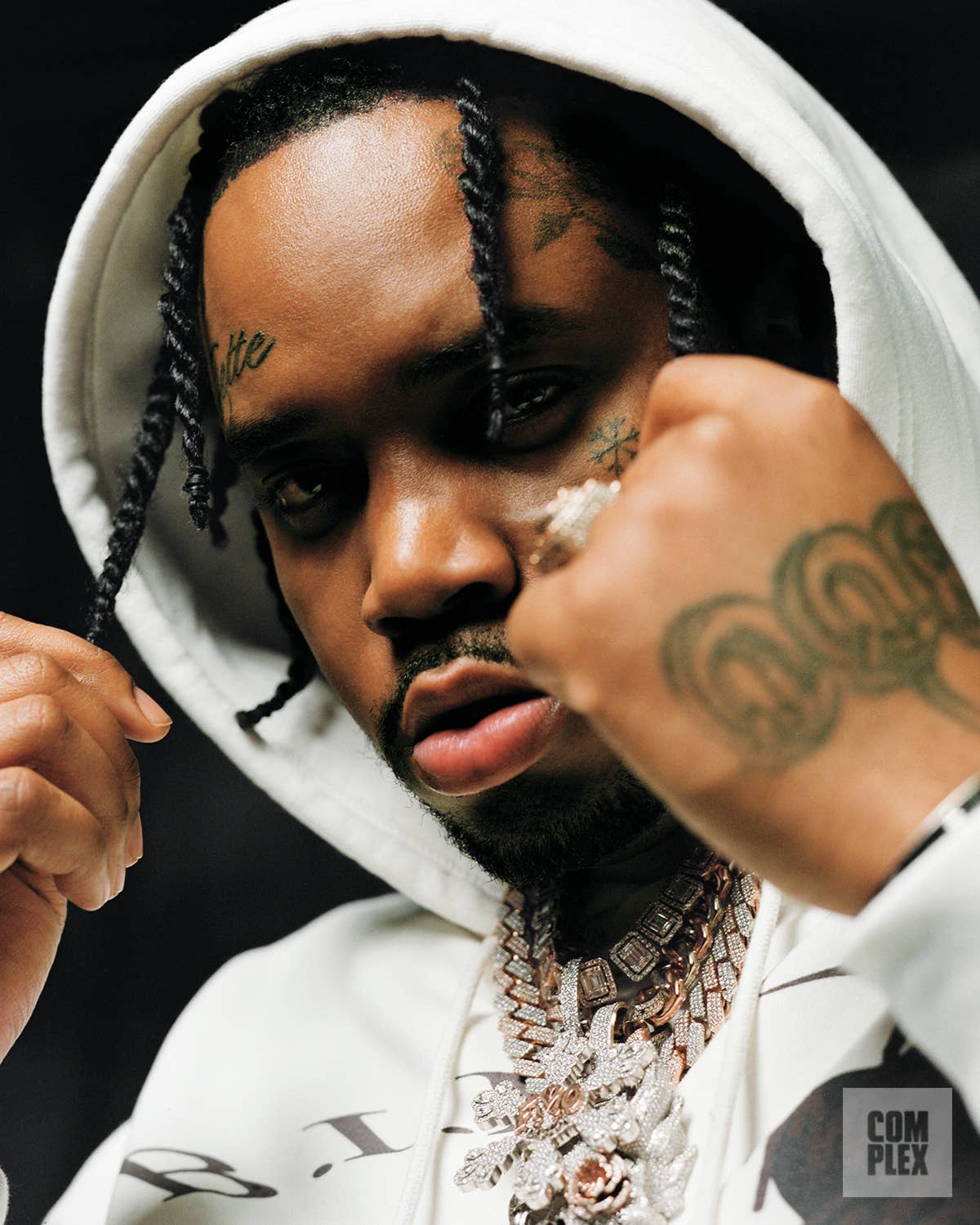 Complex Original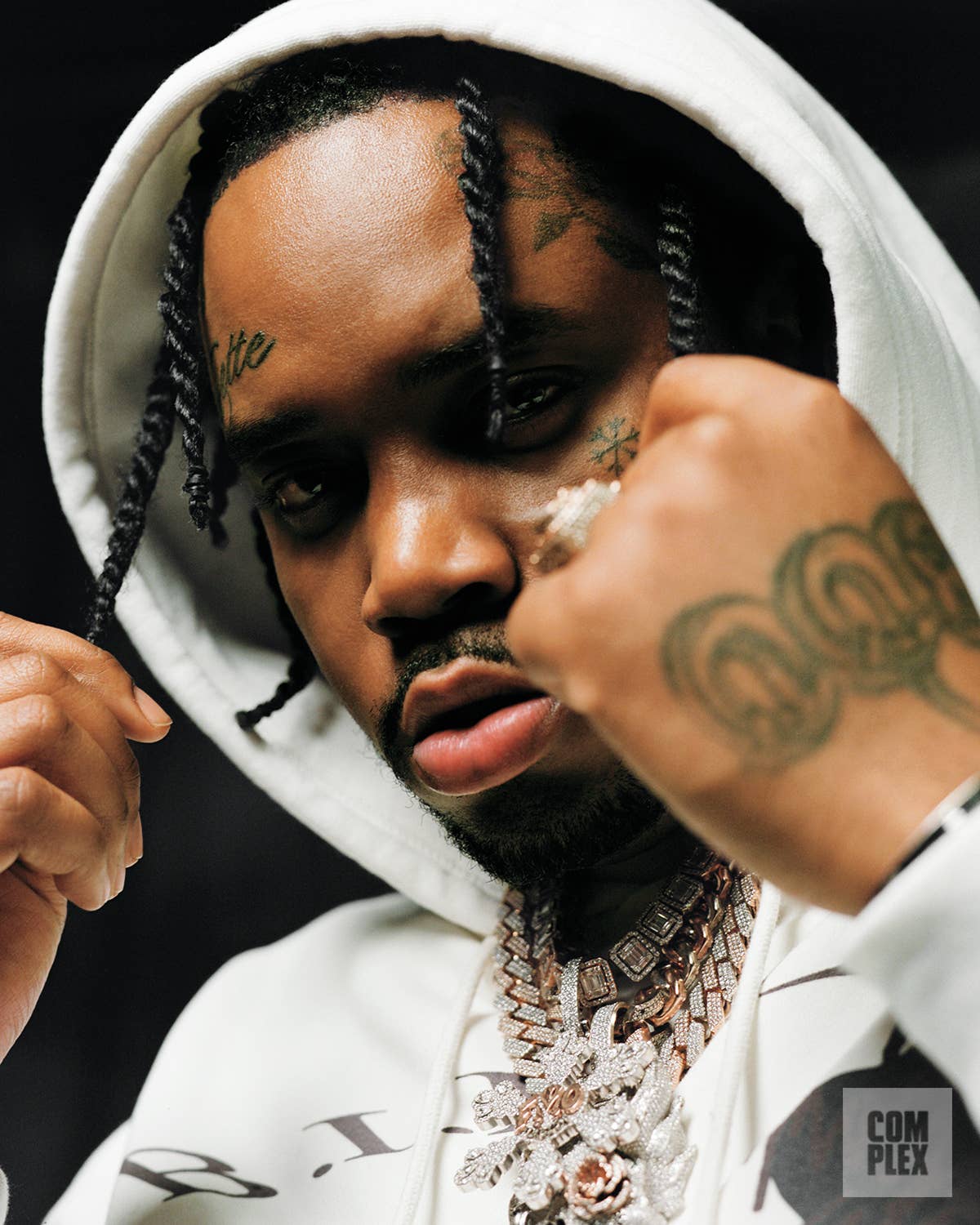 Fivio Foreign says the "King of New York" throne doesn't mean what it used to. The title has been the highest honor in New York City rap for decades, inspiring heated debates about artists like Jay-Z, Nas, Biggie, 50 Cent, and Pop Smoke, but the current heir to the throne doesn't seem to have much interest in the crown.
"I feel like it don't matter," Fivio declares, snacking on Cup Noodles ramen in Complex's Manhattan office on a cold afternoon in late March. "It totally don't matter. Some boy's going to claim that shit, but it don't matter." 
Instead, Fivio has his eye on a bigger target. "That's not the goal I'm trying to reach," he explains. "You're the King of New York? Well, I'm trying to be the King of the World."
A week after our conversation, Tekashi 6ix9ine reemerges on social media, announcing he's returning to claim the title. "The King of New York is coming back," he taunts. "I'm going back home." Fivio can't help but respond, tweeting, "5 Billboards in Times Square, Top 5 songs in NY on Apple at once, & articles in both Daily News & NY Times. Don't ever let that nigga say he the King Of this city."
Fivio has a point. At the moment, he's unquestionably one of the hottest artists in the city, and when he lags into Complex's Manhattan office, the effects of his fast-paced lifestyle are apparent. He's sporting a cream sweatsuit with the title of his debut album, B.I.B.L.E., emblazoned on the front, and although he makes a point of greeting everyone in the studio, he's noticeably a muted version of himself. The most he spoke during the photo shoot moments earlier was to mutter one of his signature "bow!" ad-libs. 
"I'm mad tired today," he explains. "I was outside buggin' yesterday. I really didn't sleep." 
Fivio stayed up all night for good reason: he was shooting a music video with Nicki Minaj for their new collaboration "We Go Up," and photos emerged of the duo partying with a large crew in Brooklyn. 
"You do a song with Nicki, and it's different from doing a song with anybody else," he reflects. "She doesn't really mix with a lot of people, so this is a blessing."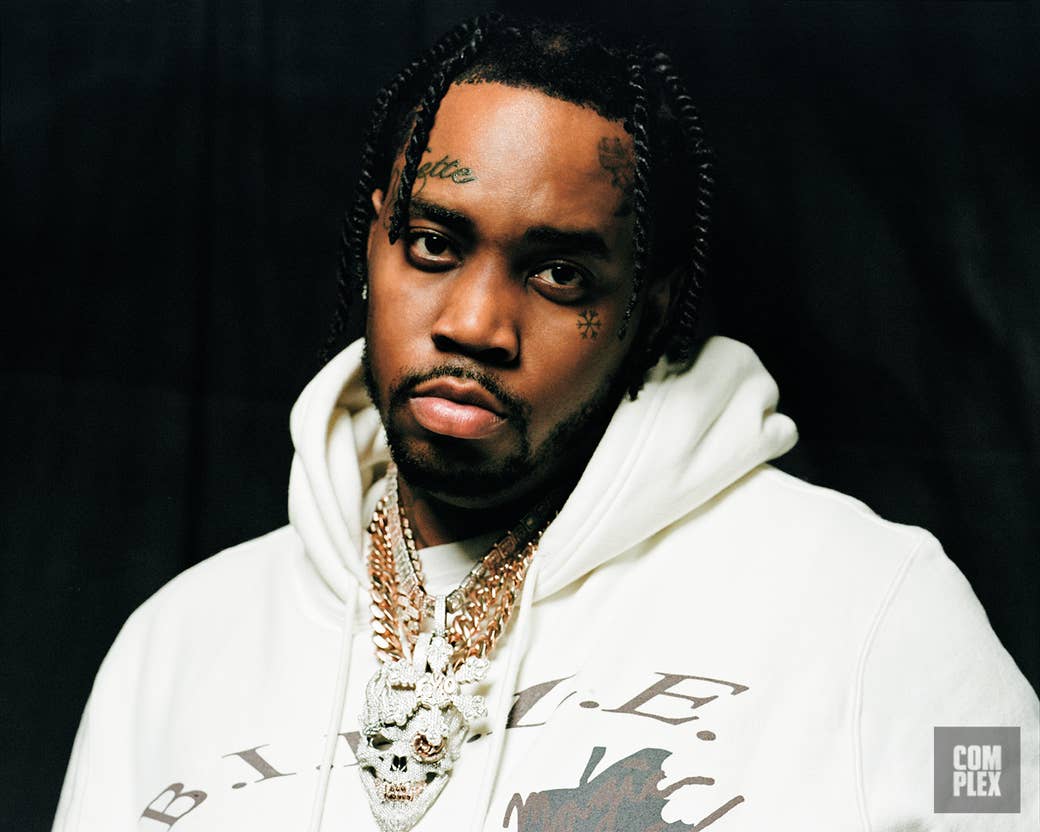 Fivio and Nicki had been in talks about collaborating since he reached out to her in January 2021. Pulling out his iPhone, he shows me messages between the two. "I hit her up a year ago, like, 'Yo, let's do some drill shit,'" he says. "She's like, 'You got something in mind?' So we've been going back and forth trying to get that perfect song, and I feel like we got it. She's a super genius."
Fivio didn't get home from the music video shoot until 8 a.m., and the day before that, he was out celebrating his 32nd birthday with close friends and family. Now, he tells me the celebration will continue later tonight with a dinner party. 
The sleepless nights will likely last a little longer, especially now that his debut studio album, B.I.B.L.E. is finally dropping. It's a milestone he's been working toward for the past three years. Back in June 2019, Fivio Foreign, born Maxie Lee Ryles III, was a new artist who had just dropped his breakout anthem, "Big Drip," which would become a quintessential song of the Brooklyn drill movement. He followed the single by signing a deal with Columbia Records and dropping two EPs, Pain and Love and 800 B.C.
"You're the King of New York? Well, I'm trying to be the King of the World."
Remembering those early days, Fivio says he was in a hurry to conquer the industry. "When I first came out, I thought I was ready to drop. Like, 'Give me an album now,'" he recalls. Now, though, he admits, "I definitely wasn't ready," explaining, "I was new to the game. I didn't really know a lot about the industry, about rollouts, about getting the buzz up and having hot moments. I was enjoying it, but the more I learned, the more I felt like it wasn't my time." 
Now, the Fivio Foreign who is sitting across a conference table from me, stirring his ramen, is a little more seasoned and "a little more ready," as he puts it. "I could be a little better, but I'll take it," he shrugs, diving into a conversation about his debut album.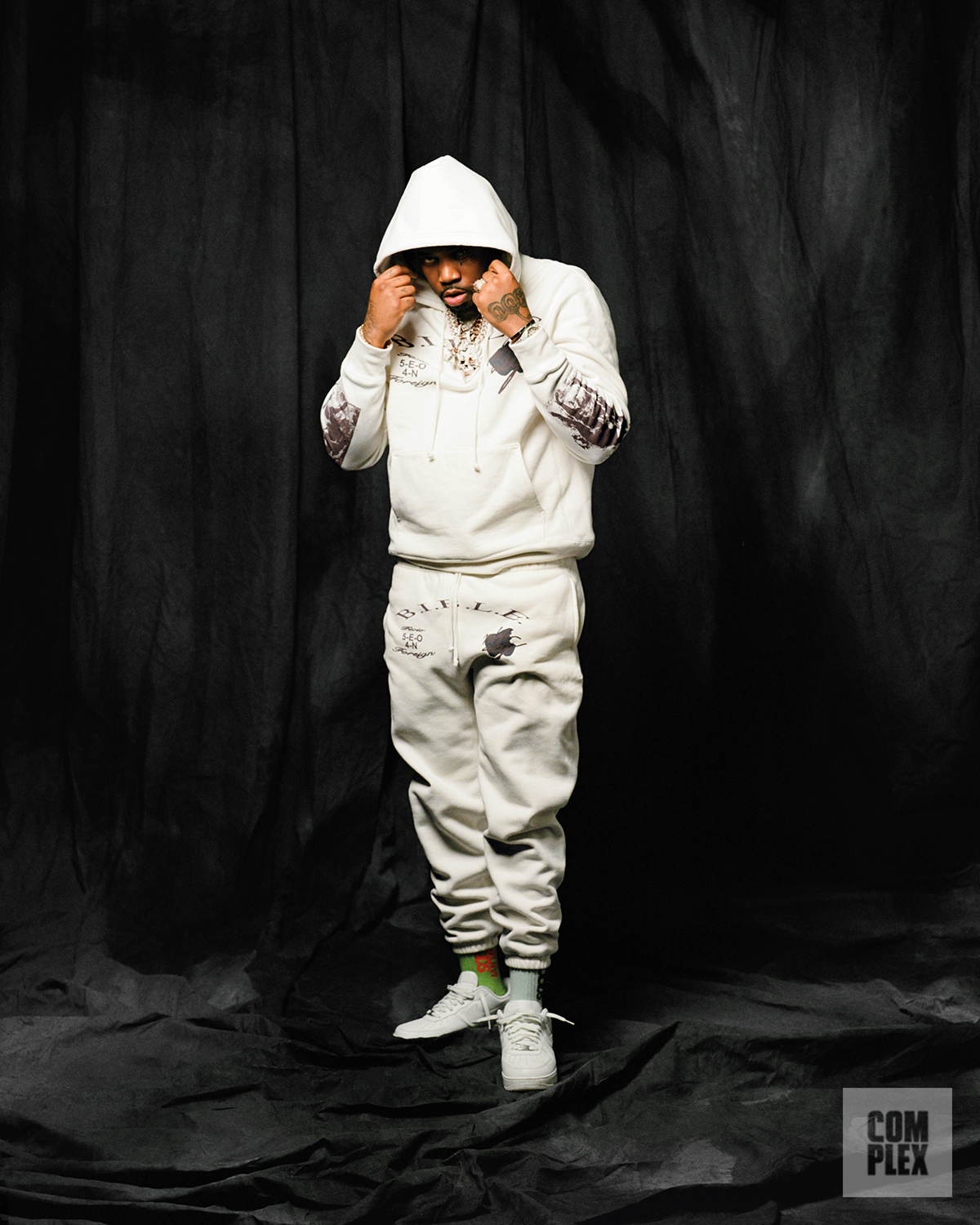 At first glance, the album's title (B.I.B.L.E.) hints at heavily religious themes. Fivio identifies as a Christian ("I'm not living like a perfect Christian, but I'm very religious and I pray a lot," he says) but he clarifies that the title is representative of a larger concept.  
"Naming the album B.I.B.L.E. was like a metaphor," he explains. "The Bible consists of a whole bunch of stories from people—huge stories—and things that happened. When you read it at some points in life, you can learn from it and deal with your life through the Bible. I feel like my [album] is kind of like that. It's a whole bunch of stories in my life. People can relate to it, and there's a lot of motivational shit to take from my life." 
The project includes songs that were recorded as early as two years ago, but to Fivio, the road to his debut has been much longer. "I feel like I've been working on this album my whole life," he says. "To get to this point being as nice as I am, being able to make the song, and being able to put together a project that I like… Yeah, I've been working on this shit all my life."
B.I.B.L.E. is a drill album at its core, Fivio confirms, but with the inclusion of mainstream features. Fivio says he wants to take the subgenre to the next level. "People put drill artists in a box," he says. "I want to show people, there's reggae drill, there's pop drill. There's all types of drill. As one of the front faces of drill, I feel like it's my responsibility to widen it. Let's make everybody able to do drill rap."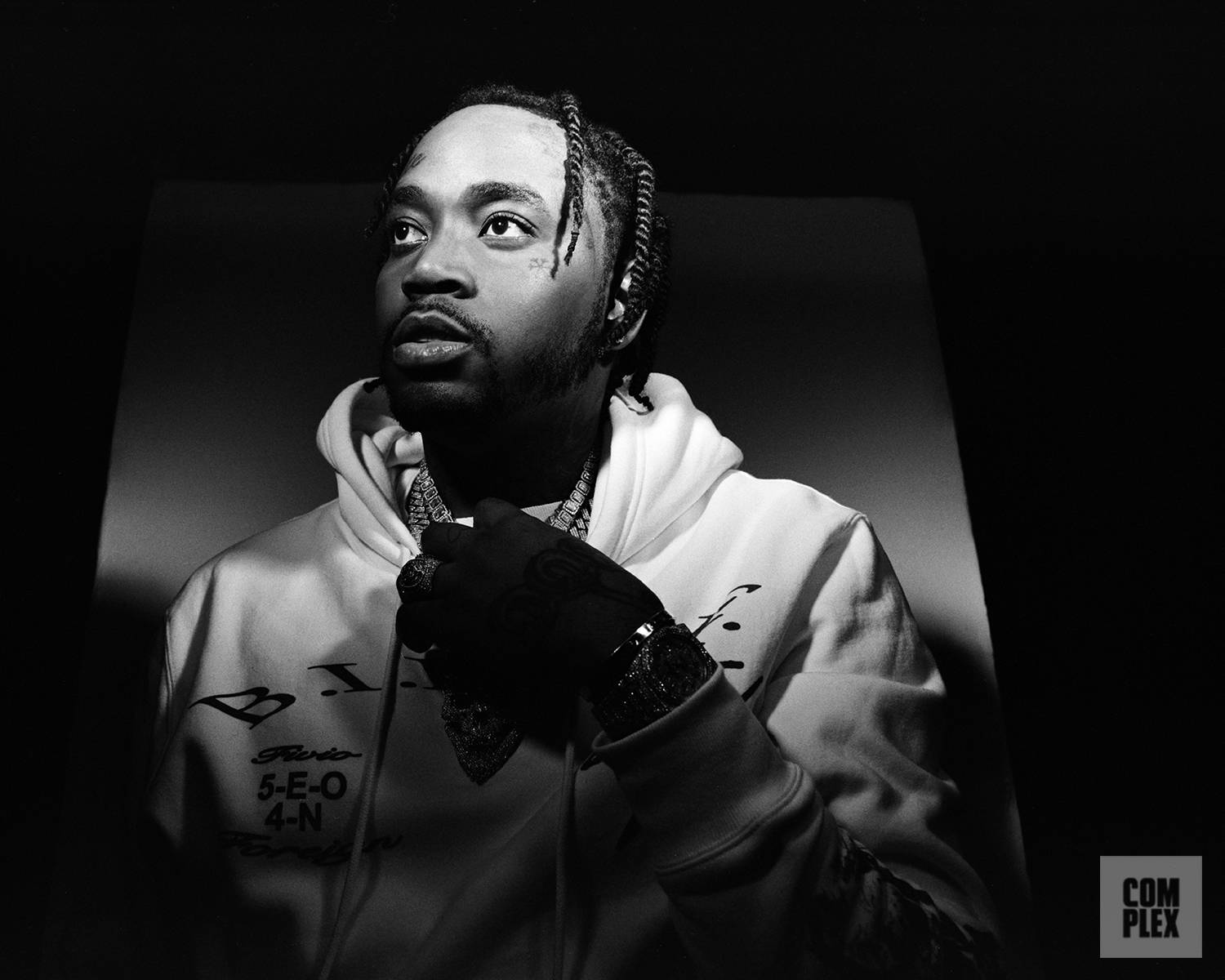 The album has 17 tracks, featuring appearances from major artists like Quavo, DJ Khaled, ASAP Rocky, and more. Out of the 16 features on the album, though, none of them are Brooklyn drill artists. Fivio says his collaborator choices weren't made out of malicious intent; he just had another vision in mind. 
"Right now, I'm elevated," he says. "For sure, I want to help people and put people on… But I wanted to have elevated, lit songs. I was thinking about going viral." Fivio moves his noodles around with a fork before clarifying, "I got a couple [drill] niggas on the deluxe." 
With Fivio's quest for virality in mind, it should come as no surprise that he called on Kanye West to serve as the album's executive producer. Fivio hasn't known Ye for very long, but he refers to him as a "big brother." The two first met around in the summer of 2021. Fivio had just returned from jail following a weapons charge and visited Funk Flex for a freestyle on Hot 97, in which he rapped, "Now I got a question for the reverend/ If you a killer, do you go to heaven?" 
"People put drill artists in a box. I want to show people, there's reggae drill, there's pop drill. There's all types of drill."
Kanye, who was in the process of recording his own album, Donda, reached out to Fivio after watching the freestyle. "He said that's the type of bars he needed for his shit," Fivio recalls of their initial conversation. "[Ye] called me up and we got busy. We go viral every time." 
The first song they made was "Off the Grid," which debuted during the first Donda listening event at Atlanta's Mercedes-Benz Stadium in July 2021. Kanye was living out of the stadium while he completed the album, and he flew Fivio to Atlanta shortly after their phone conversation to record the track. 
In the booth with Ye, Fivio tried out a new approach, spending more time on each bar than his usual off-the-dome style allows. "It's a crazy experience," Fivio remembers. "I go in the booth, right? I hear the beat, I freestyle a couple of lines, probably like three or four bars. Step back, listen to it. Hear the beat again, then we go back in and put another three or four bars. I'm not spitting the whole thing. I'm changing things, figuring it out in my head. I never wrote it down."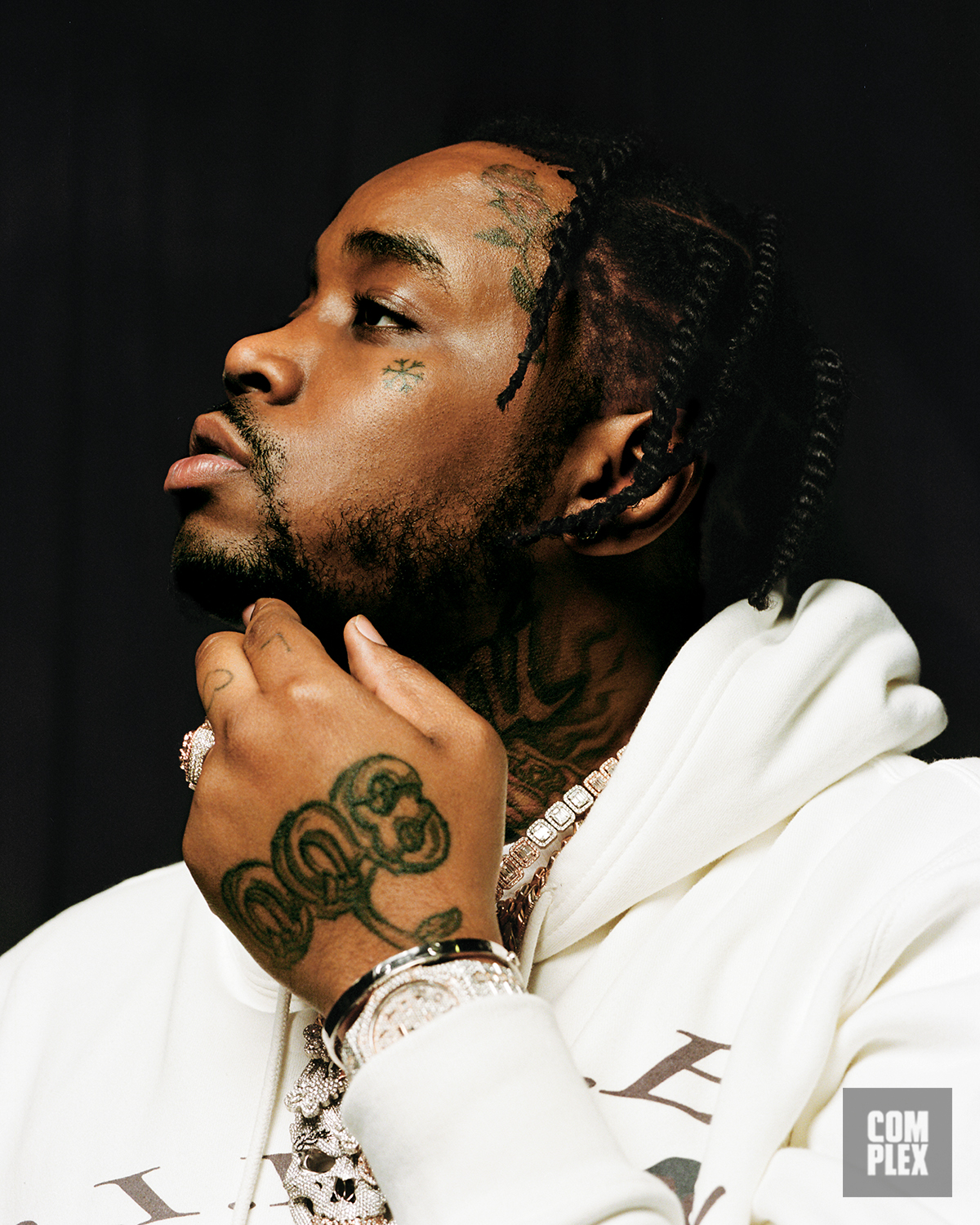 Kanye gave Fivio a few pointers throughout the process, but Fivio was allowed ample space to do his own thing. "[Ye] basically just let me work," he says. "He likes when I keep rapping. He wants me to rap for a long time."
Fivio's verse received rave reviews, and for many listeners who hadn't been tapped into the Brooklyn drill scene, it was an eye-opening moment, revealing Fivio to be a skillful rapper with more range than anyone realized. Though some of his day-one supporters griped at the new revelation, Fivio says he isn't trippin' about the newfound support. "When I was doing songs like 'Big Drip,' they were mostly ad-libbed and shit. That's mainly what people wanted at that time," he says. "I know what they want from me now, so I just gave them what they wanted. I just be testing shit out. I'll test some raps out, give them some good bars. If they like it, I'll keep giving it to them."
Kanye's approach to executive producing Fivio's album was similar to the leadership style he displayed during the making of "Off the Grid." Fivio says Kanye joined on after most of the album was recorded, only adding to the finishing touches. "It was already a masterpiece, but what [Ye] would do is, he would call in a feature if I needed it. He would structure the beat a little bit different," Fivio explains. "He perfected it. He's a painter. So, he makes everything more beautiful and made it even more of a masterpiece." 
Kanye contributed vocals to the album's single "City of Gods," alongside Alicia Keys. The track, which officially dropped on Feb. 11, is an ode to Fivio and Keys' hometown of New York City, and it feels like a more menacing cousin of Jay-Z and Keys' 2009 anthem "Empire State of Mind." Two weeks after its release, Fivio, Kanye and Keys performed the track for the first time at the Donda 2 listening experience in Miami, going viral once more.
"It was crazy," Fivio remembers. "There were like 30,000 people. It was like the biggest show I ever did." 
"Ye would call in a feature if I needed it. He would structure the beat a little bit different. He perfected it. He's a painter. He made it even more of a masterpiece."
The arrival of B.I.B.L.E. comes at an interesting point in the evolution of Brooklyn drill. The subgenre was kickstarted around 2016, but really skyrocketed to national attention in 2019, thanks to the success of Pop Smoke records like "Welcome to the Party" and "Dior" as well as Fivio's "Big Drip." The movement was putting New York rap back on the map in a major way, but Pop Smoke's tragic death in February 2020 left a hole in the scene. In Pop's absence, other artists have kept the sound alive, thanks in large part to the efforts of Fivio, but the fate of Brooklyn drill is still uncertain in some eyes. 
When asked about the current state of Brooklyn drill, though, Fivio sounds very confident. "It's big," he says. "No other genre is growing faster than drill. I feel like so many artists want to be a part of the drill scene. I appreciate all of the artists that are reaching out to it." 
Despite its upward movement, the subgenre faces hurdles, with its biggest critics accusing artists of having connections to gang activity and promoting gun violence. The NYPD has notoriously kept close tabs on Brooklyn drill artists, going to long lengths to limit their festival appearances and keep them from playing live shows inside city limits. 
Fivio chooses his words wisely when discussing his current interactions with the NYPD. "I guess—no, I mean, not really," he replies when I ask if he's experienced any pushback from the department during his album rollout. 
"In the beginning, we had to learn," he elaborates. "We had to grow. In the beginning, I was going up to the club. Then this guy sat me down and told me, 'Yo, listen, chill out.' If you play by the rules, you'll be alright. If you're going to be a leader, you've got to learn how to lead. You can't be a leader and then police don't fuck with you. I see them, and I try not to get in no trouble. They try not to give me no trouble. We stay out of each other's way, because when I'm coming, I ain't starting no trouble. I'm here to make money, put a roof over me and others."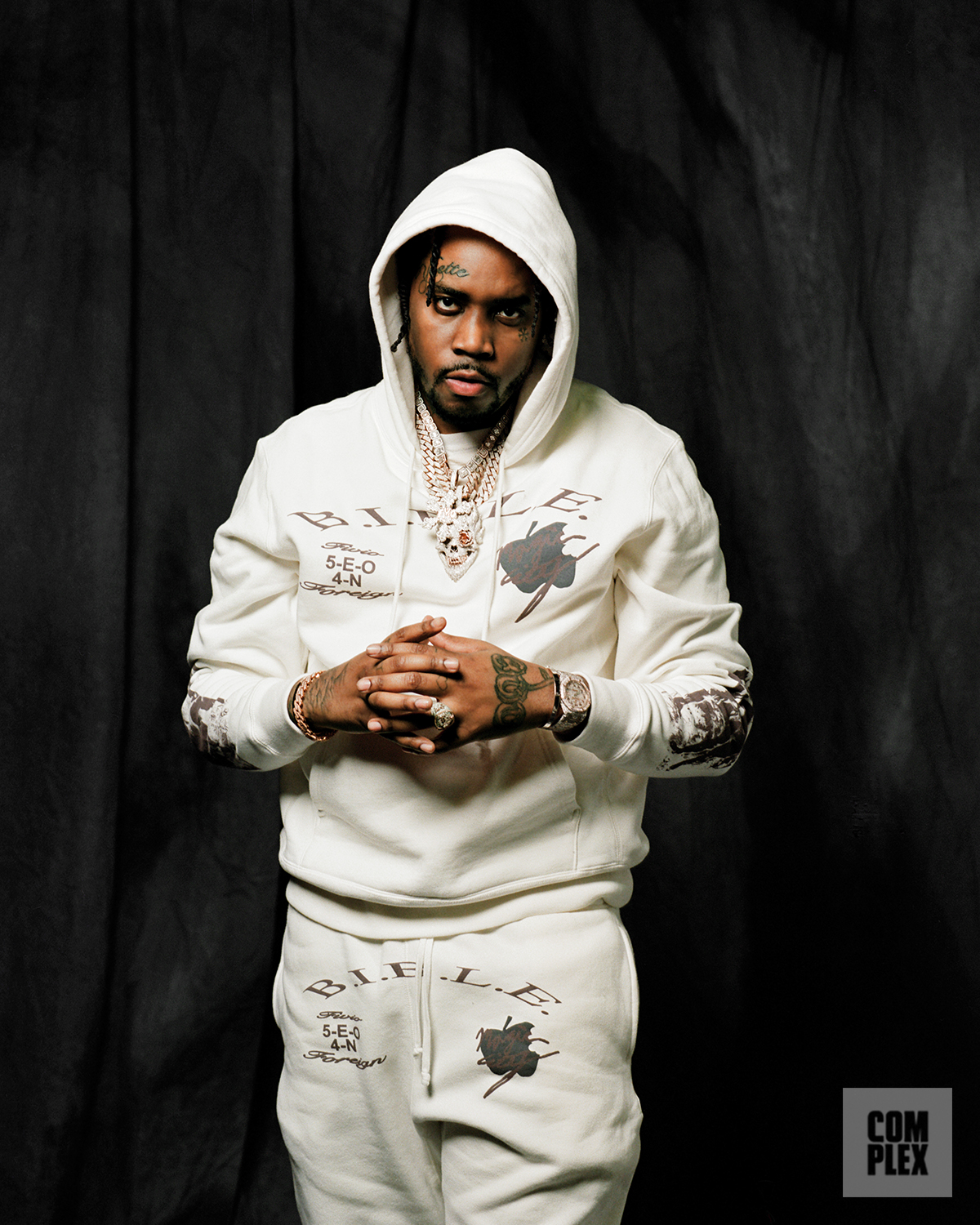 The police aren't the only ones closely surveying the subgenre. In February, Mayor Eric Adams urged social media companies to ban drill videos after his son, an employee at Roc Nation, showed him local music videos. "I had no idea what drill rapping was, but I called my son and he sent me some videos, and it is alarming," the mayor said during a February speech. "We are alarmed by the use of social media to really over-proliferate this violence in our communities. This is contributing to the violence that we are seeing all over the country. It is one of the rivers we have to dam." 
Following his comments, Adams took a meeting with Fivo and other local rappers, including Maino and B-Lovee, to open a dialogue about the subgenre. 
"I knew Eric Adams already because I did a peace walk in New York with him," Fivio tells me. "So I reached out to everybody, and then Maino was like, 'Yo, I got you a meeting. He wants to sit down and talk.' Me and Maino called a couple other people up. Moreso, he was saying he's not really trying to stop drill rap. He said with the media and internet, it's making it seem like he wants to stop drill rap. But he was saying he's not trying to do that. He just don't want niggas incriminating themselves, making Black culture look like wild animals, making the city look like it's not safe for people. So what he was saying was, 'Change the narrative.'" 
Improving the perception of the Brooklyn drill scene was a big motivator for Fivio as he made B.I.B.L.E. "That's what I'm doing with this album, for sure," he declares. "That's where I feel my responsibility is, to take the negativity away from it. To show them the album and be like, 'Yo, listen, we got a song like this. We got Alicia Keys singing, 'New York go easy on me.' That's more like the opposite of violence. But it's saying this is drill rap, though."
Whether you call him "King" or not, Fivio Foreign is undoubtedly one of the most recognizable faces coming out of the city right now, and he's still based in New York (although he plans on moving at some point). For that reason, he feels immensely indebted to the city that raised him. "[I have a] big responsibility," he says. "If I'm going to be the artist coming out of New York, I'm going to make New York look like it's the place to be," he says. "I'm going to make sure they keep it a good, safe place. I want to make it possible for other new artists to come out of New York." 
If everything goes according to plan, B.I.B.L.E. will go down as that bright of a moment for both New York and Brooklyn drill, Fivio tells me, as our conversation draws to a close. 
"If I do what I've got to do, [Brooklyn drill] is going to stick around," he says. "People are going to start to realize we can do it all. Once it's widened up a little bit more, people will get it. Drill rappers are the pop stars."