From Brampton to Lagos, Falana Can't Stop Rising
The Canadian-Nigerian singer-songwriter continues to alter the sound of global pop on her new EP 'Rising.' "I'm doing something right, I hope," she says.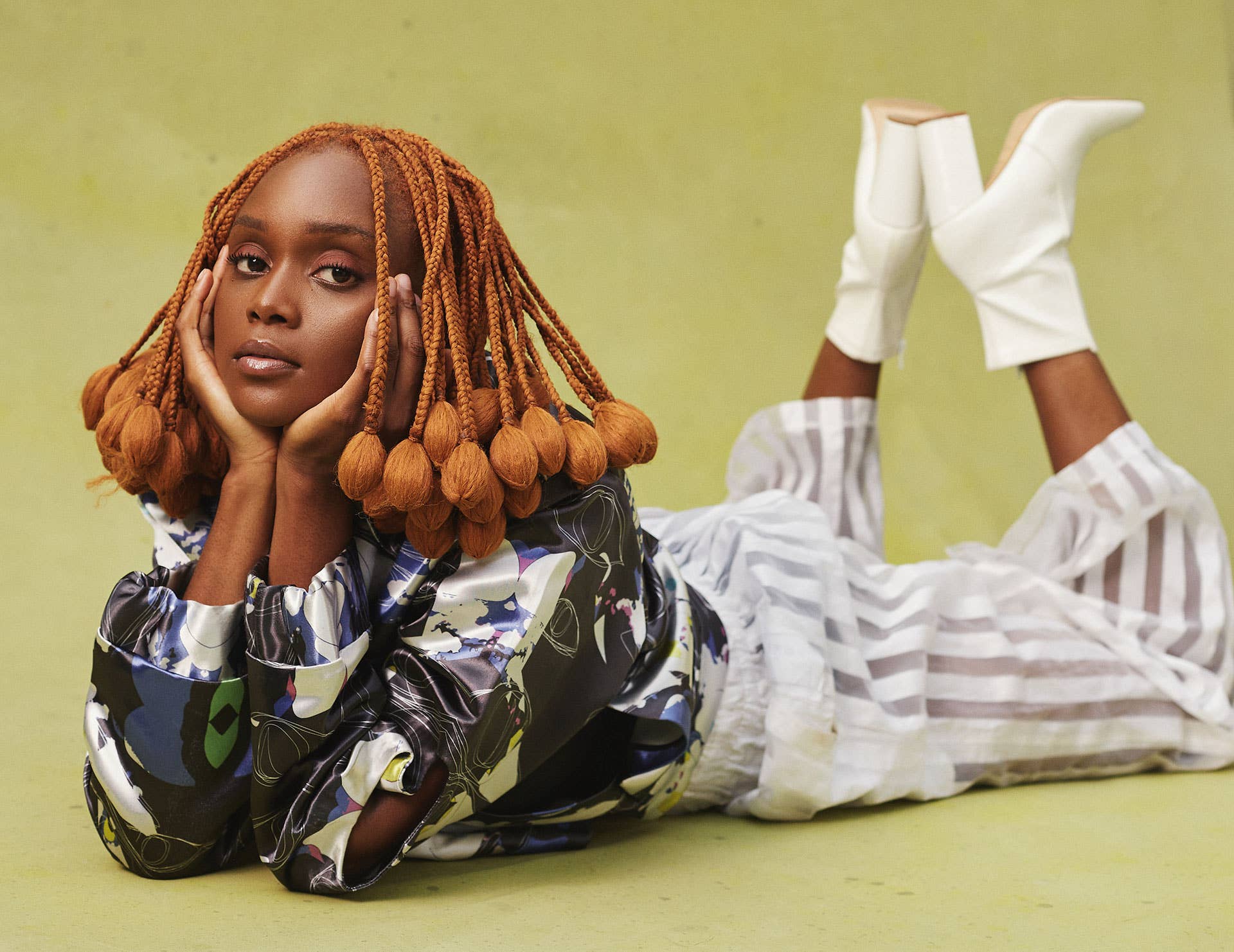 Publicist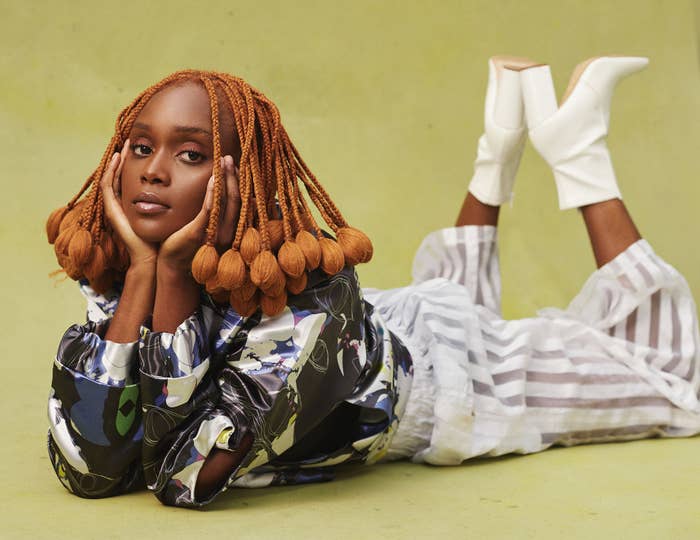 For Brampton-born, Lagos-based singer Falana, the mantra to "keep it moving"—an oft-invoked pledge on her latest single "Joy"—is not an empty motivational statement, but an accurate aspirational statement she manifests on a daily basis. After all, I'm speaking with her in the midst of a hectic travel schedule around the release of her Rising EP, out today. "I was in London, I did a show at Electric Brixton and then I went to Paris for a day and then I flew back to Lagos," she says, noticeably comfortable with the constant change of locale.
In recent years, the multilingual Falana, who speaks four languages, has lived in Cuba and the UK before settling in Lagos, all the while developing her musical career and gradually growing her audience along the way. Aside from garnering a lot of attention for her live performances, Falana's interest in meshing the worlds of fashion, art, and literature has led to her being featured in Vogue and making a cameo appearance in the popular Netflix distributed Nigerian rom-com Isoken. And not insignificantly, she was tapped as one of the Nigerian artists (alongside Davido) "changing the sound of global pop" in a 2018 New Yorker article.
Listening to her new seven-track EP, you can see why. Falana is adept at meshing afrobeats, R&B, and other Black diasporic sounds into her music.  The aforementioned "Joy," recorded in Jamaica, possesses infectious positivity and melodic immediacy, oozing palpably authentic gratitude for being alive. "Paper Planes," the minimalist leadoff track produced by longtime musical ally Toronto producer (and Warner Canada A&R) LordQuest, showcases a raspier side of Falana's versatile voice, detailing the devotion of a ride-or-die relationship. And tracks like "Sweet Adetola" and "Electric Lady" unfurl affecting vivid narratives, underlining her skills as a songwriter.
But for Falana, it all started in Canada, when at one point she wasn't even sure she would pursue a career as a singer. As a child she often juggled her commitments to playing soccer and singing. Falana was good enough to play for Team Ontario alongside Allysha Chapman of Canada's newly minted Olympic gold medal-winning women's soccer team, and vividly remembers one day in particular that crystallized her competing interests. "One time I had this singing competition and the final was on the same day as a [soccer] match," says Falana, who usually operated on the pitch as a left winger. "So I brought all my clothes for the performance to the game, played the game, I scored, and they allowed me to leave at halftime. Then we drove to the [Rising Star Talent Competition] finale at the CNE."
Despite graduating from Western University in London, Ontario with a Kinesiology degree, an ACL injury had already ended her sporting aspirations and Falana focused on music as a career. An early break for her was being mentored by hip-hop artist Shad through a music industry program. Referring to this time period as her "baby days," Falana connected with many artists in Toronto (Matthew Progress, Savannah Ré, and Ian Kamau are just a few that come up in our conversation), gigging around the city. She issued her Cuba-inspired Things Fall Together EP (a nod to Nigerian author Chinua Achebe's literary classic Things Fall Apart), channelling her various influences—ranging from Lauryn Hill, Sia, and Erykah Badu to legendary Nigerian musicians King Sunny Ade and Fela Kuti—into a live, organic sound that would also provide the foundation for her 2019 EP Chapter One.
These days, Falana is immersed in the creative collective of Lagos' alté scene, rubbing shoulders with Lady Donli, Santi, The Cavemen, Odunsi, and Tomi Thomas, as well as fast-rising afro-fusionist Oxlade (who appears on the remix of "Joy"). "We're all just building and we all have unique sounds, but we all support each other," says Falana. And in a development that evokes the "look up, look up, I count my blessings" refrain from her single "Joy," Falana recently hung out backstage with Fela Kuti's musician offspring, Femi, and was preparing to do an upcoming show with his son Made Kuti, when we spoke for the interview. "It's so crazy, you know," says Falana. "Now, I'm right in the middle of the industry with the people that inspired me. I think it means I'm doing something right, I hope," she laughs.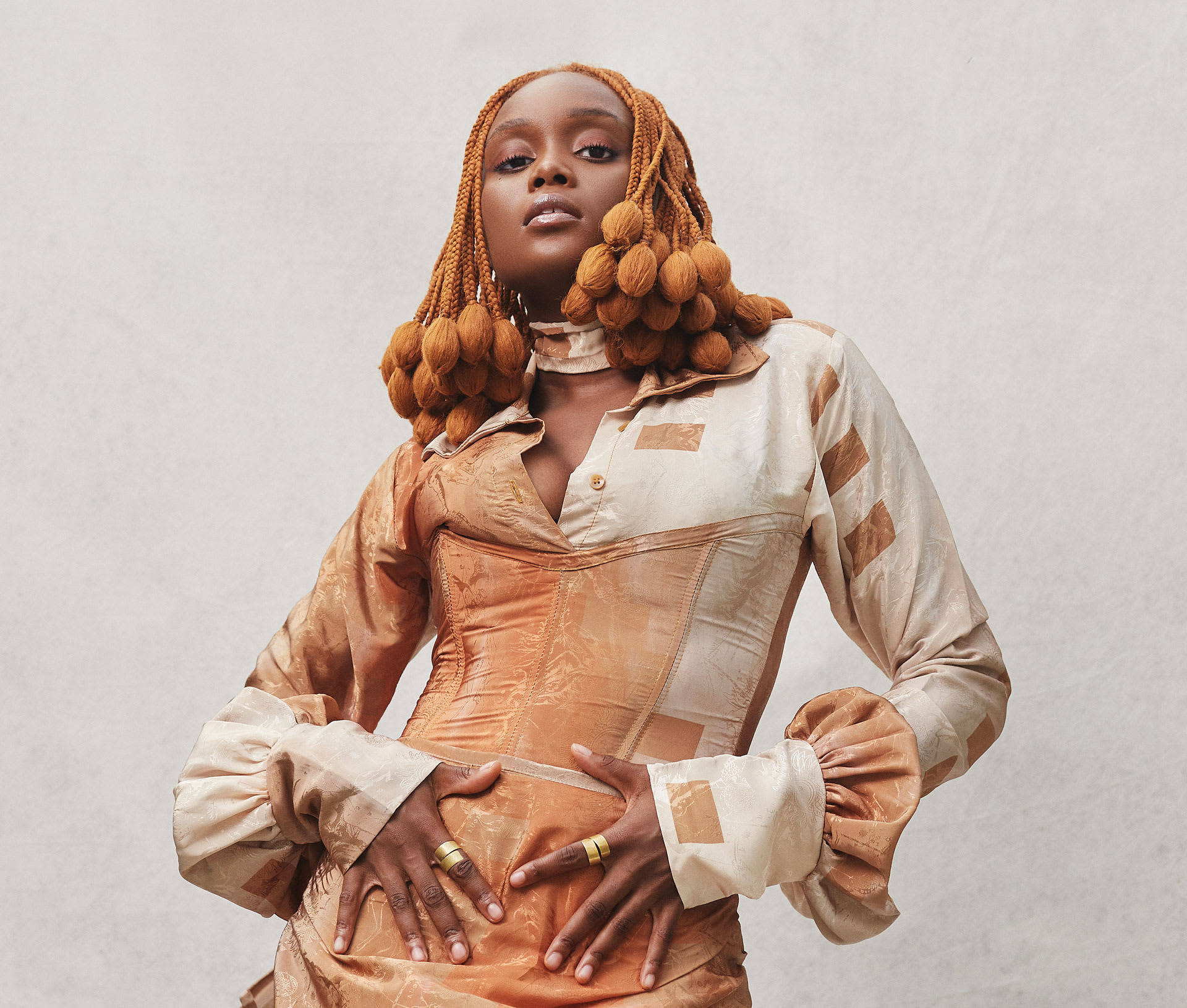 What has been the reaction to "Joy" from your perspective?
I think there's two ways to measure it. From an artistic point of view, it's so powerful when people really connect with the record and tell you that this is now a song I wake up to every morning. And this song has helped lift my spirits, it's serving in that kind of way. So I think in that way alone, it's doing amazing. For that project we partnered with Red Bull Records and we did a remix with Oxlade, so it had a lot of legs. I think it's an evergreen record, it's the kind of song that doesn't grow old and won't sound dated. And it's been getting airplay in Nigeria, in Toronto, in London, in Kenya, in Ghana. I think that's a win really. That's any artist's goal really, for the music to be heard by as many people as possible.
"I think really it's a beautiful time to be in the Nigerian music space and having those influences… because people are now open and awake to the possibility of what can come from here."
You've said the theme of the Rising EP is self-empowerment. Why that theme and why now?
I was in a specific place when I was writing most of the songs on this project. And it was a hurting place, I was going through a breakup and just feeling doubt in terms of who I was as an artist and where I was going. A lot of my songs, they're almost like diary entries. So, for example, "Electric Lady" was blatantly me writing a letter to myself reminding myself of my power. I wrote it from a very insecure and vulnerable place, but now it sounds like it's so much bigger than my own feelings. It's bigger than myself. You know, I can be a voice for young women who are sitting down and saying, "I'm no one's trophy/I'm an Electric Lady/I shine like royalty." Those lyrics I think are really powerful and it evolves through the project.
It's just that I think self-love is so important. From conversations I have with friends struggling with anxiety, women specifically—there's been a whole wave of Black female artists speaking up about discrimination in the industry, so I think having that kind of message [being] repetitive and in the space is really important. And I think that's why I say that theme kind of weaves through the project. I love songwriters who like to tell stories and was really inspired to take that approach [on "Sweet Adetola"]. And tell the story that's not necessarily about one girl named Adetola. It could be anybody, you know, people who are hustling and reaching for dreams and unsure of themselves, and trying to be confident and scared, but pushing through with that tenacity. Sometimes things fall together—I'm not quoting my first project, but the theme kind of fell together. I can't say that I said, "Oh, I'm gonna write this project about self-empowerment." It's actually, this is where I was in my life. And this is where I needed to get to where I am now, where I feel like I'm rising. Ha.
Can you talk to me about how your sound has evolved from a live feel and why you kind of decided to take that route?
I'll be completely honest, I was trying to find a place where I can tick certain boxes in terms of sonics, between the bouncing vibe and message. I wanted to be able to have a record be on radio, but I didn't want to compromise who I was as an artist, so it was a very interesting balancing act. And I really feel like I found like a nice balance. Starting in Toronto musically means listening to dancehall, listening to R&B and listening to hip-hop. But also being Nigerian and going to Nigeria, and living in Nigeria, I wanted that heavily influenced in my sound in a way that I wanted it to. I think it was trying to find a balance of all of those influences. We went into the studio with producers and was like, "This is what I want to do." I wanted to sit in a space but I also don't want to lose my voice and that's really hard. I obviously Iove playing instruments, that's why Chapter One my last EP was live. It's because I wrote and produced it, so it was first nature to play live instruments. But I think finding that hybrid is beautiful.
How did you connect with Shad as a mentor early in your career?
Shad mentored me for a bit through one of these Canadian programs that have a mentorship program. He chose me from my application and we used to Skype once a week and he'd support me and be like, "What are you up to? What are you making?" One of the best [pieces of] advice he gave me was to teach your fans what to expect from you, so don't ever try and be like everyone else. Your fans know who you are, so if you're the kind of artist that releases a record once every year, or once every month, or once every four years, then that's just what it is.
I'm interested to hear your perspective, having grown up in Toronto and being based in Lagos, on how a place like North America is reacting to artists [like Wizkid, Burna Boy and Tems] coming from Nigeria right now?
I've been in the Nigerian music industry for a good time collaborating with artists here, and it started off kind of like, you know, as an alté kind of vibe, like even the slower tempo of music, and it has just kind of bubbled to the surface. I think really it's a beautiful time to be in the Nigerian music space and having those influences, and being in the music industry, because people are now open and awake to the possibility of what can come from here.
I think my story is very interesting because, like I said, I grew up in Toronto, but I'm also very much a Nigerian, you know, in my experiences like living here and even just my parents influences [on me], diaspora lifestyle, essentially. But also being based here as well for a good amount of time, so I think it's exciting. It kind of reminds me of when Bob Marley's record started going global. And then everybody, like even Nigerian artists, were making reggae-inspired music, but from an African lens. So you had Lucky Dube from South Africa and Majek Fashek from Nigeria, it's all connected really. I love Burna and he's using this dancehall rap sing vibe, but making it Nigerian, so it connects globally. It's really amazing. So it's an exciting time definitely to be in Lagos and to be active in the Nigerian music industry as well.