Alleged Details on Young Dolph Murder Suspect Surface Amid U.S. Marshals Search
Justin Johnson, 23, was identified by the U.S. Marshals Service and several Tennessee law enforcement agencies in a statement shared on Wednesday.
More alleged details on Young Dolph murder suspect Justin Johnson have surfaced following the issuing of a statement on the investigation from the U.S. Marshals Service.
Wednesday, the U.S. Marshals Service—in conjunction with the Memphis Police Department, Crime Stoppers, and the Tennessee Bureau of Investigation (TBI)—announced the offering of a total reward of as much as $15,000 for info leading to the capture of 23-year-old Justin Johnson. Per a press release, Johnson is alleged to have fatally shot Dolph at Makeda's Homemade Butter Cookies in November.
A first-degree murder warrant for Johnson was issued by Memphis police. Johnson also has an outstanding warrant over an alleged violation of his federal supervised released in connection with a prior weapon charge. As of Wednesday, Johnson had been added to the Tennessee Bureau of Investigation's Most Wanted list.
In the hours after the U.S. Marshals' announcement, previous speculation of Johnson's alleged involvement in Dolph's murder was further assessed, particularly upon the release of a photo of Johnson. 
On Thursday, TMZ reported that Johnson—who has been reported by local outlet FOX 13 and others as using the stage name Straight Drop—seemingly shared a music video featuring the Memphis residence where authorities ultimately found the getaway car connected with Dolph's murder.
The video in question (an apparent rip of which is embedded above) is for the track "Going Straight In," which—as seen on the verified artist page for Straight Drop on Spotify—credits a Justin Johnson as a songwriter.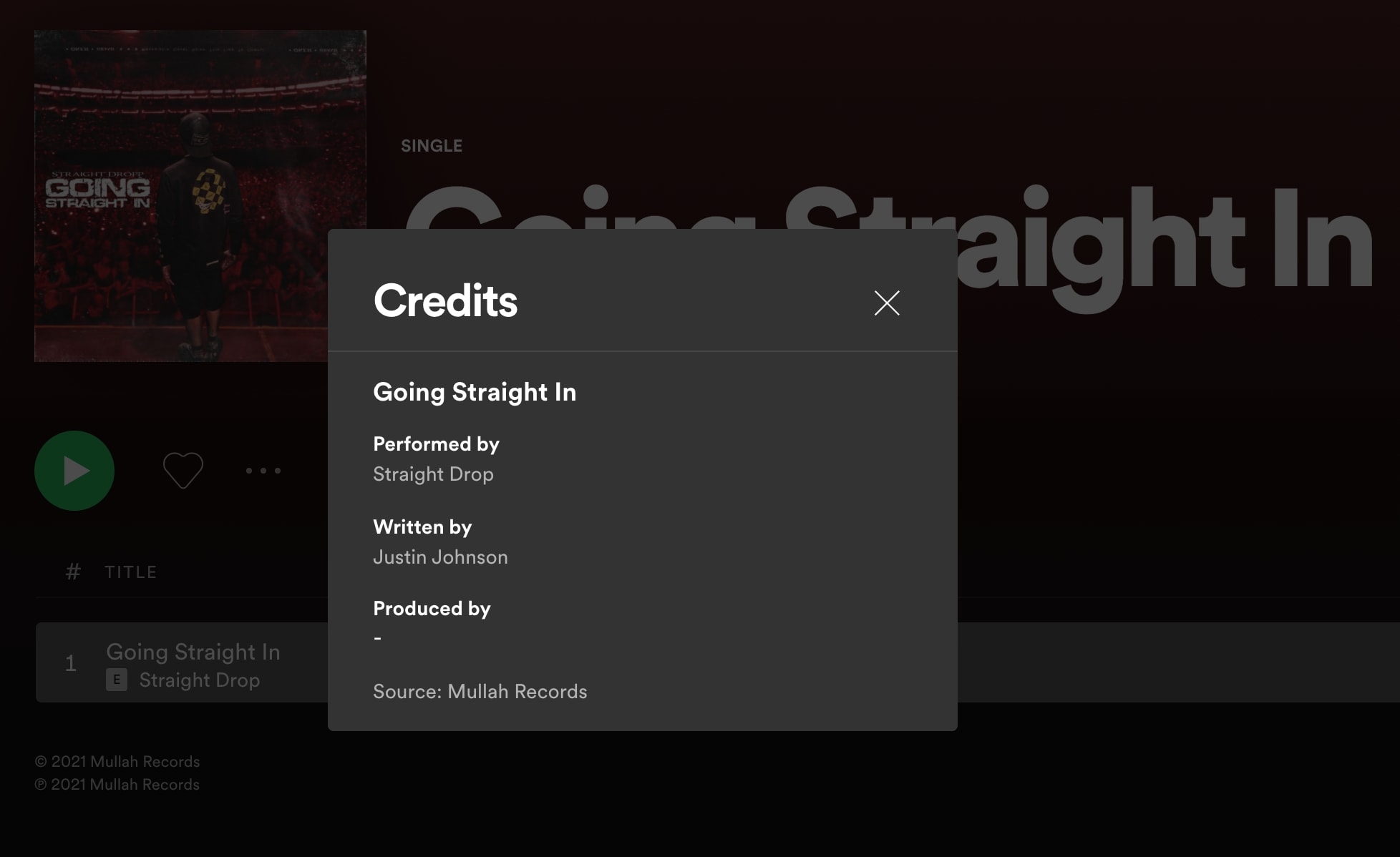 Making the rounds surrounding the U.S. Marshals announcement are reported images of Johnson, including one where he's alleged to be seen standing near Dolph at what appears to be a public event of some sort. 
And as XXL noted on Thursday, screenshots emerged from a video for the Straight Drop (also credited on YouTube as Straight Dropp) track titled "Stepped On." In the visual, a link for which is currently listed in the bio section of the @straightdroppp Instagram account, the artist is seen wearing a PRE pendant attached to a wallet chain. PRE, of course, is an acronym used for Paper Route Empire, i.e. Dolph's label. Also worth pointing out here is that several online voices, including JordanThrilla and Cut 2 the Chase TV, previously mentioned Johnson in speculative posts regarding the murder.
In a statement released following Dolph's murder in November, the Memphis artist's family said there are "no words that exist" that could express the pain his death had caused them.
"Losing Adolph, Dolph, Man-Man, changes our lives forever," the family said. "And while we will take each day as it comes, we are comforted in knowing that he leaves a legacy that reflects his heart. A heart that was for his family. A heart that was for the people."