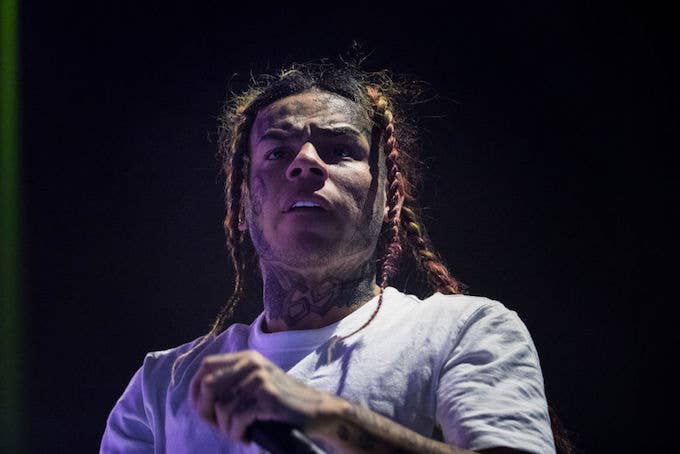 Newly released legal documents in the 6ix9ine racketeering case show that the government is painting one of the remaining defendants as a dangerous "shooter" for the Nine Trey Gangsta Bloods.
Fuguan "Fubanger" Lovick is one of the six remaining defendants in the case—five have already pleaded guilty, including the "Gummo" rapper. Lovick is also a rapper who was a part of his co-defendant Jamel "Mel Murda" Jones' crew the Hop Out Boyz. The government contends that Lovick was the shooter in an incident at Barclays Center last April during an Adrien Broner fight. Reports at the time said that 6ix9ine's crew and Casanova's entourage got into an altercation in a hallway of the arena, and a shot was fired. 
In late March, Lovick filed a motion to have his charges dismissed. He contended that the May 2018 traffic stop that led to his arrest—and led to police finding a gun on him—was illegal. On Wednesday, the government filed a memorandum defending the stop and the search. In it, details about Lovick's alleged relationship to the Nine Trey Gangsta Bloods are revealed. 
"In addition to the surveillance video, which shows the defendant discharging a firearm inside the Barclays Center, cooperating witnesses will testify about the defendant's role in Nine Trey, in particular as a shooter for the gang who almost always carried a firearm," it reads. 
The fact that the document mentions multiple cooperating witnesses is notable. 6ix9ine is famously a cooperating witness (though his lawyers hope he never has to testify), and the government has made mention of confidential informants before. But the existence of other cooperating witnesses was not previously acknowledged by either side in the case. The judge will rule on Lovick's motion soon, and the next hearing for the remaining defendants is set for April 30.