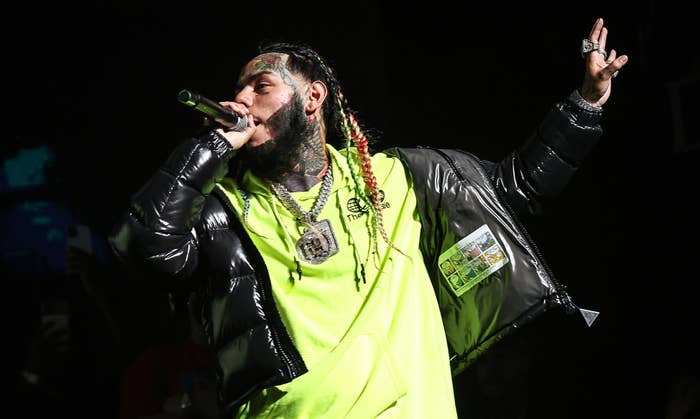 UPDATED 3/22, 6:55 p.m. ET: TMZ has obtained surveillance footage showing the men who allegedly attacked 6ix9ine shortly before the incident took place.
One of the alleged attackers can be seen looking outside LA Fitness' window while on the phone. He opens the front door for another person, and after a brief conversation with the front desk employee, the two continue to walk until they are out of the camera's line of vision.
Another camera finds the two men, joined by another person, as they appear to be headed to the sauna where 6ix9ine was located.
See original story below.
6ix9ine was hospitalized Tuesday after seemingly being "beaten by a group of men inside a South Florida gym," TMZ reports.
The controversial MC's attorney Lance Lazzaro told the outlet that 6ix9ine was in an LA Fitness sauna without personal security when he was assaulted without warning.
Tekashi was taken to a local hospital by ambulance. TMZ—which received a photo of him—says he has injuries to his jaw, back, and ribs.
"He was attacked in a Sauna at a gym by three or four thugs who beat him up (he tried fighting back)," Lazzaro said in a statement that was provided to Complex. "He had cuts to his face and bruises. Employees heard the disturbance and the perpetrators fled. Police in South Florida were called and he was transported via ambulance to a local hospital."
Lazzaro intends to get in touch with the feds to ensure 6ix9ine is being adequately protected.
One Twitter user shared a clip from just after the attack, showing the 26-year-old with a bloody face, walking toward the exit in socks and saying, "y'all n***as jumped me." Other social media posts briefly show the attack in progress, including the face of one of the men.
Last December, word arrived that 6ix9ine was banned from a high-end apartment complex in the Miami region. TMZ reported that SLS Lux Property's legal team sent the rapper a letter claiming his security guard left an assault weapon unattended on the property. It also pinpointed "the bounty placed on 6ix9ine's life" and his "provocative antics" as reasons why his presence there could be unsafe for others.
A few months prior, he was allegedly jumped at a Dubai nightclub, with a DJ calling him out as a snitch. Tekashi told people to "get the news right" and claimed the DJ "got smoked."