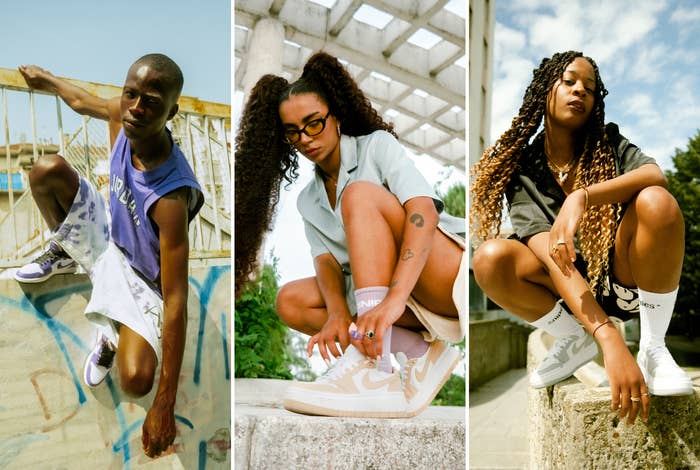 They say it takes a village to raise a child, and this is equally applicable to music. Collaboration is key in this milieu, the sharing and distillation of multiple creative minds crafting moments to last a lifetime. From jazz's gilded bebop era to the heights of Beatlemania to the present day of pop, musicians of all disciplines have thrived when joining forces, often reimagining how far music can reach.
Concurrently, across the world over the last decade, collaboration has—in many ways—aided the rise of multiple music scenes, crafting the present day of what is new and fresh. Think of Africa, where Afrobeats, Amapiano, gqom and other local sounds have captured the imagination, now blazed out of speakers in raves from London to Tokyo, or the proliferation of drill into spaces such as Australia and Ireland. In recent years, we've seen grime icon Skepta work with everyone from A$AP Rocky to Nigerian alté sensation Teezee; Stormzy hopped on Ghanaian drill star Yaw Tog's explosive "Sore", while Central Cee recently enlisted a host of rappers from Spain, Italy and France for his "Eurovision" track—a sign as clear as any that international music is having its moment in the sun in front of audiences of millions.
This spirit has been recognised by the good people over at SNIPES—one of Europe's biggest sneaker and streetwear retailers—and its Soundbooth division, a hub for the development of artists across the continent, who have teamed up with three rising musicians in a new campaign centred around collaboration. The new summer-long campaign involves France's Vicky R, Spain's DEVA and Italy's Axell—up and coming, but respected artists in their respective territories—which aims to shine a light on their journeys, while mentoring them as they connect with their wider communities and crafting a collaborative track with a world-renowned musician. Throughout the process, these artists—still at early stages in their musical journeys—will gain the keys of wisdom to take their careers to the next level, developing their overall sound and style while learning valuable lessons about themselves and collecting weighty co-signs along the way.
Get the lowdown on our protagonists Axell, DEVA and Vicky R below.
---
Location: Turin, Italy 

Genre: Rap/Drill 

Essential Tracks: "QUE PASA", "JE VEUX RIEN", "BLEACH" 
Representing the city of Turin, Axell has brought rampant energy and effortless poise to Italy's emerging rap scene in a short space of time, releasing a number of slick rap and drill-infused heaters to have his name buzzing. The 22-year-old, born in Senegal, grew up on a diet of everyone from "Biggie and Stevie Wonder to Ray Charles and Akon" and learned to play both the trumpet and the piano at an early age. Music proved to be an unavoidable calling; Axell tells Complex he pursued it due to his "passion, feelings, and natural need inside" to express himself. Moving with his family to Turin at the age of 12, Axell would connect with friends encouraging him to go to the studio to record. Making waves as a young artist since 2020, he has found his niche by performing his lyrics in both French and Italian—a method he says is very much a "natural sense of creative expression."
Releasing his debut single, "Argent", back in 2020, he would become a fixture when his most recognisable hit to date, "QUE PASA", dropped in 2021, a hypnotic banger levelled by his high-octane vocals. He followed that up with the melodic yet drilly "LE VEUX RIEN", showcasing his range over a host of eclectic production. Comfortable over stomping rap or drill soundscapes, Axell is adept at meeting the beat's energy with explosive vocal zeal or clashing with it with elegant melodies. At the heart of his music lies a desire to take life as it comes, embrace the unknown and prepare for whatever fortune finds you. "The message that I want to spread is to have patience," he explains. "We need to welcome everything that comes to us in a positive way, whether it is good or bad." Which is why he gives all of himself to any musical project he's part of. "I usually put 100% of myself in a collaboration," he says. "I put in the same energy as in a solo project."
In this context, linking up with SNIPES—a brand he calls one of his "favourite" retailers—was a no-brainer, and he is hyped for the challenge. "I'm thrilled about the opportunity to be the Italian choice for this huge project," he says. "I think it's destiny—it should have happened. [Vicky R and DEVA] look very talented and I'm thrilled to meet them in person."
---
Location: Madrid, Spain 

Genre: Soul/Dancehall/Reggaeton/Trap 

Essential Tracks: "After", "Galerna", "TUMBIú" 
DEVA doesn't follow the rules. Describing herself as an "incongruent person", her music reflects her philosophy to experiment. Blending everything from trap and R&B to dancehall and reggaeton with angelic and expressive vocals, the Madrid, Spain-based artist has a magnetism that is hard to ignore. "Rihanna was essential to me as she always made whatever music she felt like doing at the time," she tells Complex, explaining her tendency to test the sonic waters. "Generally, anyone who didn't follow trends." DEVA's output reflects the eclectic nature of her life: born and raised in London for a brief period, she migrated to Spain at an early age where she would hone in on her purpose. "My teachers saw that I had a passion and they helped me develop it," she says. "That was the time where I said, 'Okay. I need to get into my brain that this is what I'm going to be.'" 
DEVA has been releasing music for over five years now, with no drop sounding like the last. Early track "Nothing's Forever" carried the vibrance of modern-era dancehall, while "Checks" contained a bounce pulled from the trap handbook. She describes this period as "looking for my sound and personality, especially being different from the rest." Over the last couple of years, she has found her stride while maintaining her unpredictability: 2021 cut "After"—arguably her biggest to date—is a smooth, reggaeton-tinged ode to late-night activity, while the recent "TUMBIú" is intensely danceable. But her desires for her music lie within the confines of a genre she holds dear: "My music could sound more like classic R&B. That's what I hope for as we move forward." 
 Speaking on her involvement in the SNIPES Soundbooth project, she is relishing the chance for self-development. "SNIPES is a door for me right now," she explains. "I don't feel like any other brand in Spain has given me straight direct tools to get better and actually try and become an international artist. I don't know how I will flow with the rest of the artists, but I do have this magical feeling inside my heart that we're going to connect a lot."
---
Vicky R