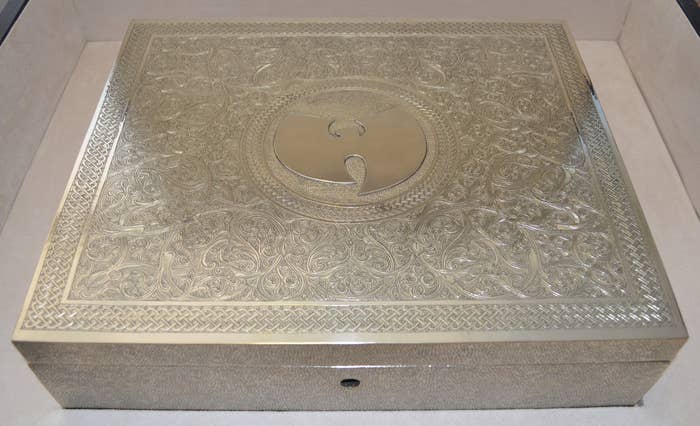 The only existing copy of the Wu-Tang Clan album Once Upon a Time in Shaolin, previously forfeited as part of the Martin Shkreli saga, has been sold by the U.S. government.
In a press release shared Tuesday, the U.S. Department of Justice said the sole copy of the Wu-Tang album—previously ordered to be forfeited as a substitute asset in connection with Shkreli's 2018 sentencing—had indeed been sold. Due to a confidentiality provision, however, neither the identity of the buyer nor the price paid in the sale has been made public. 
"Through the diligent and persistent efforts of this Office and its law enforcement partners, Shkreli has been held accountable and paid the price for lying and stealing from investors to enrich himself," Acting U.S. Attorney Jacquelyn M. Kasulis said Tuesday when announcing the sale. "With today's sale of this one-of-a-kind album, his payment of the forfeiture is now complete."
The anonymous buyer is represented in the deal by attorney Peter Scoolidge, who said in a statement that this marked "the most interesting deal" he's ever worked on.
Back in 2019, the securities fraud conviction and sentencing of Shkreli—who was the founder of hedge funds MSMB Capital Management LP and MSMB Healthcare Management LP—was affirmed by an appeals court. Ultimately, the album and additional assets were seized by the government.
Upon Shkreli's original 2015 purchase of the Wu-Tang record, which features a hand-carved box and leather-bound manuscript, provisions of the sale included that it could not be publicly released by the owner for commercial purposes until the year 2103. At one point, Shkreli himself attempted to resell the one-of-one piece online.
Proceeds from Tuesday's sale will be applied to a multimillion-dollar forfeiture money judgment against Shkreli, who was widely referred to as "Pharma Bro" in the press at the height of his public infamy.
Last August, Collider's Jeff Sneider reported that Brittany Runs a Marathon director Paul Downs Colaizzo had signed on to direct a Netflix movie telling the story of how Shkreli came into possession of the album.