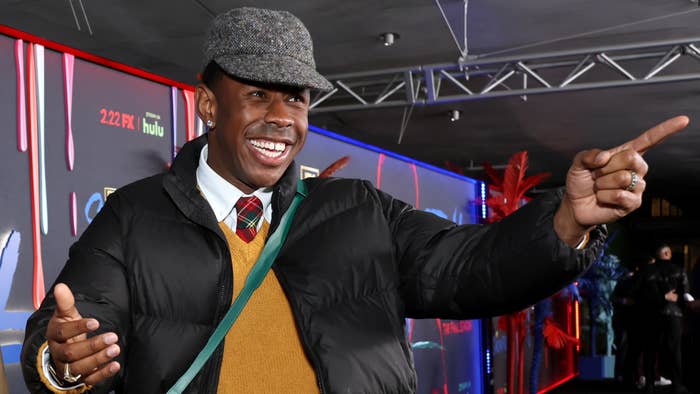 Tyler, the Creator reflects on the core artistic approach behind the Odd Future era in a new interview, noting that religion-minded critics of the influential collective inadvertently shined a light on their deep-rooted hypocrisies in the process.
As previously reported, Tyler appears on the new season premiere of Elliott Wilson and Brian "B.Dot" Miller's Rap Radar podcast, resulting in an extended conversation that's best enjoyed in its full context. Still, it's natural to also want to point to a few highlights from the interview, including Tyler's reflections on how OF helped show that "everyone is fucking crazy" in this world.
"Like, that's why I did a lot of shit in the first place because you just get a reaction and watch everyone be kind of hypocritical," Tyler said close to the 55-minute mark when asked about playing up the "bad guy mystique" at this point in his career. "There's n****s out here shooting n****s, killing people; being weird with women for real; like, selling drugs [and] doing drugs. Like, we're parading n****s that's like, 'Oh I'm a drug addict, I'm off this shit.' But as soon as you see an upside-down cross, that's the end-all, be-all? Like, are y'all fucking kidding me?"
The reactions, Tyler noted, inspired a "let's lean into this shit" approach.
"Let's fucking, 'we're the devil' and shit and watch people be like, 'Oh, this is the last straw,'" he said. "Like, didn't your uncle rape somebody? Don't the priest you be seein' suck nine-year-old dicks? Like, what y'all n****s talking to me about? … You sold crack to your fucking daughter."
Part of this, Tyler further explained, came from growing up and seeing a family member give money to religious figures. This made "no sense" to Tyler as a teenager, which later inspired him to intentionally "freak out" older generations who didn't want to discuss "real issues."
As for the present-day status of his fellow OF alumni, Tyler said it's been "beautiful" to see everyone flourishing in a variety of new ways.
"It's truly amazing," he said. "I guess it's probably rare, just people you grew up with all just doing their thing. It's so beautiful. I love it so much."
Listen to the full Tyler interview below.