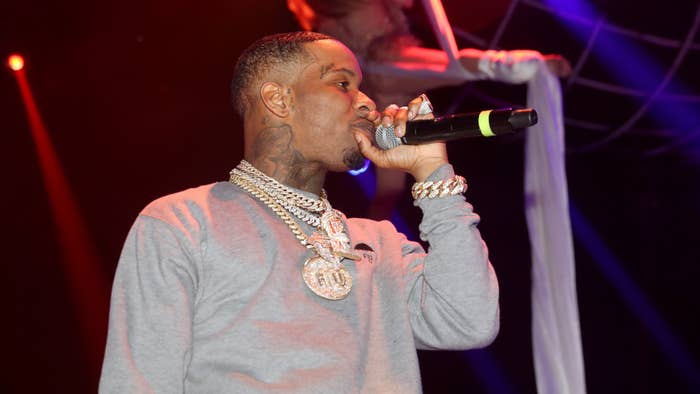 Tory Lanez will likely spend at least nine years behind bars after being convicted in the 2020 shooting of Megan Thee Stallion, per Deputy Los Angeles County District Attorney Alexander Bott.
Bott made this prediction while speaking with reporters on Tuesday afternoon, as seen in the below clip shared by Meghann Cuniff, a leading legal affairs journalist who has extensively covered the case.
"The sentencing range on this case is roughly nine years all the way up to 22 years and eight months," Bott told reporters, adding that the minimum would be approximately nine years. While a judge could, in theory, get the final sentence below that mark, it doesn't sound like Bott is expecting that to happen in this case.
Asked if such a sentence was "appropriate" given the details of this case, Bott initially declined to answer by explaining that such decisions aren't up to him in his capacity as Deputy DA. But when answering the question "as a human" instead, Bott was more forthcoming.
"So I would say that, any time you point a gun at someone and pull the trigger five times, that's an action that could easily kill a person," he said. "I think that's an action that deserves serious consequences."
Complex has reached out to the Los Angeles County District Attorney's Office for comment. This story may be updated.
This week, Lanez's motion for a new trial in the case was denied. Lanez was convicted in December of last year of shooting and injuring Megan Thee Stallion. In a statement released post-conviction, Los Angeles County District Attorney George Gascón praised Megan's "bravery" throughout the much-publicized case. He also criticized the "unjust and despicable scrutiny" she faced from those who continued to defend Lanez.
In a piece for Ellepublished in April, Megan spoke out about the case for what she said would be the "final time."