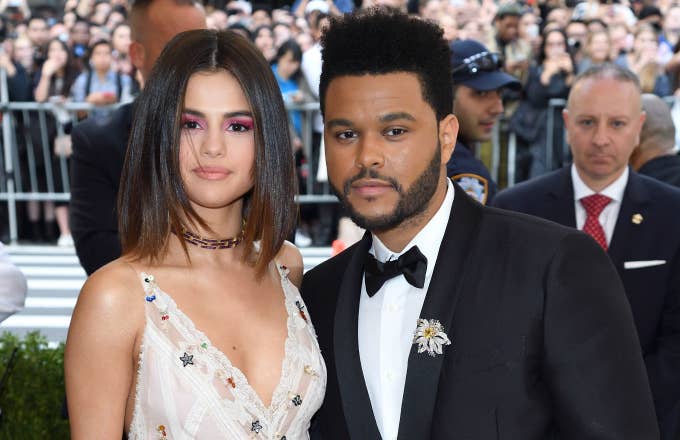 The Weeknd and Selena Gomez have reportedly resumed their single lives. Citing the usual suspects (i.e. "multiple sources"), People unceremoniously announced the split Monday. According to these presumably nosy insiders, the two had recently fallen into the all-too-familiar pattern of "going back and forth" about their relationship status. They had been dating for approximately 10 months, which is merely a blip when taking into consideration the overwhelming vastness of human existence.
"It's been hard with him being on tour and her shooting in New York," one of these petulant insiders said. "That wasn't easy on them." The relationship had supposedly been in struggle territory for months, ultimately leading to them agreeing to call it off. "It's over for now, but they're still in touch," this same annoyingly talkative insider said. Can you imagine being an "insider?" What a fucking life.
The former couple's brief reign inspired multiple feats of awe-inspiring journalism, including—but most certainly not limited to—articles about kissing, articles about making out, and articles about "shit" Justin Bieber considers "wack."
Speaking of Bieber, some shit he does not consider to be wack is Hillsong Church. In fact, Bieber and Gomez were apparently seen hitting the Hillsong location in Los Angeles over the weekend after grabbing a bite to eat. Despite what some headlines would have you believe, two people having a meal and doing church shit together doesn't inherently mean anything at all. 
Anyway, pour one out. Then like this tweet: