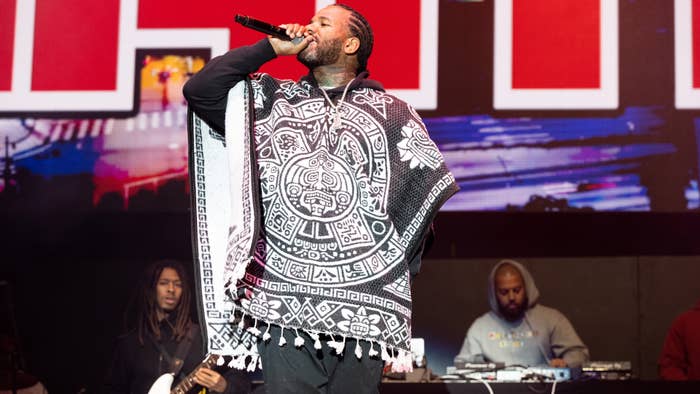 The Game has weighed in on the latest developments surrounding Will Smith's Oscars slap, saying in a post shared to his Instagram on Wednesday that the Academy is investigating "a lul ass slap in defense of a woman battling a very delicate health issue."
The "Eazy" artist's post included a screenshot of an article focused on the Academy's claim of Smith having "refused" when asked to leave the Oscars ceremony after the King Richard star slapped comedian Chris Rock.
"They didn't even want to give it to him in the first place… he acted off impulse & imposed a slap down out of frustration & embarrassment on behalf of his wife," Game said. "Most people with opinions on the situation don't have a committed relationship let alone a marriage of over 20 years to weigh against his feelings in the matter. He's human & comedy is not always an excuse to publicly humiliate people especially while sitting front & center."
Game then argued that while violence should "always be depicted in a negative light," this was instead a "lul ass slap." From there, he referenced a number of familiar industry names—i.e. Alec Baldwin, Harvey Weinstein, and Roman Polanski—when making a larger point about hypocrisy. 
"This fool Alec Baldwin took a woman's life on set & got sympathy from the same Hollywood that is trying to condemn one of our greatest actors in history," he said. "It just so happens that he's black !!!! Harvey Weinstein didn't have to forfeit any accolades or awards & Roman Polanski was guilty of having sex with a minor & then vanished, became a fugitive & was still given an award."
Elsewhere, Game pointed to Kyle Rittenhouse's recent acquittal as another example of white privilege. He also brought up the lynching of Emmett Till, notably in connection with the recent news that President Joe Biden had signed the Anti-Lynching Act into law.
See Game's full statement below.
As previously reported, both Smith and Rock have since addressed the slap. The former shared an extended apology to Instagram this week, specifically naming Rock and stating that he had "reacted emotionally" in the moment. Rock, meanwhile, briefly addressed the slap at a recent stand-up show.
"I'm still kind of processing what happened," the comedian told an audience in Boston this week, perVariety. "So, at some point I'll talk about that shit. And it will be serious and funny."
The Game, meanwhile, previously called out the Grammys over a reported decision to rescind the artist formerly known as Kanye West's performance offer.