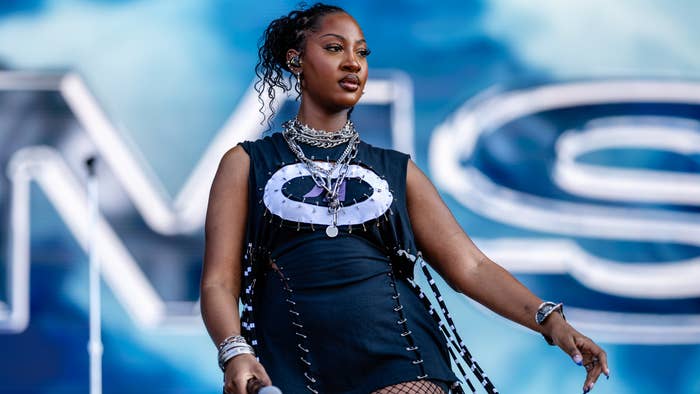 Tems says the key to navigating artistic success is to simply keep "trusting yourself."
Tuesday, Interview magazine published an insightful discussion between the Oscar-nominated singer and Kendrick Lamar, resulting in several takeaways that fans and fellow artists alike should find useful.
On the pressures of success, Tems likened being in the public eye to what it must feel like for an animal in a zoo.
"You have to remember how you felt when you started as an artist, to understand the reason you're doing what you're doing," she cautioned. "Yes, it's to be seen, or to make a name for yourself, but beyond that, why are you doing it? Most of the time it's because you have a story to share, a message to give."
While it can be easy to "get caught up" in the expectations of a growing number of listeners, Tems added, it's better to tune in to the expectations you have for yourself instead.
"Trusting yourself is so key, and I'm not going to stop trusting my guts just because people can see me now," she told Lamar. "It's like being in a zoo. The animals don't change their behavior just because you're looking at them. They're always going to be who they are. So why should I change?"
Elsewhere, Tems and Kendrick both opened up about their own experiences with "Pinky and the Brain syndrome." Tems also pointed to the catalog of Celine Dion as important in her early love for music, as well as elaborated on the transcendence one can feel at certain points in the creative process.
The latter prompted Lamar to touch on his own process, specifically the importance of making sure you're recording even when you're experimenting or haven't yet arrived at what may become the final idea for a given track.
"Sometimes I freestyle to a point where I can't feel my feet," Tems revealed. "I've entered somewhere and I don't even know where I am anymore. I'm just pouring out my gut and then when I'm done, I don't remember what I just did. If you didn't record it, it's almost as if I blacked out."
Dive into the full conversation here via Interview.
Following her For Broken Ears and If Orange Was a Place EPs in 2020 and 2021, respectively, Tems is currently in the middle of the run-up to her debut full-length. Last November, she appeared on the soundtrack to Black Panther: Wakanda Forever, contributing a "No Woman, No Cry" cover and co-writing Rihanna's "Lift Me Up." The latter went on to score an Oscar nomination.
Also in 2022, the Tems-sampling Future and Drake track "Wait for U" landed on Complex's ranking of the best songs of the year. See the full list here.