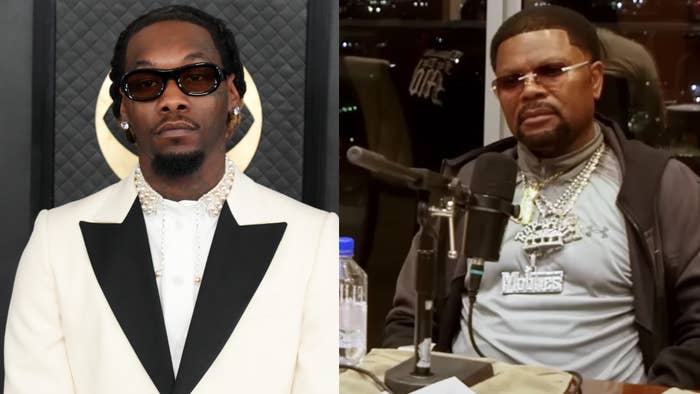 Offset has addressed recent remarks made by J. Prince in connection with the late Takeoff, who was fatally shot in Houston last November.
As you may have seen, Prince spoke about Takeoff's death during a recent appearance on Million Dollaz Worth of Game, as seen below. After sharing kind words about Quavo ("There's love here"), Prince turned his attention to "this Offset dude" during the final minutes of the interview.
"They be throwing rocks and hiding they hand, and I don't like them kind of individuals," Prince said. "And the truth of the matter is, one can dance and different things in front of different cameras and all that kind of shit. In reality, the truth of the matter is you wasn't really right there with Takeoff when he was alive, you know what I mean? So for you to be taking these positions that you've taken—and I've got people everywhere so I hear all kinds of things—I'mma just say this to you. Don't ever put me in no position where I have to defend myself. That wouldn't be healthy for you. I have to say that."
In a social media-shared clip that's subsequently been making the rounds, Offset does not directly name Prince when slamming such "internet games." However, the impetus for his remarks is clear.
"How dare one of y'all n***as even speak on me and Take's relationship?" he said. " I don't know you n***as from a can of paint, n***a. Y'all n***as don't know how me and my brother rocked."
From there, Offset said this was the "fifth interview you done did about my brother" before wondering why no one thinks of Takeoff's family before making such remarks.
"You ain't think about his mama? You ain't think about the family? We ain't said nothing," he said, then specifically criticizing the practice of "airing it out on interviews" instead of speaking with him directly.
"Call my phone, homie," he said. "You call my phone and we'll have a conversation."