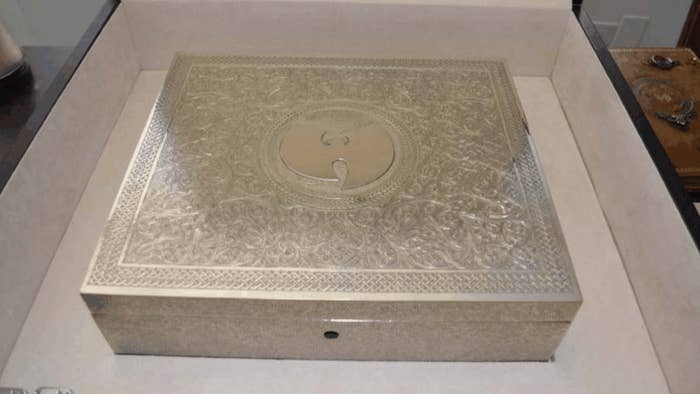 The years-long saga surrounding Wu-Tang Clan's Once Upon a Time in Shaolin album continues this week with the release of new photos of the physical art piece.
As revealed on Wednesday, BuzzFeed News obtained a slew of Shaolin documents (including photos) thanks to a Freedom of Information Act (FOIA) request. All told, the U.S. Marshals Service shared 67 pages of "responsive documentation," though the recordings themselves are absent due to them not being reproducible.
Redacted among the dozens of previously unreleased photos are images of the album in CD form, as well as song titles and a 175-page lyric book. The reason given for their redaction was that these items amounted to "trade secrets," as did—at least according to federal officials—the price of the album when they sold it off last year.
Tucked into the trove of newly-made-public documents is an asset list stemming from a July 2021 purchase agreement. The list outlines Once Upon a Time in Shaolin as including the following: audio recording on two CDs, an outer box made of cedar wood and covered in black cow leather with a light beige velvet lining, an inner box made of nickel-silver with an inner CD case and a cedar wood backing with leather lining, a leather-bound lyric book featuring photos and artwork, a leather folder with a gold-leafed authenticity certificate, and a leather folder featuring the purchase agreement.
Click here for more info including insight on a redacted Bill of Sale, purchase agreement terms, and more.
The latest update on Shaolin arrives nearly seven years after the initial release of the single-copy album. As fans know, the art piece was auctioned off in 2015, with the buyer later being revealed as controversial "Pharma Bro" Martin Shkreli. In July of last year, the Department of Justice announced the government had sold the album after previously seizing it in connection with Shkreli's securities fraud conviction. The new owners were later revealed to be the PleasrDAO collective.
In October of last year, RZA reflected on the original inspiration behind the larger Shaolin project and shared his opinion that the album was in "the wrong hands" when owned by Shkreli.
"He made the deal before it was revealed of his character, his personality, and all the insidious things he would go on to do," RZA said in a Hot 97 interview at the time. "That wasn't the guy I met but he definitely unfolded into that guy and he had control of this one-of-a-kind piece of art."