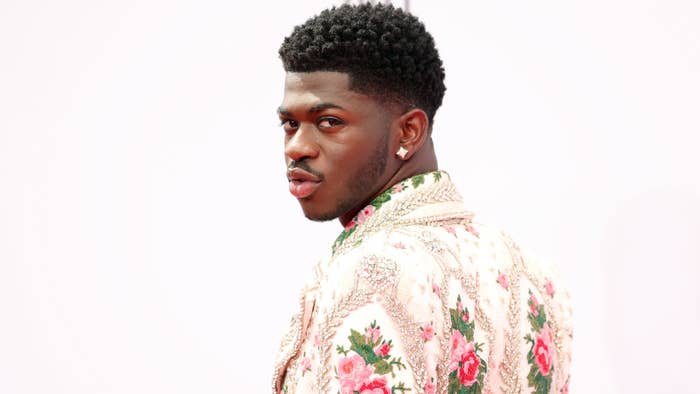 If you stepped away from the endless scroll infrastructure for even just a few minutes on Wednesday, you were likely confounded when you returned to Instagram and found a seemingly endless swath of "nah he tweakin" utterances.
But how did we get here? Why is "he" tweaking? 
In true 2021 fashion, the briefly ubiquitous meme stems from a comment made by numerous people including Lil Nas X, who's no doubt had one of the more enviably prolific creative outputs this year. In response to a post from @rap on Instagram, X—though seemingly not quite the first to do so—said "nah he tweakin."
The post in question showed a photo of skating legend Tony Hawk, who was recently announced to be selling boards featuring his own blood. 
"Y'all rockin' with it?" the @rap team asked when sharing the news, prompting a tidal wave of "nah he tweakin."
The same day, X shared a tweet confronting the homophobia-laden response he got earlier this year when he himself unveiled a blood-featuring product, i.e. the notorious(ly awesome) Satan shoes.
"Now that tony hawk has released skateboards with his blood painted on them, and there was no public outrage, are y'all ready to admit y'all were never actually upset over the blood in the shoes? And maybe u were mad for some other reason?" X said.
But it was the "nah he tweakin" bit that received the most attention, with a slew of people repeating the phrase all across Instagram, eventually spawning memes depicting the sudden prevalence of the original meme itself. 
The phrase also appeared on several posts from Hawk, as well as posts from other high-traffic Instagram accounts: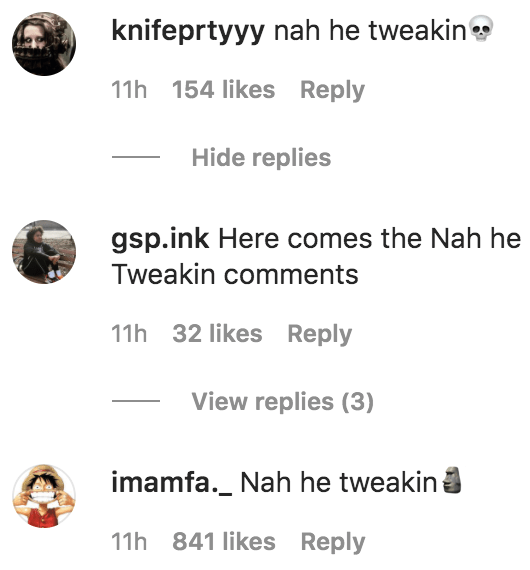 Eventually, a rep from Instagram's PR team took to Twitter to address the everywhereness of the phrase, saying that some Instagram users were "having issues" loading comments that weren't "nah he tweakin." Later, an Instagram rep said the issue had been resolved, adding that "all comments should now be back."
"Nah he tweakin" is dead. Long live "nah he tweakin."