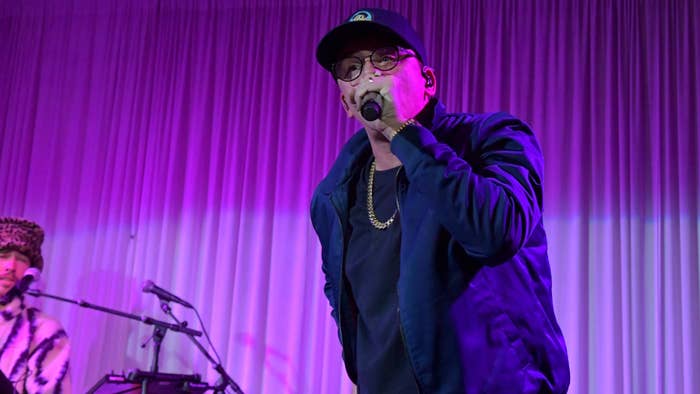 Logic's father is now signed to the artist's label, Bobby Boy Records.
The announcement was made during a recent stop on Logic's College Park tour with Juicy J, which next rolls into New Orleans on Monday evening. As seen in the clip below, Logic brought his father—Robert Bryson Hall—to the stage to reveal the familial signing. But first, he caught the crowd up on his and his father's relationship, details of which have made headlines in the past.
"Why do you always ask me for money?" Logic recalled asking his father at one point. "And you know what he says? 'I don't know. I think it's just the fact that I'm financially insecure, because I wanna leave a legacy for your little brother.' So I said, you know what, Dad? I'm gonna do an album with you. I'm gonna teach you about Black ownership and what it means to run a business."
To do so, Logic further elaborated, he's adding his father to the roster.
"Dad, I want to make sure that you're safe and we make this album, that you are protected and you have the greatest lawyers in the fucking business," he said in front of the crowd. "I wanna sign my father at 69 years old to Bobby Boy Records right now and give him what he always wanted. … Your dream came true, Daddy."
Taking the mic himself, Hall expressed "love" for his son before paraphrasing the opening to Logic and Eminem's 2019 "Homicide" collab.
"I knew he was gonna be a star ever since he came out of my balls, n****!" he told the crowd.
Just last month, Logic spoke with comedian Andrew Santino on the Whiskey Ginger podcast about his father once asking him for $1 million. This apparently caused additional issues between the two, though they later reconnected.
At that point, Logic further detailed on the podcast, his father asked him to buy him a truck and to pay his bills. In the same interview, Logic teased that he and his father were already in the middle of making an album together.