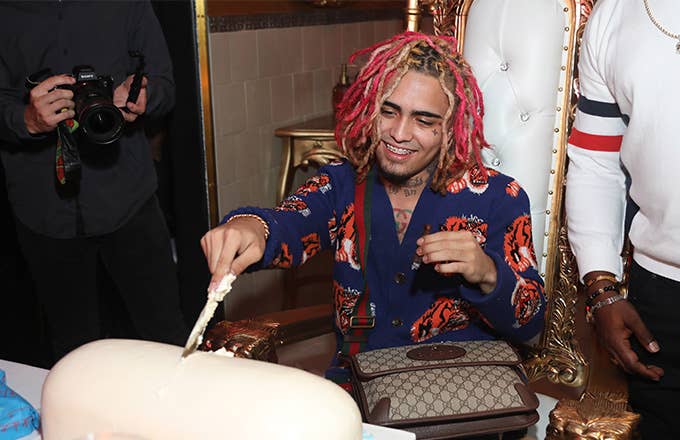 At Pump's 17th birthday throwdown at Ace of Diamonds in West Hollywood back in August, the "Gucci Gang" hitmaker celebrated by slicing a Xanax-inspired cake (pictured above). A similarly themed cake marked Pump's crossing of the one-million threshold on Instagram months earlier.

Xanax, however, may very well continue to be a part of Pump's public persona, at least lyrically. In his new Zaytoven-produced track "Designer," which was surprise-dropped over the holidays, Pump laments the loss of a kidney and states "ain't nobody fuckin' with me off the Xan."
​
The track opens with a TV news reporter referencing the undeniably hilarious controversy surrounding Pump's "Gucci Gang" video, which was apparently filmed at Blessed Sacrament School in Los Angeles. The weed-filled shoot, according to a report from TMZ last month, pissed off the Archdiocese of Los Angeles for God-related reasons.

An Archdiocese spokesperson claimed the school failed to "follow filming policy and procedures" and allegedly never mentioned the shoot to them at all. At the time of this writing, the Ben Griffin-directed video for "Gucci Gang"—which currently rests at No. 4 on the Billboard Hot 100—had bagged nearly 400 million views.