The artist formerly known as Kanye West sat down for an inevitable interview on Thursday night with Tucker Carlson, the Fox News personality who's been consistently criticized as both a nationalist and a conspiracy theorist.
Right away, Ye shared his anti-abortion stance when Carlson asked him about the necklace he was wearing.
"You designed that?" asked Carlson.
"Yes," Ye responded.
"What does that mean?" asked Carlson.
"It just represents life. I'm pro-life," Ye said.
"What kind of response do you get? And amen, I agree," said Carlson.
"I don't care about people's responses," Ye said. "I care about the fact that there's more Black babies being aborted than born in New York City at this point. 50 percent of Black death in America is abortion. So, I really don't care about people's responses. I perform for an audience of one, and that's God."
As expected, a fair chunk of the resulting discussion dealt with the inclusion of a "white lives matter" shirt design in the YZY SZN 9 presentation in Paris this week.
"I do certain things from a feeling," Ye said when asked around the 4:41 mark about the design. "I just channel the energy. It just feels right. It's using a gut instinct, a connection with God, and just brilliance. If you ask, like, Tonya Harding how she did the triple flip or the triple spin, she was in so much practice that when it was time for her to skate in a competitive format, it just happened. Like it happened outside of practice, it happened in the real format. That's what's happening. God is, like, preparing us for the real battles."
According to Ye, one such "battle" targets the media at large, which he asserts has a "godless agenda." From there, Ye referenced his father, whose text message about the design he recently shared to Instagram. Ye touted his father's commentary as his "favorite response" to the controversy.
"People are, they're looking for an explanation," Ye told Tucker later into the video above. "And people say, well, as an artist you don't have to give an explanation. But as a leader you do. So the answer to why I wrote 'white lives matter' on a shirt is, because they do. It's the obvious thing."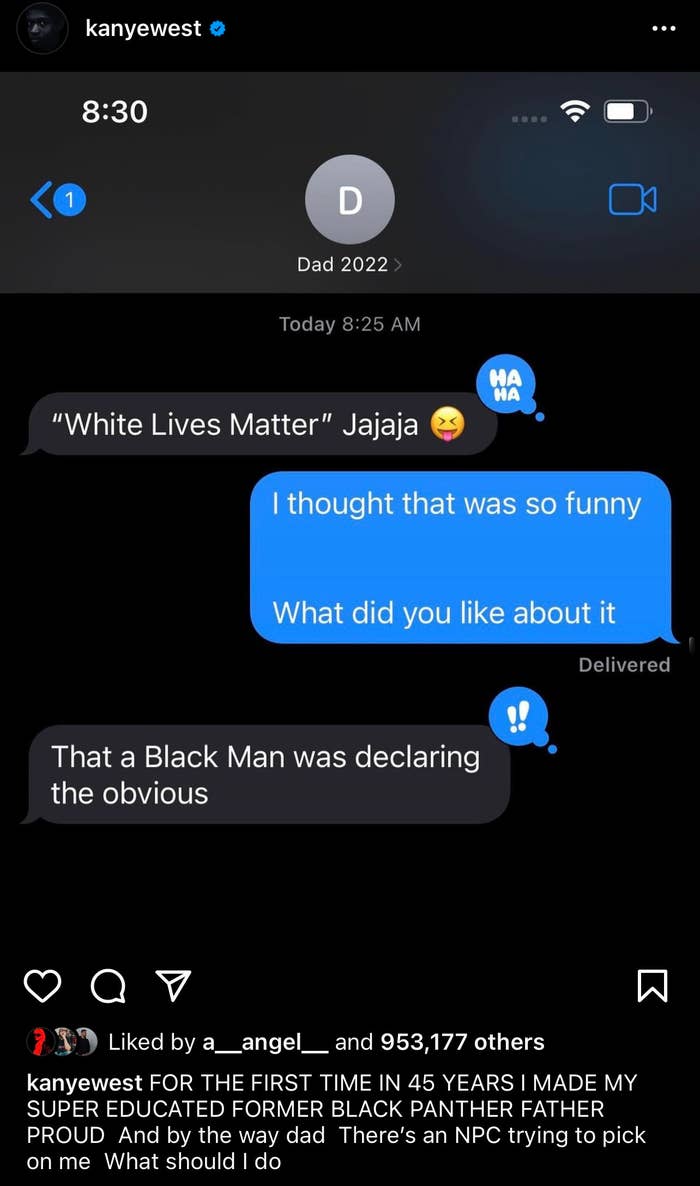 At several points in the video, Ye referenced Kim Kardashian, including amid comments about the split of his own parents.
"My dad is the most brilliant person that I know," Ye said around seven minutes in. "We actually have a strained relationship because I was taken from him because my mom was an actress so she was a liberal. And my dad would see certain things and say, you know, 'We should do it this way, we should do it that way.' And then people got around my mom and pulled her away, much like, you know, Kim is a Christian but she has people who want her to go to Interview magazine and put her ass out while she's a 40-something-year-old multi-billionaire with four Black children. And this is how fashion wants to, how they want to present her."
After more recollections of his parents' relationship toward the end of the video above, Ye led the conversation back to Kardashian, detailing his assertion that he was "ridiculed" in the press upon news that he bought a new home near hers.
"There's so many things that are put in Kim's head," Ye said. "You know, they bring influencers. Like, no one ever knew where Corey Gamble came from. No one in the fashion world knows where Gabby came from. These people were practically made in a laboratory, in my opinion. And one of the things that they're really good at doing is being nice and being likable. And what they do is, for people that have some form of influence—whether it's an educated Black woman like my mother that became the head of the English department at Chicago State University or whether it's the most influential white woman on the planet being my ex-wife—they have people that are around them at all times telling them what to be afraid of."
Additional clips of the discussion between Ye and Tucker have also surfaced, including talk of Lizzo and atheism.
"Lizzo works with my trainer, a friend of mine. … When Lizzo loses 10 pounds and announces it, the bots...on Instagram, they attack her for losing weight," he said. "Because the media wants to put out a perception that being overweight is the new goal, when it's actually unhealthy. Let's get aside the fact of whether it's fashion, en vogue, which it's not, or if someone thinks it's attractive, to each his own. It's actually clinically unhealthy. And for people to promote that, it's demonic.
He continued, "It's a genocide of the Black race. They want to kill us in any way they can … I believe that if we saw ourselves as a people, and not a race, then we would treat our people better."
The "Gabby" mentioned in the interview is Vogue contributing editor Gabriella Karefa-Johnson, who was targeted on social media this week amid widespread criticism of the aforementioned "white lives matter" design. Several people spoke out against the treatment of Karefa-Johnson, including Gigi Hadid and Gabrielle Union, among others.
Another Ye interview, as seen below, was also shared this week by Clique and Canal+.
On the same day the Fox News interview rolled out, Ye shared screenshots of photos recently shared by Jessica Care Moore featuring Yasiin Bey in what appears to be an altered version of the YZY SZN 9 design. The letter V in "lives" is blacked out, leaving "white lies matter."