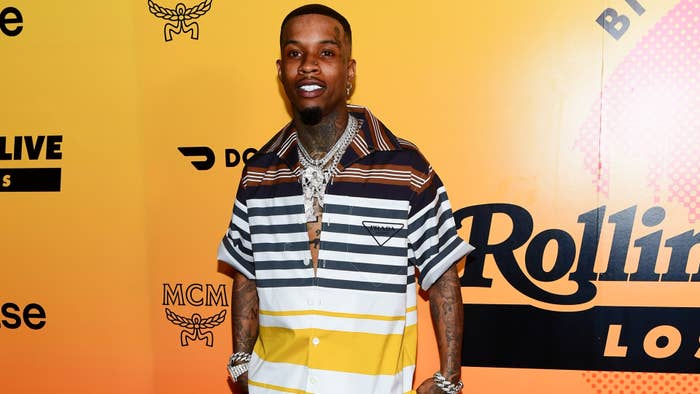 As expected, Tory Lanez's sentencing in the Megan Thee Stallion shooting case has been postponed.
As reported by KTTV and others, a new potential sentencing date (April 10) was set during a hearing with Superior Court Judge David Herriford on Tuesday. This outcome was more or less predicted, per court reporter Meghann Cuniff, who also shared an extensive breakdown of Tuesday's Lanez developments via a Substack update.
Tuesday's hearing also saw the judge lifting a gag order that had blocked Lanez from speaking publicly about the case. As previously reported, Lanez's current legal team is now expected to file an order for a new trial.
In December, Lanez was convicted on a trio of counts in connection with the 2020 shooting of Megan Thee Stallion. In a statement released in response to the conviction, Los Angeles County District Attorney George Gascón took a moment to commend "the bravery of Megan Pete," adding that she showed "incredible courage and vulnerability" when providing her testimony in the case.
"You faced unjust and despicable scrutiny that no woman should ever face and you have been an inspiration to others across LA County and the nation," Gascón said at the time. "Women, especially Black women, are afraid to report crimes like assault and sexual violence because they are too often not believed. This trial, for the second time this month, highlighted the numerous ways that our society must do better for women."
Not long after the conviction, Lanez was reported to have hired multiple new lawyers, including (according to TMZ) an attorney famously linked with Casey Anthony.