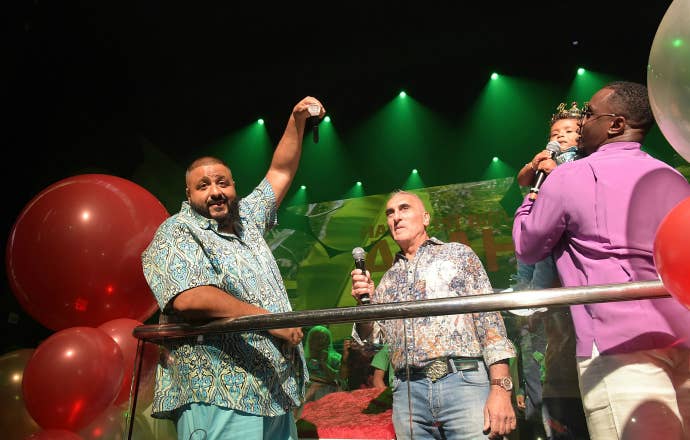 Asahd Khaled, the only baby on the planet with high-profile executive producer credits to his name, had a hell of a first birthday party over the weekend. As promised, DJ Khaled's son was gifted with a Diddy-hosted celebration in Miami. Among the appropriately extravagant gifts was a fresh watch from luxury watchmaker Frank Muller. The price tag? A reasonable $100,000.
The watch is equipped with "about 11.5 carats" of diamonds, according toBillboard. DJ Khaled also engraved Asahd's name and birth date on the back. 
For the proper envy experience, check out more photos of Asahd's new diamond-loaded watch below:
Asahd's first year on Earth has been widely productive. In addition to appearing on the cover of DJ Khaled's Grateful album, Asahd also served as the 23-track collection's executive producer. On top of that, Asahd's official Instagram account already boasts more than one million followers.
As part of his first birthday celebration, Asahd also partnered with UNICEF to help provide blankets and vaccines to other children around the world.
DJ Khaled and Asahd recently joined Joe La Puma for a new episode of Complex Closets. Fittingly, Asahd is the proud owner of some exclusive Jordans. In case you missed it and/or you're down for a rewatch, catch the episode in full below: