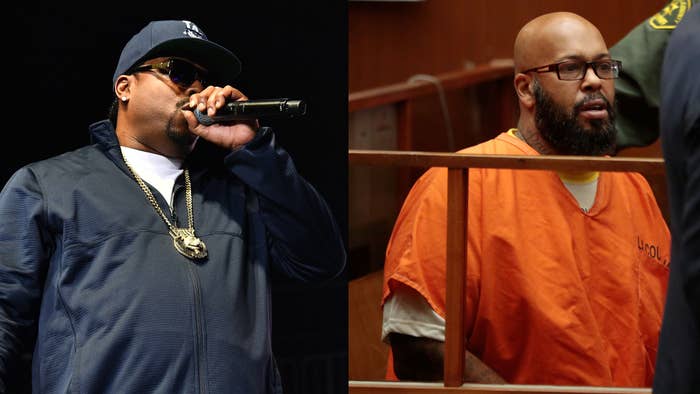 Daz Dillinger is reflecting on a key moment in his business dealings with Suge Knight.
During a recent appearance on the Home Grown Radio podcast, Dillinger said he was on shrooms when he strong-armed Knight at the Death Row office for a $2.5 million check in 1997. According to Dillinger, the discrepancy began with him being owed money in connection with the Sunset Park soundtrack-featured track "Just Doggin."
Dillinger recalled this all in vivid detail during the interview, noting that he, Kurupt, and Hershey Loc were all on shrooms when they showed up at the label's office.
"I had to go in there and strong-arm Suge and them to get the money," he said.
According to Dillinger, he was also armed with "one of those big, long Diesel screwdrivers" when he and Knight had a particularly tense moment.
"We went up there to get that money and they was playing with the money. … Suge walked into the office and the way his eyes were looking, he was gon' do something to me," Dillinger said toward the end of the interview below. "So he put his arm around me and I put my arms around him, like this [and said] 'I'm gonna stick you.' He's like, 'Hold on, Daz. Let's go in the office.' And I walked out of there with 2.5 [million]."
Adding to the personal importance of the check, as Dillinger explained, was the fact that it almost immediately saved him from charges in connection with a traffic stop on Wilshire Boulevard.
"I ain't go no license," he said of the stop, which occurred after they left the Death Row office. "I got an ounce of Cat Piss. It's some weed called Cat Piss. It's so smelly. This shit bomb. You can't get it from nowhere. We get stopped by the police on Wilshire Boulevard, like Fairfax and Wilshire."
The officer made them all exit the vehicle, and did indeed ask about his license and about the weed. When the officer found the check, however, he approached Dillinger to ask him about its legitimacy before ultimately letting them go.
"Well, just stomp the weed out, cash that motherfucker, go get your license," he recalled the cop telling him.
See more of Daz's story below.