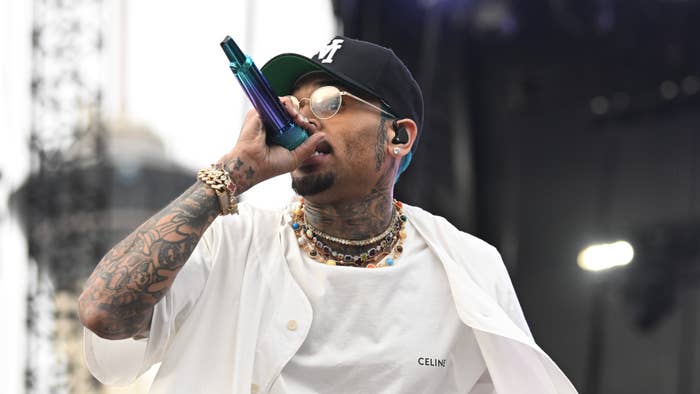 Chris Brown has addressed the coverage surrounding footage of a purported backstage incident from this weekend's Lovers & Friends festival in Las Vegas.
As fans may have seen, TMZ initially reported that Brown was seen in a short clip getting into a heated argument with someone backstage. Apparent security officials are also seen in the clip, though it wasn't immediately clear what, exactly, was in dispute.
As these things often do, the footage and related reporting quickly made its way to gossip accounts on social media. Brown himself later commented on one such post and criticized the coverage of this particular incident. According to Brown, the moment in question stemmed from an overcrowding issue backstage and was quickly resolved.
"[Y]all been geeked all weekend," Brown wrote. "[Y]all dragging it now. It was mad people backstage and security was trying to clear everyone off the stage. People started pushing back..I INTERVENED To let them know MY CHILD WAS BACK THERE. So y'all can keep ya narrative."

Below, see the post where Brown left his comment.
To be clear, this alleged incident is not believed to be connected to a prior report claiming that Chris Brown and Usher were involved in an altercation. While it was initially alleged by the usual outlets that Usher had been jumped by Brown and his security team, leaving the former with a bloodied nose, Usher was later seen without any facial injuries during his own set at Friends & Lovers.
In fact, both Brown and Usher were on the lineup for the festival, which also featured performances from Missy Elliott and Christina Aguilera, among others.