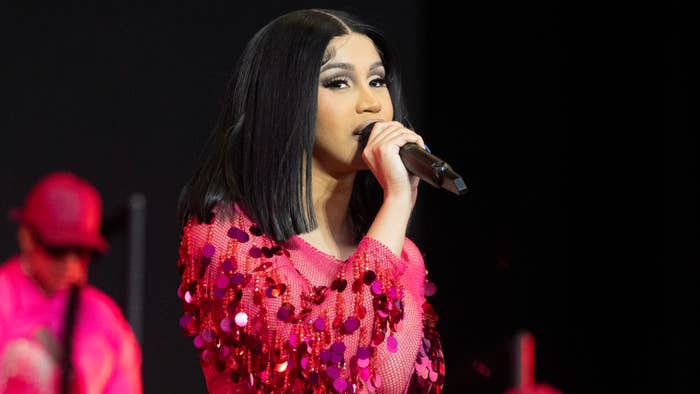 Cardi B and The Shade Room traded words this weekend, with the former accusing the publication of trying to "gaslight" her over their content sharing methods.
While the bulk of the multi-part exchange seems to have now been deleted, those who watched it play out in real time saw Cardi going public regarding her issues with the outlet, beginning with her requests about a TSR-shared post about her and Offset's daughter Kulture.
"Delete my child off y'all page," Cardi, who alleged that her efforts at getting in touch about the post were being ignored by the outlet, said in a since-removed tweet.
From there, TSR responded by pushing back against a more general criticism from Cardi about the nature of the Cardi-focused content the outlet shares. While Cardi argued that the outlet will "only post negative content" about her, TSR responded with examples of what it argued was positive coverage.
"So now you guys want to gaslight me," Cardi said in a video, seen below. "And if you guys are not doing shady shit on purpose, why mute me from commenting? And then, you guys post certain things—certain things—positive about me so y'all can continuously post negative things about me that you don't do to other artists."
The back-and-forth continued across social media from there, ultimately bringing in mentions of Cardi's victory in a much-publicized defamation lawsuit and TSR's claims of not being able to post some of the recent Wireless Festival footage of Cardi due to permission-related hurdles.
Ultimately, however, both sides in the public dispute agreed to take a more private approach to the disagreement by talking it out on a phone call.
"You know what, let's handle this like adults," Cardi tweeted when suggesting the call, to which TSR agreed.
Shortly after, TSR said both sides were "able to come to a resolution."
The Shade Room also apologized for its handling of the situation.  
Coming soon from Cardi, as in tomorrow, is the long-teased new video for her recently released "Hot Shit" track with Lil Durk and the artist formerly known as Kanye West. Over the weekend, Cardi shared a brief teaser clip of the video, the delay of which she previously attributed to circumstances beyond her control.