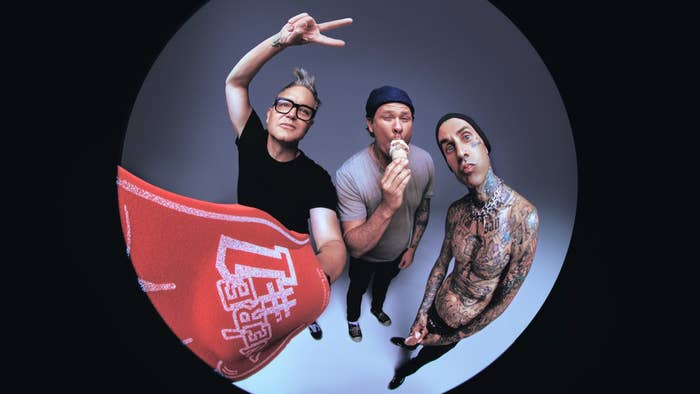 Tom DeLonge's first show back with blink-182 after his second departure from the band in 2015 will take place as part of the 2023 Coachella lineup.
The surprise last-minute Coachella set was announced on Wednesday night, with the official festival socials sharing set times for the first weekend with the caption, "take off your pants and jacket." This, of course, is also the title of the preeminent pop-punk trio's 2001 Jerry Finn-produced album.
As fans know, that album is notably in the band's catalog for several reasons, including the fact that it arguably serves as a sonic bridge of sorts between 1999's Enema of the State and DeLonge and Barker's lone Box Car Racer project in 2002. The album is also widely cited as the first punk album to debut atop the Billboard 200 albums chart.
When confirming the surprise Coachella appearance, DeLonge shared a photo highlighting some particularly moving and oft-quoted lyrics from the band's live staple "Family Reunion."
Also new to the Coachella lineup is James Blake, who was not previously announced as part of this year's festival. Blink will perform at the Sahara tent at 6:45 p.m. local time on Friday, while Blake is set for what's speculated to be a DJ set at the Do LaB stage at 8:50 p.m. that same night. Set times are subject to change. Though still not officially announced, The Weeknd (as previously reported) recently retweeted a tweet claiming that he too would be making an appearance.
For blink, the Coachella performance comes at a pivotal moment for the Grammy-nominated group, the classic lineup of which (i.e. Tom DeLonge, Mark Hoppus, and Travis Barker) was confirmed to be reuniting in October of last year. In tandem with the announcement was word of an impending global tour that's set to keep the band on the road for 2023 and 2024, as well as the rollout of a new single, "EDGING." The song proved to be a massive success for blink and ultimately became one of the biggest chart hits in their decades-strong catalog.
A new album, the first full-length blink release to feature founding member DeLonge since 2011's Neighborhoods, is expected to be released at some point this year. Revisit the Cole Bennett-directed video for "EDGING" below.