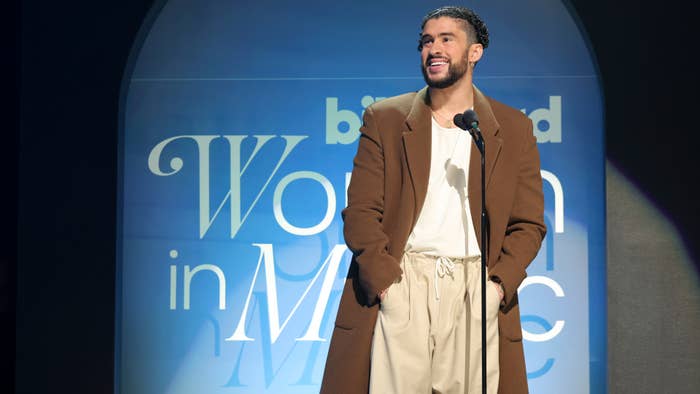 Bad Bunny is not only the latest cover star of Time magazine, but he's also once again making history in the process. The feature, captured by Elliot and Erick Jiménez, marks the publication's first-ever all-Spanish cover.
In the accompanying interview, Bad Bunny reflected on his years-long run of global hits and equally global recognition. He also touched on more tabloid-y matters, as well as a recent controversy spurred by the live captioning that appeared during his unforgettably brilliant ceremony-opening performance at the 2023 Grammys.
As viewers will recall, subtitles were displayed during the performance that read "singing in non-english" and "speaking in non-english." This move was widely criticized by fans and fellow artists alike, with 50 Cent among those who were quick to slam the handling of Bunny's performance.
"In reality when I saw it…it didn't capture the message. It didn't say 'in Spanish'… como que (like) 'non-english'… well, the system doesn't work," Bunny said when asked about the incident, per Andrew R. Chow and Mariah Espada. "It was porqueria (crap), that's the only way I could put it."
As for the performance itself, Bad Bunny revealed that he actually didn't know he was going to open the ceremony in February until the last second. By his estimation, the show's producers saw a version of his performance and thought "let's put him as the first act."
The new Time cover is not the first instance of Bad Bunny having made history. In fact, it's far from it. His 2020 album El Último Tour Del Mundo, for example, became the first all-Spanish album to hit the No. 1 spot on the Billboard 200 chart upon its release in 2020.
Next up for Bad Bunny on his continued journey as quite inarguably the biggest artist on the planet is a pair of headlining sets as part of this year's Coachella lineup. Frank Ocean and Blackpink are also headlining.