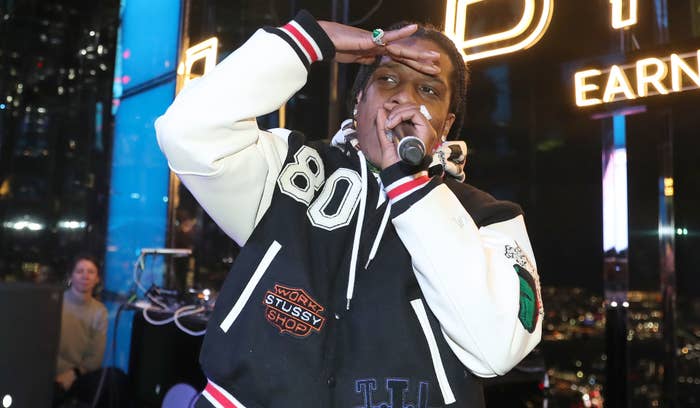 ASAP Rocky is the latest to offer his thoughts on the Oscars slap, telling Drink Champs he's a fan of everyone involved in the televised moment which has spurred countless takes.
In a clip from an upcoming interview, Rocky theorized that some "built-up shit" likely contributed to the slap and detailed why he considers the situation an "unfortunate" one.
"I'm a fan of Will, Jada, Chris, all of them. They OGs," Rocky said, as seen in the clip below. "I think it's unfortunate that, like, he emasculated another Black man in front of all them people like that. But I do think that, like, it's some built-up shit that probably wasn't really targeted at Chris Rock. I don't know. … Like what you said, it seems like it's more than just a G.I. Jane joke."
The news cycle spurred by the slap has included quite a bit of confusion as to how, exactly, ceremony officials initially responded. In an interview with Good Morning America on Friday, Oscars producer Will Packer recalled the moment from his perspective, revealing that Rock "did not get to one joke" that was initially planned as part of his appearance at the ceremony as a presenter.
"He was just immediately freestyling," Packer said, later adding that he wasn't initially concerned about the slap "at all" and first thought it was a bit that the two were in on together. A portion of Packer's comments, namely the suggestion that Rock did not want Smith removed, was swiftly disputed in a report from Deadline. In the report, which cites "reliable sources," it's claimed that while Rock did state that he did not want to press charges over the slap, he was allegedly not asked if he wanted the King Richard star removed.
"I would like to publicly apologize to you, Chris," Smith later said in an IG-shared statement on the slap. "I was out of line and I was wrong. I am embarrassed and my actions were not indicative of the man I want to be."
A variety of misinformation has also circulated in connection with the Oscars slap, including an image falsely purporting to show that Rock was wearing a protective pad on his cheek. The comedian was wearing no such thing.