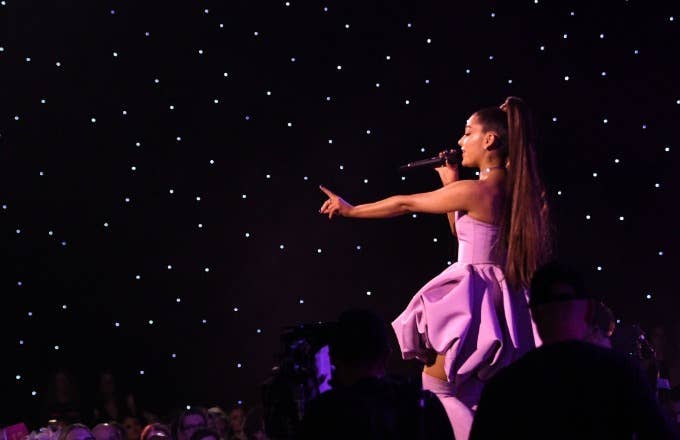 Ahead of a Grammys broadcast that will surely suffer from a lack of Ariana Grande, the prolific pop icon released her new album Thank U, Next. As lyrical analysis of the 12-track album gets underway, fans have been quick to point to the excellent mid-album cut "Ghostin" for its possible references to Pete Davidson and the late Mac Miller.
Though I wish he were here instead
Don't want that living in your head
He just comes to visit me
When I'm dreaming every now and then
A dream-set meeting is detailed in the track's second verse, with Grande telling someone she doesn't want her wish that "he were here instead" to stay "living in [their] head." The dream guest, she adds, is merely a visitor. Some have also pointed to possible lyrical parallels with Miller's "Cinderella," a 2016 track that has been confirmed to be about Grande.
In a tweeted response to a fan inquiry back in January, Grande herself said the track is about "feeling badly" for the person you're currently seeing because you're actually loving someone else:
Fans have also made a composition-based argument for this interpretation, pointing to the similarities between "Ghostin" and Miller's "2009," which appears on last year's Swimming album.
On a lighter note, if you're well-versed in matters of *NSYNC, then you likely also spotted a No Strings Attached nod when going through the rest of the new album. On equally excellent album closer "Break Up With Your Girlfriend, I'm Bored," Grande and her team of collaborators snuck in a little "It Makes Me Ill" off the Jive Records group's sophomore 2000 release. Unfortunately, "Break Up With Your Girlfriend" does not also outright sample the track's closing "What?!?! We done done it again!" shout from noted woodsman Justin Timberlake.
Look for further analysis of Thank U, Next, which you should definitely be spinning, in the coming months.