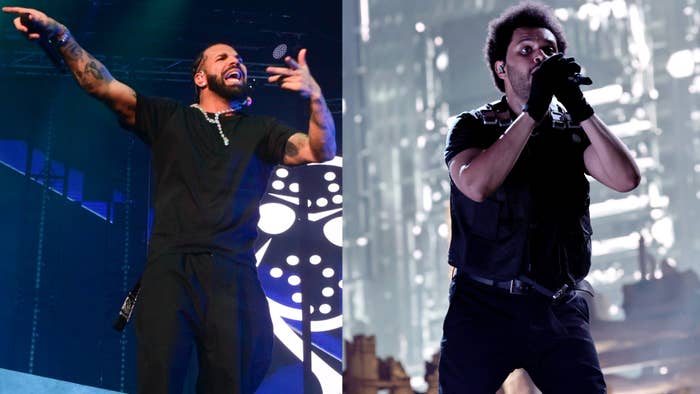 An AI-generated track designed to emulate a nonexistent Drake and The Weeknd collaboration has been going viral in recent days, all while criticism on the use of such tech continues to grow among artists and others in the music industry.
The track, titled "Heart on My Sleeve," appears to have originally been shared by a TikTok and YouTube user by the name of Ghostwriter. As the track started to spread across social media, listeners were quick to share their thoughts on both the track itself and the larger issue at hand.
"This is just the beginning," the original uploader wrote in a pinned YouTube comment over the weekend. In a TikTok comment, the uploader claimed they were "a ghostwriter for years and got paid close to nothing just for major labels to profit."
At the time of this writing, the AI-generated track was also available on Spotify, though it's hard to imagine that will remain the case for very long. The AI track's lyrics, notably, have also received attention—especially its mentions of Selena Gomez, including a mention of her and Justin Bieber's former relationship in the chorus (see below) and an apparent reference to her and Abel's 10-month coupling in the second verse.
"I came in with my ex like Selena to flex
Bumpin' Justin Bieber, the fever ain't left"
The track's virality follows ongoing criticism from a number of artists in response to other recent examples of AI-generated tracks. Drake himself, notably, previously responded to a viral clip of an AI-generated version of his likeness rapping Ice Spice's "Munch" song.
"This is the final straw AI," Drake said in an Instagram Stories update last week.
Pete Rock and Young Guru, among other artists, have also expressed their own concerns over the current response to this particular use of the tech. Meanwhile, Universal Music Group was recently reported to be pushing for major streamers like Spotify and Apple Music to do something about their artists' copyrighted works being used as training references for these AI-generated tracks.