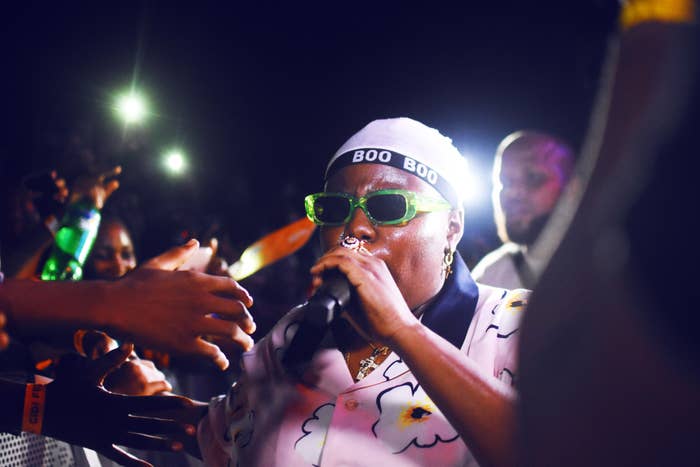 Back in February, Teniola Apata brought TENI LIVE, a 20-date world tour, to the UK, selling out a string of dates and cementing her rising global status. As the next great export from Nigeria, the musical hub of Africa, we flew down to Lagos over Easter to catch Teni on home soil. As the headline for Gidi Culture Fest—one of the country's biggest one-day festivals—you'd imagine Teni, who mixes afrobeat with pop and rap, would be a little bit fazed. Far from it. According to recently published reports, across December (the most lucrative period of the year), Teni emerged as the most popular act, having appeared at over 50 shows.
In an industry still heavily reliant on performance and sponsorship-based income, Teni—still a relative newcomer—is absolutely everywhere. Up on the Victoria Island Coast—showcasing the continent's brightest across music and art, Gidi Culture Fest anchors Lagos Music Week with its programme this year including nods to the past, present and future of West African music. "I think she has that ability to transcend," festival organiser Chin Okeke tells me, putting his chips firmly on Teni as the next breakout star.
As the evening draws and temperatures drop, the crowds move on from the Next Gen stage, with all eyes now on the headliners. With guests pouring into the beachfront, I finally sit with Teni—but not before she introduces a friend. "Here's one of the hottest artists in Nigeria, my baby boy," she told me. In truth, she didn't need to—Burna Boy's recent single, "Killin Dem", was spinning every 30 minutes on stations across Lagos—but that she wanted to said enough about her to me. Teni's near-2,000,000 Instagram followers know her as a character or #MOOD, as is pasted en masse in the comments tracking her latest clips. But here we get to know Teni, the musician. 
COMPLEX: On the flight over, I was reading an article on you being the most in-demand artist in the country last December. So firstly: how do you keep it all going?
Teni: You just have to want to be great. Period! Nothing else but greatness. If you get distracted then that means you don't wanna be great... You don't want to be.
When did you realise everything had changed for you?
It was at the show in Abuja, earlier this year. The reaction was, well, it was massive. Really massive. I couldn't believe it! I got up, I didn't expect it, and there everybody was just singing my song—everybody. I said to Bunmi, "What is going on!?" She's here, that's my best friend—we all lived together in Atlanta for uni.
So when you know it's your time, how do you maximise the moment?
It's not easy, I won't lie, but it's just about surrounding yourself with people that have a similar mindset to you. People that want to excel. Like my mum—she's always on my neck—my manager, my team, all of us: we just strive for greatness. Nothing less.
You're from Ondo State, right?
Actually, my mum is from Ondo and my daddy's from Ekiti State, but I've never been to Ekiti. I claim Ondo because that's what I know. I know the culture, the music, the food.
Would you say it's necessary to come down here to Lagos to truly make it happen as a musician in Nigeria?
You know, I have to say that's what it looks like. But even if that's what it looks like, it doesn't have to be—I don't believe in rules. You know Styl Plus? When they blew, they blew from Abuja. Yes, Lagos is the hub, but if you look at other artists from around the world, they blow from where they're at sometimes.
When did you decide it was time to relocate?
As soon as I graduated university! Wo… I gave my mother the certificate—take it! I just knew music was for me. Nothing else. If you take away music from me, you take away my life.
Both you and your sister, Niniola, were into music from when you were much younger. How did the rest of the family support that?
It was always just, "You'll end up in McDonald's!" That was it; they didn't believe. You see, the thing about belief is no one else has to believe—as long as you believe, and truly believe, then you are set.
We've been waiting on the EP this year—is it still coming? You sometimes drop really dope clips on social media, but will you actually fully record and release any of them?
It is still coming, I promise. I'm just taking my time to make it as best as possible; I don't want to rush. It will be a mixture of the sounds I've been putting out—it has to be. I'll probably sit down and hear all my music on my hard-drive, and then I'll record something. When it's out, you're going to look back on this interview and be like, "Damn! She's 50 times bigger now."
You're like 50 times bigger than you were two years ago, so...
Okay, like a million times then [laughs]. I went to Europe a few months ago—nine countries across Europe.
What was the reaction like?
Bulgaria, Poland, Romania... Those places surprised me the most. White people were, like, singing my songs. I'm telling you! It was "Askamaya" and "Uyo Meyo" and, I'm telling you, they were singing along to all the words! Of all my travels, that was the biggest shock; I'd already been going to the States since I was young, I have family out there, so I would go and spend the summer.
As an "entertainer" first, your personality is at the front of your brand. Do you have plans to explore the field further, maybe acting?
Yeah, I'm enjoying myself. I mean, if it comes, it comes, but right now I have to live my life how I wanna live my life.
You seem like you've got it all mapped out, though.
I do and I don't. Most of the best things that have ever happened in my life have never been planned. Like my Instagram videos, my travelling, the video in Dubai.
When you involve someone in your videos like that, do you let them know it's going out to over a million people?
Sometimes! Unless it's my guys—most of the time, I don't know them at all.
You received some pretty rough criticism early in your career—very different to how it is now for you. How did you manage to navigate it at those times?
Love! I just live my life. I'm livin' my best life and I spread love. Period. I don't give a fuck! I've always wanted to live my life where, after I'm done, I can look back and see that I've made some positive movements. Ignorant people can only restrict you if you pay attention to them, if you listen to them. And that's why some of them are mad at me, but I don't give a fuck.
Are there any issues within the country that you want to highlight with your music now?
Just make women a priority and stop putting us as second-class citizens, first of all. You're not even expected to do music as a woman—you're expected to get married and have babies. In this part of the world, in this part of Nigeria, slowly but surely it's changing. If you have women that can break boundaries, then it will change. This country is hard, believe me—even the people that look like they're living well, they might not be because a lot of people live fake lives. I'd rather you accept me as I am. I think that I'm fresh and fly, and that's all that matters.