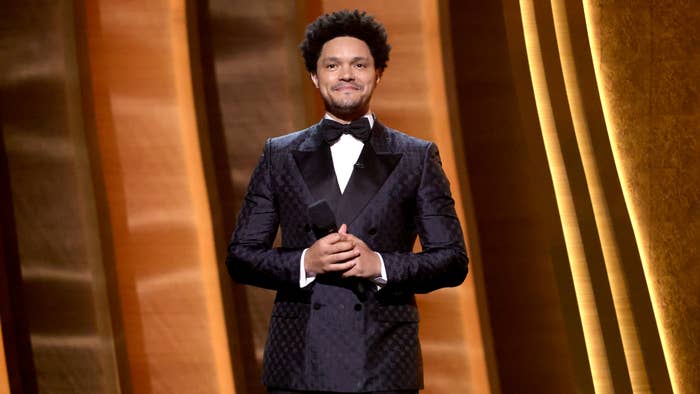 Trevor Noah is returning to the Grammy stage.
According to The Hollywood Reporter, the former Daily Show host will bring his talents to the next Recording Academy Award Show, which will mark his third consecutive year emceeing the event.
"One of my favorite things about the Grammys as a whole is it is one of the few places where you get to experience artists in their rawest element, which is performing their music live," Noah toldBillboard in a new interview. "You develop a deep appreciation for what these people are doing beyond just the music that they make."
This year's top nominations are led by Beyoncé with nine nods, Kendrick Lamar with eight, and Adele and Brandi Carlile with seven. A handful of other musicians earned six nominations each: Future, Harry Styles, Mary J. Blige, DJ Khaled, and Randy Merrill.
The news follows Noah's last The Daily Show episode on Dec. 8, where he shared a poignant tribute to Black women. He'd been with the show for seven years. Now, he's set to embark on his Off the Record global tour in January, his Zero Day Productions house has over 30 projects on the docket, and it looks like he will be starring in some movies himself.
As host of the Grammys, he will also reunite with some of the staff from The Daily Show.
"Some of us work on the Grammys together, some of us work on other shows that I'm producing," he told The Hollywood Reporter in November. "It's almost like that moment in soccer. As a soccer player, you'll play for your club and then you'll play for the national team and there was always a moment where a player would retire from the national team. They'd say, 'I'm no longer going to play at the international level, but I'll still play for my club.' And it's always sad because they won't be on the national team, but they're still playing and they're still playing with many of the players they know."
The Grammys will take place on Feb. 5 in Los Angeles at the Crypto.com Arena and will air on CBS.