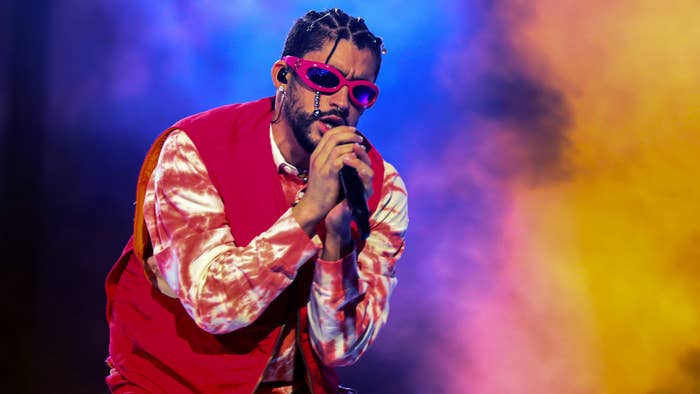 The president of Mexico is attempting to rectify the Bad Bunny concert debacle.
The Associated Press reports that President Andrés Manuel López Obrador has implored the Puerto Rican superstar to host a free show in Mexico City for his fans. Bad Bunny played a sold-out show in Mexico's capital last Friday, which unfortunately resulted in thousands not being able to attend due to an unprecedented amount of fake tickets.
While Obrador can't pay the singer to perform, he said the Mexican government can foot the bill for the sound system, stage, and lights, and can also "install a zip line at the capital's huge main central plaza," AP wrote.
"I would tell him how deeply we were touched to see young people sad because they couldn't get in, because they had duplicated tickets, because they were victims of fraud," Obrador said, adding that he hopes Bad Bunny would consider his request since he is "sensitive" and in "solidarity" with his fans who were scammed.
The country's consumer protection agency has since launched a probe into the matter.
Ticketmaster Mexico issued an apology following the scandal: "Ticketmaster offers an apology to fans and is announcing a reimbursement for customers who bought legitimate tickets and weren't able to access today's Bad Bunny concert," the company wrote in Spanish on Twitter. "The access issues were a consequence of an unprecedented number of false tickets presented, which caused an extraordinary crowd and an intermittent operation of our system. This generated confusion and complicated admission to the stadium, with the regrettable consequence that some legitimate ticketholders were denied entrance."
The company also revealed that 4.5 million ticket requests were made for 120,000 seats. Unfortunately, fake tickets prevented those with real tickets from accessing the concert.