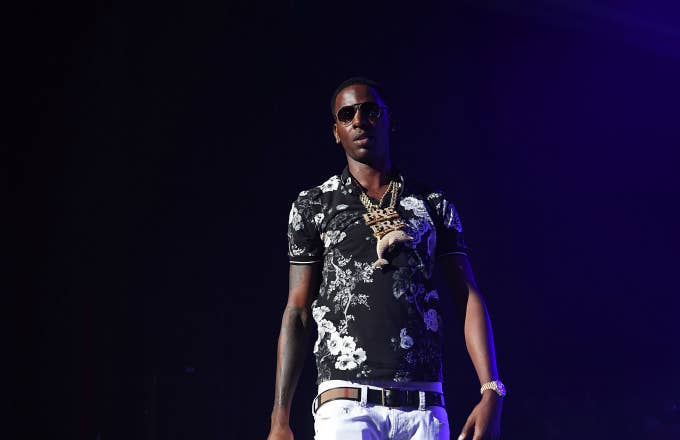 UPDATED 9/27/17 1:40 p.m. ET: According to XXL, Officer Mota of the L.A. County Sheriff's Office says "Gotti is not currently a person of interest in the shooting." 
UPDATED 9:41 p.m. ET: TMZ is reporting that the LAPD considers Yo Gotti a "person of interest" in the shooting of Young Dolph. The site says that Dolph and Gotti were both staying at the Loews, and their respective crews had some kind of beef. A short time later, the shooting occurred. At least one witness has placed Gotti at the scene, TMZ says.
Dolph is reportedly in critical condition after surgery, according to KTLA. 
Original story below:
Rapper Young Dolph was shot in Hollywood on Tuesday. At around 1:12 p.m. PT, shots were fired in the valet parking area of a Loews hotel in the city's Hollywood & Highland shopping district.
Not long afterwards, the LAPD confirmed that Dolph was the target of the shooting, that he had been hit multiple times, and he was taken to a nearby hospital.
The commanding officer of the LAPD's Hollywood Division confirmed the shooting, though not its target, on Twitter.
TMZ also reported on the shooting, and said that Dolph's injuries appeared to be "non-life threatening." Complex has reached out to a rep for Dolph, but they could not provide any information as yet. The shooter drove away in a gold Escalade (found empty not far from the scene) and is still at large. One person, who police have confirmed is not the shooter, has been detained. 
Complex spoke to the LAPD's Public Information office. They said only that there was "a victim of a shooting" who "ran into a business, suffering from a gunshot wound." 
Dolph was the target of another shooting back in February, in North Carolina.
As the news got out about Tuesday's shooting, Dolph's music industry peers took to social media to share their wishes and concerns.