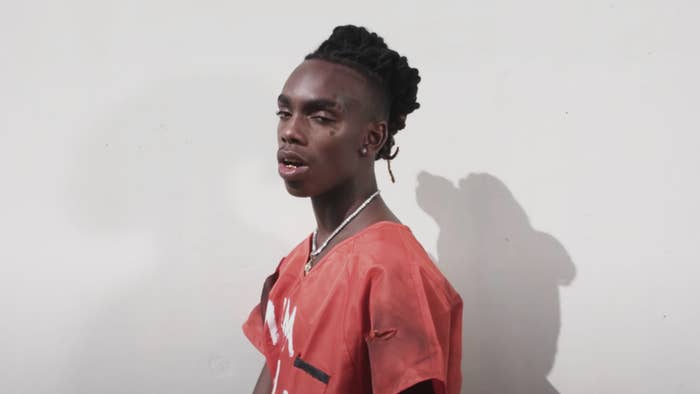 When Jamell "YNW Melly" Demons and his friend Cortlen "YNW Bortlen" Henry were arrested in February 2019 for allegedly murdering their crewmates Christopher "YNW Juvy" Thomas Jr. and Anthony "YNW Sakchaser" Williams, the entire rap world was in shock. Did a rising star really kill two of his closest friends? Why?
Today, nearly 20 months after the arrests, the case against Melly and Bortlen is slowly proceeding along. Melly is still behind bars in Fort Lauderdale, after catching a case of COVID-19 in the spring (he was the second person in the whole jail to test positive for the virus). The last time the public saw Melly was at a court hearing all the way back in March. He appeared happy, smiling at his mother, brother, and other supporters. 
Melly pled not guilty back in March to two charges of first degree murder. If he's found guilty, it could mean the death penalty. 
The case dates back to an incident on October 26, 2018, when Juvy and Sakchaser were killed in what Bortlen and Melly claimed was a drive-by shooting. A report filed by Miramar PD detective Mark Moretti lays out what the cops found while investigating. Contrary to Melly and Bortlen's claims, the detective says, "The evidence shows the initial lethal shot occurred from inside the vehicle and was initiated from the left rear passenger side," where Melly was sitting. In the aftermath, cops claim, Melly and Bortlen staged a fake drive-by. "The evidence shows that Thomas and Williams were shot inside the vehicle and then the surviving occupants (Henry and Demons) exited the vehicle and then intentionally shot into the vehicle from the exterior," the document reads.
Despite the fact that Melly has been denied bond and forced to stay behind bars, some people familiar with the case are confident he'll ultimately prevail. Bradford Cohen, an attorney who represented Melly in the early stages of the case (but no longer does), tells Complex, "In terms of the evidence that I've reviewed, I think there are some substantial questions and substantial areas that I think are very large holes for the prosecution that they're going to have to fill, and I think that benefits the defense of Melly."
Melly's lawyers agree. In a document filed in May 2019, they laid out the strengths of their case. "[T]here has been no 'murder weapon,' no witness placing a gun in Mr. Demon's [sic] hands, no witness placing Mr. Demon's [sic] in the acutal vehicle at the time of the alleged shooting. There is no DNA that would implicate Jamell, there is no indication of a motive. There is also no evidence that if Jamell was present in the vehicle, that he had anything to do with the killing of his 2 best friends." 
While there isn't another hearing in the case until January, there have been a few developments in recent months. Here's a rundown.
To a casual observer (and undoubtedly to Melly, who has been locked up the whole time) 20 months of legal wranglings with no trial date in sight may seem extreme. However, Bradford Cohen points out that murder cases—especially ones that involve the death penalty—take a lot of time under normal circumstances, never mind in a pandemic that has literally forced the temporary closure of the Broward County Courthouse. 
"Everything has kind of stalled because of COVID," Cohen explains. "Generally, in very serious cases such as this, without COVID, it usually takes anywhere from 18 to 24 months to get through all the evidence, get through all the video, hire experts, and do what you have to do in order to put the case in a position that is ready to be tried. So it's not an unusual circumstance to me that it's been 20 months. Number one is because of the seriousness of the accusation and also number two, because of the COVID situation."
The next hearing in the case is set for January 28, 2021, though that may change if the courthouse has not re-opened by then. 
On May 23, the court agreed to let Bortlen out of jail pending the outcome of a trial, on a $90,000 bond. He was put on house arrest. He was also banned from interacting with a long list of people including Melly, Melly's mother and girlfriend, Melly's manager, and the YNW crew's go-to video director DrewFilmedIt. It took about a month of legal wrangling, but Bortlen finally walked free in late June. Within a few months, Bortlen, who was not one of the main musical talents in the YNW crew, having only appeared on a single verse prior to his arrest, released a music video for a new song "Been Thru." The video, in a nod to Bortlen's situation, featured him on a set made to look like a jail cell. 
In a hearing on September 17, Bortlen's attorney Fred Haddad revealed something shocking: Bortlen's father had been shot. At that point, the lawyer didn't know much more. "I don't know if the father became deceased, or if he was wounded, so I'm waiting to hear," he told the judge.
A little more than a week after the hearing, details finally emerged. A 43-year-old man, who reports identified only as being "related to" Bortlen (not specifically as his father) had been shot in a Gifford, Florida apartment complex on September 14. An 18-year-old man named Traveion Banks was arrested for the shooting.
A report by Deputy Robert Sunkel of the Indian River County Sherrif's Office filled in the details. The two alleged shooters, Banks and a second suspect named Shakeem Parker, had "exchanged words" with Bortlen's relative about a month before the shooting about Bortlen. People in the area also kept telling the cops exactly why the shooting happened.
"Numerous anonymous tips had come in...that the males shot [Bortlen's relative] in retaliation for [Bortlen] and Jamel [sic] Demons killing their friends in South Florida," Sunkel's report reads. 
Bortlen's relative was badly hurt and was briefly on a ventilator in the aftermath of the shooting. He will "most likely survive, but may be paralyzed," Sunkel wrote. 
Banks was charged with Attempted First Degree Murder With Firearm, and is set to be arraigned on October 29. Parker, despite being named in the police report, has not been arrested.
On October 5, four detectives were deposed. That is, they told lawyers on all sides (the government, Melly's attorney, Bortlen's attorney, and an attorney representing Juvy's family) what they knew about the case. The proceedings were secret, but there is a possibility that a transcript may surface in the coming days. 
Attorney John M. Phillips is representing Juvy's family. He's been a part of court hearings and depositions. He has occasionally even weighed in publicly on the case, tweeting that Melly's fans are "beyond delusional" if they think he's getting out on bond. (Melly, for his part, has been insisting that he will be home this year.) Phillips told Complex back in May that there are already plans to file a civil suit against both Melly and Bortlen.
The TC Palm newspaper looked at jail disciplinary reports and commissary records to get an idea of Melly's life behind bars. They found that Melly had spent months in solitary—he was sentenced to a total of 70 days, as of early May—for misbehavior. "Deliberately overflowing a toilet, threatening a guard, fighting inmates, and making three-way calls were among rules jail staff said he broke," the article explained. 
But it's not all bad. Melly posted (and then deleted) an Instagram photo showing him with a $1K Versace Chain Reaction sneaker. 
As for the toilet story, the article says that Melly copped to flooding both the top and bottom tier of a unit. A report about the incident has him saying, "Yea I flooded it, now go get your sergeant. I'll beat all y'all ... and I have real lawyers to get me out of it." 
Melly is also spending a lot at commissary—often around $100 a week. Among his most common purchases? Stuffed Jalapeno Chips, Oreos, lemonade, and Mega Honey Buns.