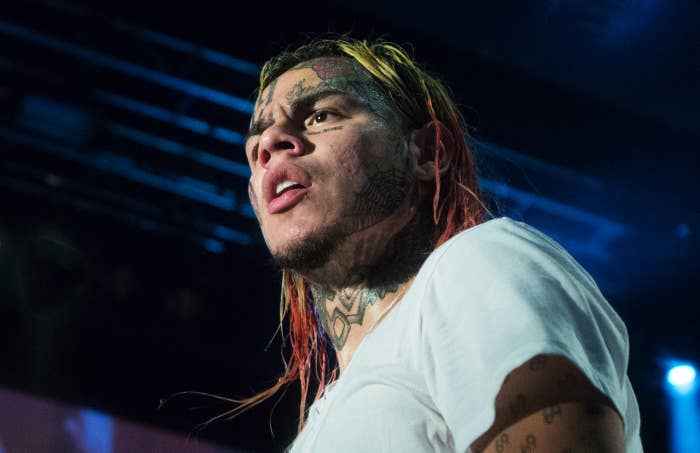 Lance Lazzaro, one of Daniel "Tekashi 6ix9ine" Hernandez's attorneys, didn't get the exact outcome he wanted at the sentencing hearing on Wednesday. Judge Paul Engelmayer gave Lazzaro's star client a sentence of 24 months in prison, instead of the hoped-for time served verdict, which would have allowed 6ix9ine to go free immediately. 
But 24 months doesn't mean that the rap star will remain locked up for another two years. Lazzaro tells Complex that he expects 6ix9ine home much sooner—by the end of July, according to his calculations.
How do we get there? Well, 6ix9ine has already been imprisoned for 13 months. And of the remaining 11? Lazzaro breaks it down.
"You get good time credit on any federal sentence," he says. "You basically do 85% of your jail time per year. You get a credit of 54 days per year. So he should get 108 days off his sentence."
The official date of release, the attorney continues, should be known within the next week.
"He'll be home at the end of the end of July and he'll resume his career."
But while the judge's decision was disappointing, that wasn't Lazzaro's only issue with Wednesday's hearing. One of the people to speak that day was a woman only identified by the initials "L.L." She was shot in the foot on July 16, 2018. The shooting, according to court records, was part of an internal beef between factions of the Nine Trey Gangsta Bloods. 6ix9ine and his manager Kifano "Shotti" Jordan arranged the incident, which targeted Nine Trey member Billy Ado. Ado escaped unscathed, but L.L., an innocent bystander, was hit.
The government's summary of the incident, from their letter to the judge about 6ix9ine's cooperation, is below:
"On or about July 16, 2018, Hernandez was in Los Angeles with [his driver Jorge] Rivera, and received a call from Jordan, who told Hernandez that another member of Nine Trey, Adonijah Fields, a/k/a 'Billy Ado,' with whom they were in a dispute, was live-streaming on Instagram from 'Smurf Village' in Brooklyn (a public housing development). Jordan told Hernandez, in sum and substance 'I got something for this n****a,' and that Jordan was going to 'make it hot,' which Hernandez understood to mean that Jordan was going to have someone shoot at Fields. Hernandez was not sure who shot at Fields, but Hernandez knew that a shooting took place and that a woman was hit in the foot."
To Lazzaro, the incident is Shotti's fault. "I think Kifano Jordan ordered what happened that day," he says. 
And L.L., who said during the hearing that all she wanted from 6ix9ine was an apology?
"She sent a letter yesterday asking for Daniel's civil attorney, because they're looking to sue Daniel Hernandez."
"I find out later that she was sitting next to her civil attorney," Lazzaro says. "She sent a letter yesterday asking for Daniel's civil attorney, because they're looking to sue Daniel Hernandez. So her statement to the judge and to everybody in that courtroom that all she was looking for was an apology clearly was false. Clearly she has other plans by coming there yesterday than just to get an apology. She had other motives."
Lazzaro clarifies that L.L. didn't deserve what happened to her, but he disputes that his client was responsible, especially considering that "he wasn't even in New York at the time."
"Her statement at court about her being an innocent victim is true," he emphasizes. "She was an innocent victim that day. Daniel had very little role in that, except for being in a room with Kifano Jordan when Kifano Jordan ordered it to be done. Her statement in court saying all she wanted was an apology was not truthful. She's looking for a payday. What's interesting, she didn't show up at Kifano Jordan's sentencing. Kifano Jordan doesn't have any money. She sees Daniel Hernandez as someone she can get something out of."
Lance Lazzaro believes that his star client was taken advantage of by bad people. But, he says, redemption is on the way.
"If you look at the upbringing and the difficulties he had, one could explain basically why he got involved with this gang and couldn't get out of the grips of it. So my argument was, there's an understandable explanation as to why Daniel Hernandez ended up in this situation. But given what the charges were, he did everything required of him to be given a second chance. He'll be home at the end of the end of July and he'll resume his career."