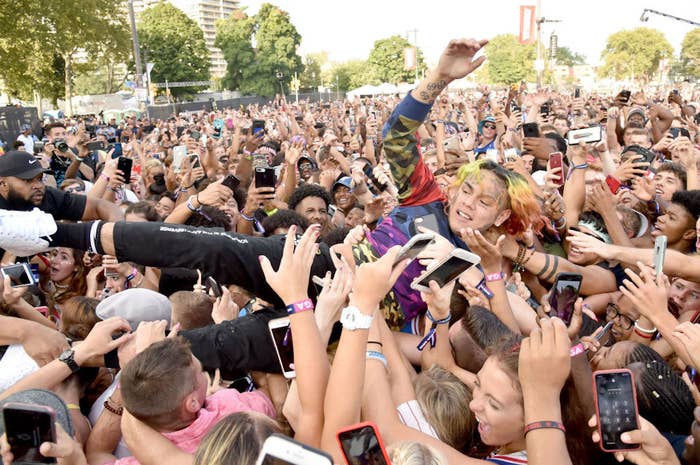 Roland "Ro Murda" Martin is the fourth defendant in the Tekashi 6ix9ine case to attempt to get out of prison early due to the Coronavirus pandemic. But unlike his rap star co-defendant, Martin, a former "godfather" in the Nine Trey Gangsta Bloods street gang, was denied on Friday.
Martin joins his co-defendant Denard "Drama" Butler in having his request to be released from prison in order to serve out his sentence in home confinement denied. (The fourth person, Kintea "Kooda B" McKenzie, was temporarily released late last month, until his sentencing in June). Martin's attorney Michael Schachter requested the release on Wednesday. He claimed that Martin, who pleaded guilty to one count of participating in a racketeering conspiracy in June of 2019 and was sentenced to 66 months behind bars that October, was in bad medical shape and was therefore "in grave danger of experiencing serious illness" if he got infected with COVID-19. 
Martin is suffering from serious medical issues following a May 2019 incident where, while locked up in Brooklyn's Metropolitan Detention Center, he was stabbed nine times with ice picks by two members of the MS-13 gang. The stabbing occured shortly after Martin renounced his membership in Nine Trey, the gang where he had risen to the highest rank of godfather. According to Schachter, the attack left Martin with "two punctured lungs, a laceration to his liver, and damage to his wrist bone," and even after recovering, he still has "difficulty breathing, insomnia, nightmares, stress, anxiety, and chest and back pain."
But those medical issues didn't sway Judge Paul Engelmayer. In the judge's order on Friday, he acknowledged that because of his punctured lung, "COVID-19 may present a heightened risk for Martin." But other factors weighed more strongly against Martin's release. First, there was the string of crimes he took part in while 6ix9ine was aligned with Nine Trey. Among these were a shooting at the Barclays Center (involving the rapper Casanova, with whom 6ix9ine was beefing at the time); and a very public robbery in midtown Manhattan, which 6ix9ine filmed from a nearby car. Those incidents, Engelmayer pointed out, took place just months after Martin had finished a nine-year prison sentence.
Second, Martin's extensive criminal record—seven convictions between 1998 and 2008—"reflects a pattern of violent and dangerous conduct." "Although the prospect of contracting COVID-19 undeniably presents a serious risk to Martin's health, his release some 50 months early would exposes the community to a serious and unacceptable risk that he would resume violence," Engelmayer wrote. 
Complex attempted to reach out to Schachter for comment, but he was not immediately available. 6ix9ine himself is currently on home confinement, and back on social media.
For more about Tekashi 6ix9ine, check out the Compex/Spotify podcast 'Infamous: The Tekashi 6ix9ine Story,' narrated by Angie Martinez.