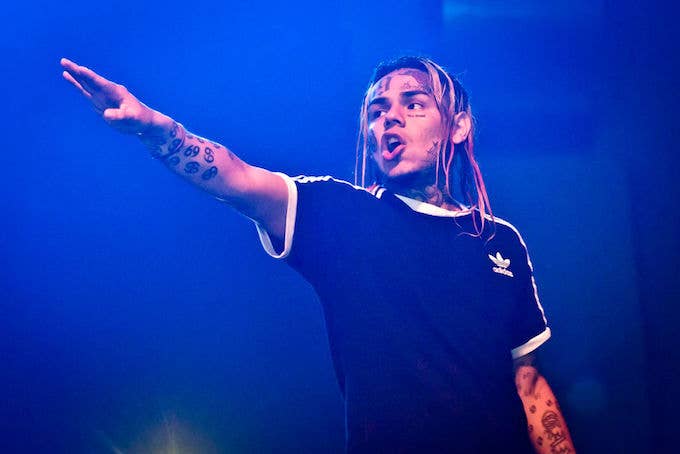 At a hearing at Manhattan's Thurgood Marshall Courthouse on Tuesday, it became clear that at least one of the two remaining defendants in the 6ix9ine racketeering case is determined to have his day in court.
Anthony "Harv" Ellison allegedly kidnapped and robbed the controversial rapper last July. (Due to a recent Supreme Court decision, he will be charged with assault and not kidnapping, today's hearing clarified). Ellison and Aljermiah "Nuke" Mack are the only defendants in the sprawling case who have not yet pleaded guilty. In federal court on Tuesday, Ellison's lawyer Deveraux Cannick shared that his client had no intention of doing so. He agreed to Judge Paul Engelmayer's assessment it was a "safe bet" that there would be a trial—an outcome that 6ix9ine's lawyers had publicly hoped would not occur. 
"Anthony Ellison is going to trial," Cannick told reporters after the hearing. He emphasized that his client was determined to make the "Gummo" rapper prove who assaulted and robbed him. 
"The only motive he has [for going to trial]: if Tekashi's the one making the accusation, he wants to say, prove it," Cannick said of Ellison. "Tekashi has mastered the art of marketing, trolling, and, for lack of a better word, fabricating."
Cannick pointed out that 6ix9ine's initial public statements after the July 22 incident did not name Ellison. At the time, the star said only that it was "an inside job." 
"Did he say [Ellison was involved] when he first came to the world? No, he didn't," Cannick elaborated. "The only thing that they're going after Ellison on is the so-called robbery and kidnapping of Tekashi."
Both defendants, he pointed out, were accused by the government of being members of a criminal organization, the Nine Trey Gangsta Bloods. Cannick scoffed at the possibility of the incident being part of a conspiracy. "A racketeerer kidnapping a racketeerer? Come on," he said.
Engelmayer mentioned 6ix9ine as a "potential witness" during the trial. Cannick seemed unconcerned on the celebrity's possible effect on the jury. 
"We just want 12 fair-minded individuals who are prepared to listen to the proof and hold the government to its burden," he said. He then speculated on 6ix9ine's potential prison sentence.
"Tekashi did a lot of horrible things," the lawyer said. "He could get time served. I don't think he deserves it, but you never know."
Later on Tuesday, Complex obtained court records which showed that attorney Alex Spiro, who has represented 21 Savage, JAY-Z, and Bobby Shmurda, among others, has joined 6ix9ine's defense team. Spiro confirmed his involvement to Complex. "We're happy and we welcome Alex to our team," another member of the rapper's legal team, Dawn Florio, told Complex.