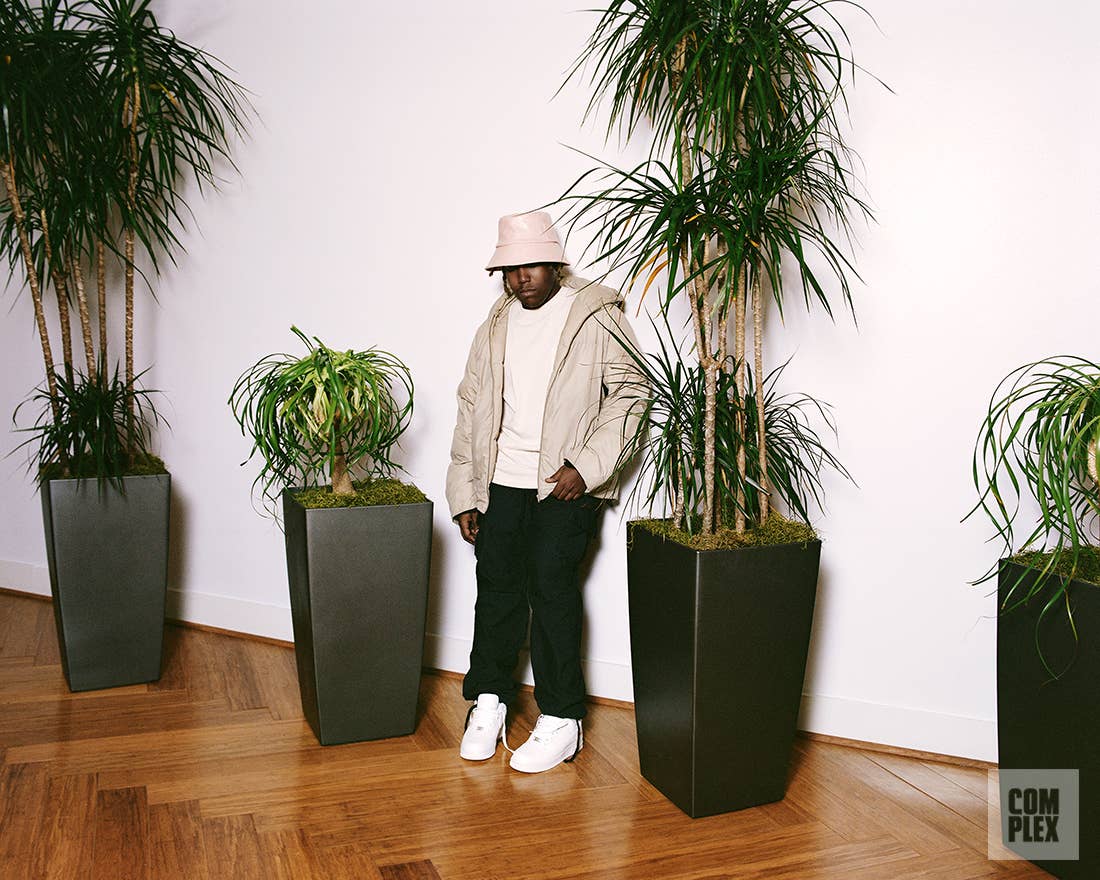 "Nothin' but 93!" Don Toliver shouts as he fuels up his white McLaren, smiling from under a pink bucket hat. "Premium in that thing!" 
We're in the Rice Village neighborhood of Houston, Texas, about 15 miles and a few tax brackets from the neighborhood Toliver grew up in, Alief, which is also known as "the S.W.A.T." (South West Alief Texas). After he helps me figure out how to open the car's butterfly doors, we set out on an afternoon joyride through his old stomping grounds, celebrating the release of his debut studio album, Heaven or Hell.
The last two years have been a tumbling snowball of positive momentum for Toliver, who dropped his 2018 mixtape, Donny Womack, a day before the release of his breakout contribution to Travis Scott's "Can't Say." He followed this by starring in his own full chapter of Scott's Look Mom I Can Fly Netflix documentary, earning his first solo Billboard Hot 100 entry with the viral TikTok anthem "No Idea," and stealing the show on the JACKBOYS compilation album alongside his fellow artists on Scott's Cactus Jack imprint.

Instead of shouting "My life a movie!" for an hour, which anyone driving a McLaren is certainly within their right to do, the usually tight-lipped Toliver approached his afternoon with Complex in another way. Before driving to his hometown Heaven or Hell album release party, he queued up a series of nostalgic songs and narrated his own life as a five-act film.
This is the Don Toliver Story.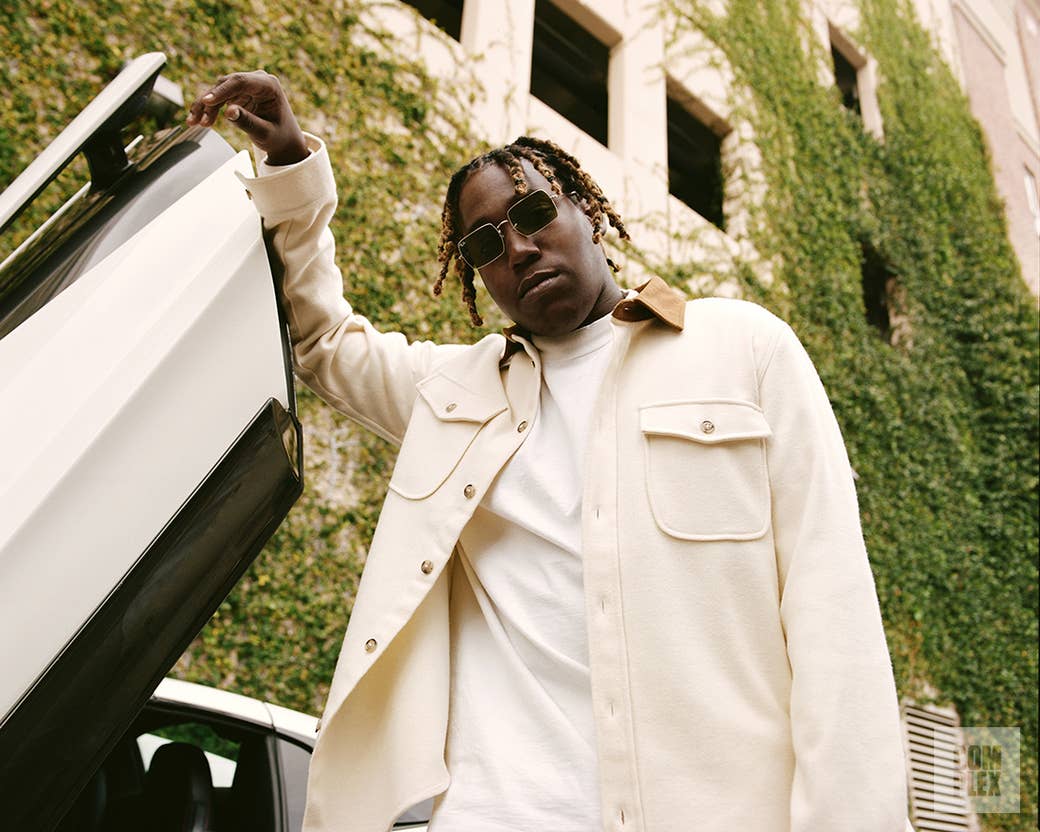 Act I
Caleb Zackery Toliver was born in the summer of 1994, the same day the Houston Rockets took a 2-1 series lead over the New York Knicks in the NBA Finals, on the way to their first championship. The first points of that game were scored by the Rockets' famously clutch shooter, Robert Horry, laying the groundwork for Toliver to sing, "Sad story/if I had to shoot 'em bet it's Robert Horry," 16 years later, on the opening title track from Heaven or Hell. Toliver grew up with a loving mother, Carla, who was always on his ear for not doing chores, but grinned ear to ear when he opened Astroworld Festival last year, and a father, Bongo, who took him on cherished fishing trips and kept the music of Swishahouse heavy-hitters like Mike Jones and Paul Wall in rotation.
Pulling out of Travis Scott's new streetwear shop, Space Village, Toliver takes my phone, pulls up Kendrick Lamar's 2010 mixtape, Overly Dedicated, and plays the songs "Alien Girl" and "P&P 1.5." The hook of the latter—"I'm going through something with life/But pussy and Patrón make you feel alright"—was a mantra for a young Caleb Toliver. As it plays, he puts the car in drive and we whip south down Greenbriar Drive.
"This is what turned me into the artist I am today," he says. "I remember I was in the locker room one day after school, sitting down, headphones in, listening to Overly Dedicated. And I was listening to Dom Kennedy 'Locals Only.' That's what turned me into Don Toliver. I heard 'Locals Only' and there was something about that record, bro. I just felt like I was on a journey and I didn't even know it." 
Toliver raps lyrics from Dom Kennedy's "1997" and "Locals Only" to me a capella, each bar taking us further back in time. 
"1997, I wrote my first rhyme/'I wanna marry you' is what I told my first dime/Had my first drink, rolled my first dime/And I knew I was that nigga for the very first time." 
From "Locals Only," he recites, "And when the train stops, that's when I'mma catch it.'" 
"That shit stuck with me crazy," he says, sitting back at a red light, briefly stunned by the depths of his own nostalgia. "Those records gave me a different type of persona. The seeds were planted."
Growing up, Toliver appreciated Alief's diversity. The community's high schools—Elsik, Hastings, and Taylor—produced talent like Beyoncé, Maxo Kream, Tobe Nwigwe, Robert Glasper, Lizzo, comedian Mo Amer, and NFL champions Michael and Martellus Bennet.
"It was a lot of different kinds of people, different kinds of culture," Toliver says of Alief, which, as of 2015, is 44% Hispanic, 24% Asian, 22% African-American, and 9% white. "It was a lot of diversity in a small area."
"I wanted a certain mystique for myself."
As a teenager, Toliver didn't have many posters on the walls of his room. Instead, he had stacks of video games. He loved a good mission. 
"Jak and Daxter, Ratchet and Clank, Grand Theft Auto," he says. "Open world. That was my type of drip." And not long after his locker room moment of clarity, Toliver's video game console wound up unlocking his first recorded moment of creative expression.
"I was a junior when I made my first song, called 'Bitch I'm in the Building.' I recorded it on my PlayStation Eye camera," he says matter-of-factly, like it isn't an incredible stroke of ingenuity. "It was a high school classic."
The song featured Toliver's original raps over a YouTube instrumental of Tyga's 2014 song "Make It Rain." As he tells it now, "I would black the camera out and just have it recording with the beat in the background. I had to do it by any means necessary." 
Don Toliver wasn't one of the popular kids—he was best known in the halls of Hastings High School for his sneaker collection and his quick wit—so this recognition represented a new kind of gratification and acclaim. But Toliver, who at the time rapped under his government name, Caleb, recognized the chance to seize some momentum and went back to his PlayStation Eye to record "Pep Rally." 
"It got to the point where even the coolest kids at school would walk up to me like, 'Sing that song, bro.'" he says. "It let me know like, man, I might be able to do this. The coolest niggas in the school are jamming this. It fueled my energy."
At the time, he was still just shy of his first car, so he was a big supporter of public transportation. Taking Houston Metro buses was essential to his earliest days making money off the backend. From Alief, he'd pop on his headphones and ride across the sprawling Southern metropolis. 
"I'd go Westheimer [Road] all the way down to Highway 6, Westheimer all the way to the Galleria, and Westheimer all the way down to Montrose," says Toliver, referring to a collection of neighborhoods that are about 15 miles from his native Alief. "I had a couple bikes and I caught a lot of rides," he adds. "But I feel like it was perfect. It helped me build character. I feel like if I would've had a car in high school, I might not be here."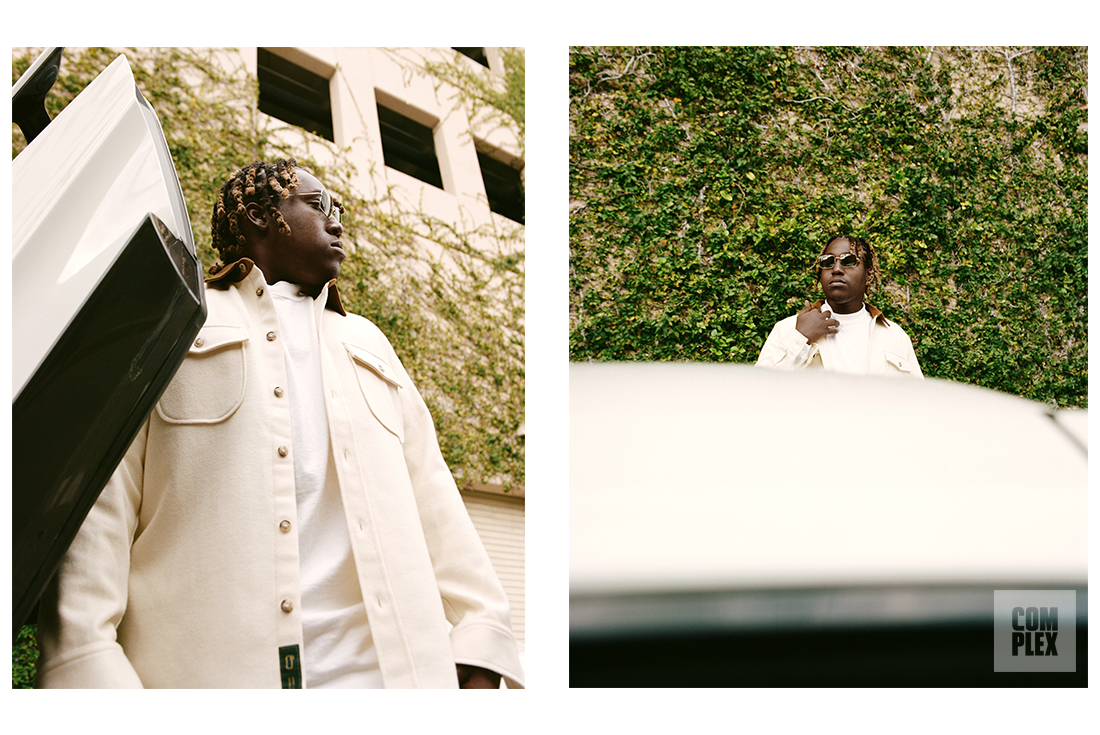 Act II
Lil' Flip once claimed to be "the first cat in Houston with a black McLaren." Fifteen years later, after fiddling with some buttons and finally figuring out how to drop the top, Toliver tells me he'd love to put purple candy paint on this McLaren, now heading west down Holcombe Boulevard. N*E*R*D's "Provider" is cranked up—the volume is already all the way up, but he keeps turning the knob—when he lists some of the cars he's driven over the years. As Pharrell sings about "driving this truck down 95," I learn that Toliver hit I-10 East to pick up his favorite set of wheels.
"My first car was a mid-90s black Cutlass Supreme, then I had an old black Pontiac Grand Prix, but my baby was a Chevy Yukon that I got from a friend in Louisiana. It had the big speakers in the trunk. It was lit."
Toliver got his Cutlass after graduating from high school, around the time his best friend Josh moved into an apartment on Dairy Ashford Road and bought proper studio equipment. Josh took the stage name YungJosh93, Caleb became Don, and the two formed a duo called Playa Familia. 
The next song in the queue is Toro Y Moi's "Say That." This is when Toliver really mashes the gas, trying to match our MPH with Toro's BPM. 
"I was on Toro crazy," he says after bringing the car back down to a legal speed. "He's my favorite. He took me to a whole other vortex with the music, man."
"You send my life…" Toliver is singing the final line of Toro's "So Many Details," from Anything in Return, which dropped in 2013, the same year that Toliver and Josh began making music. "That took me over the top." 
We round another corner and pull into the alley behind Space Village, blasting Fat Pat's "Ghetto Dreams," the title track from the late rapper's 1998 debut album. As we arrive at our destination, Toliver's friends Chase B, Sickamore, Joe, Marley, and Jay walk out to greet us. The crew has made it to Houston, fresh from a listening party in New York City the night before, and I learn that the word of the day is "brolic." Chase announces that "last night was brolic," while Don tries on some new Space Village clothes, searching for the perfect fit for another release party tonight. The crew responds affirmatively with their own chorus of brolics. Now I want a squad to feel brolic with. 
One thing that's important to know about Don Toliver is that he keeps a lot of old friends around him. His old buddy Earl, for example, is in charge of throwing tonight's party. And one thing you should know about his inner circle is that they're not yes people. They're just as quick to veto an outfit that doesn't suit him as they are to tell him he just wasn't cut out for the NBA as he bricks multiple attempts at the store's pop-a-shot basketball hoop. (Chase made a store-record eight in a row, if you were wondering.) The outfit I'm rooting for doesn't make the cut, despite Toliver's accurate assessment that the jacket and tinted glasses combo, much like his Heaven or Hell album artwork "is some Fear and Loathing shit." 
Inside Space Village's Orbit Cafe, we sit above a floor that's made entirely of LED screens projecting cosmic visualizations while a young woman twists Toliver's locs and we drink smoothies made by Travis Scott's very sweet aunt Deborah. She tells us she had been in the restaurant business before and Travis asked her to come out of retirement to help run the cafe. As we sip on our smoothies, with Space City-themed names like Asteroid, Milky Way, and Sunny Screwed Up Day, Toliver introduces us to the pivotal third act of his story.
Act III
While Travis Scott was ascending, Don Toliver looked up to his hometown hero and mulled a switch from rapping to singing. One day in the studio, his friend Joe told him, "Rapping isn't always going to do it for you. Them melodies is it." 
"So I locked in on the melodies crazy after we had that conversation," remembers Toliver.
Years of perfecting those melodies resulted in tracks like "Company," a three-and-a-half-minute song featuring only one verse. Instead, Toliver filled most of the space with slow, elastic croons. Imagine trying to listen to a chopped and screwed Kid Cudi album inside of a Salvador Dali painting. It's no wonder Travis Scott would eventually go crazy for Toliver's signature style. 
In terms of singing inspiration, Toliver is quick to say that he was playing Travis' music heavily and that, while Houston's original rap-singers, Big Moe and Fat Pat, were already embedded in his DNA, his biggest inspiration was closest to home: his father, Bongo. 
"My father, bro..." he says. "He's a singer, and it's literally like I'm living in his footsteps. From the music that I make to the music he made, it's crazy, bro."
There was a reason Bongo played so much Swishahouse in his home: He'd actually made a handful of appearances on Da Mista Masta, a 2000 album from Swishahouse artist Archie Lee. One song, "Swang Wide," is something of a forgotten classic among Swishahouse fans, and features Bongo on its hook. 
Over the phone, Paul Wall, who, alongside Chamillionaire, made one of his earliest guest appearances on Da Mista Masta, is proud.
"Don's success is so dope to see," Wall says. "It shows how much talent came out of Houston that the next generation is carrying the torch: Megan's mom used to rap, Don is Bongo's son, and Lay-Lay is Acie High's [from Swishahouse duo Aqualeo] daughter. And none of them used their parents' success as leverage for a free pass. They all went and got it on their own."
When Toliver was 19, he and his father made a song called "South Side." But, he says, neither really took the idea of collaboration seriously, until now. For Don Toliver, this has been the most fulfilling part of the journey.
"About two weeks ago, I scooped [my father] up and took him to the studio," he recounts. "I cooked this track up real quick and asked him if he wanted to get on it. He laid a nice little bridge. The similarities in our writing capabilities, and the way we sound, resonates with me so crazy. It's really a blessing, man."
"'Can't Say' really changed my life completely. I had to focus harder than I've ever focused."
Once Toliver made the conscious decision to follow in his father's footsteps and begin singing, he and Josh, together as Playa Familia, hit local showcases with a newfound motivation. At the time, they were tuned in to their Houston contemporaries like Trill Sammy, Dice Soho, Ugly God and Le$.
"Le$ came before us," says Toliver. "But I really like him."
Over the phone, Le$ adds, "Don has one of the most innovative sounds I've ever heard. He created his own planet, even within the Travis universe."
Playa Familia's biggest looks came through a promoter named ByxBreezy. "She had this [concert series] called Houstock going on," recalls Toliver. "It was really cool because it brought the underground together so that we were all able to showcase our talent."
In one Houstock video, young Don Toliver and YungJosh perform a stand-out track, "Play Me," at Warehouse Live, then a staple venue of the city's underground rap circuit.
When I ask if they ever made it to a house-turned-club called AvantGarden, a weeknight haven for Houston's black 20-somethings, Toliver flashes a huge grin and starts clapping. "Man, hell yeah!"
Toliver and Josh went to AvantGarden every Wednesday night to catch DJ Candlestick, OG Ron C, and the Chopstars, torch-bearers of chopped and screwed music in the wake of DJ Screw's passing. Eventually, Toliver's music would get the chop-not-slop treatment from Candlestick. But back then, he wasn't quite ready yet.
"We were trying to get my music played [at Avant], but mainly we were having a good time. That was the spot where we would go drink, turn up, and fucking dance. Just show out on niggas all night, seeing who could turn up the most. That house is probably haunted as shit, but it is fire as hell."
This next sequence in the Don Toliver Story is a montage. 
In the spring of 2017, Josh drove 30 hours from Houston to New York and managed to convince The Breakfast Club to let him upstairs to drop a freestyle. Then, in May, after teasing the music at live shows for nearly a year, the two finally dropped their Playa Familia mixtape. With that momentum to build off of, Toliver and Josh then saved up enough money to make a trip back to New York in the fall. They hustled to get their music in the hands of every radio host and label person. They showed up outside the offices of The Breakfast Club and every major label and outlet early in the morning, trying to catch any faces they recognized. There's even footage of the two handing Joe Budden a mixtape outside of the Complex offices.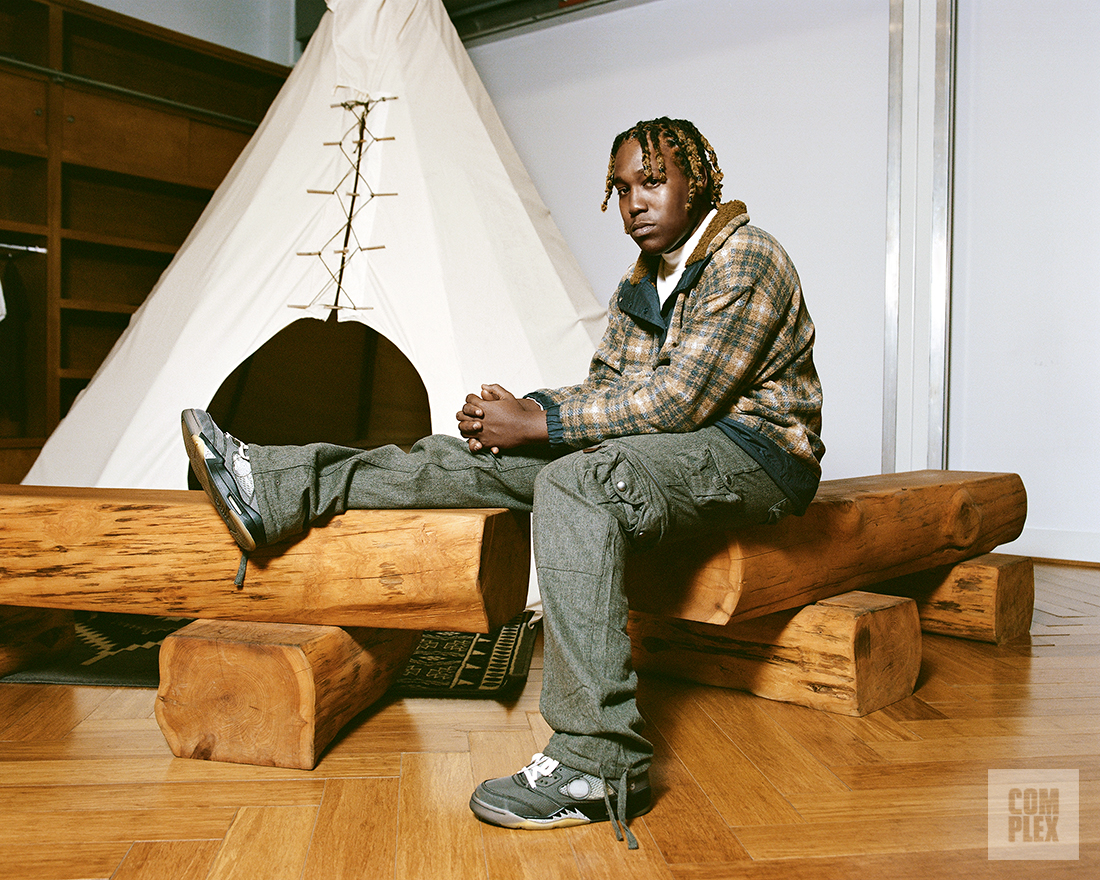 Act IV
In the winter of 2017, Don Toliver released solo songs "I Gotta" and "Diva," which began to gain traction. And back in Houston, he hit the clubs even harder. Artistically, the momentum of his solo music meant that Playa Familia began to fade.
"I was bleeding the block with those two records," Toliver recalls. "I'm talmbout, I was at one club from 10 p.m. until 12 o'clock. I was at another from 12 o'clock to 1 o'clock. And then I would stop in a little bar and DJ from one to two. Then I might be at one strip club, and if I wanted to go crazy, I might go to one more. I was just fucking with every DJ in the city, no matter who or what, making sure I was in their Serato."
It was during this time that Toliver secured a deal with Atlantic Records, but he still wasn't slowing down. 
"A rep from Atlantic had come down to see how I was livin'," says Toliver. 
"How were you living?" I ask.
He inhales and exhales deeply. 
"At that point, I was sliding by. It wasn't glamorous. I left the streets alone to focus on music. I was losing money because I had to stay in the club all night and I couldn't work the way I had been working. I lost a lot, but, then again, I gained so much, because I focused on me more. I took my shit seriously, and I was doing what actually made me happy."
A few months after the Atlantic deal, Kevin Gates appeared on a remix of "Diva."  
"By the time I had the Kevin Gates record, I was outta there."
Glory was coming.
"When I signed that deal, I was already locked in with Travis [Scott], but I didn't know how seriously Travis was taking me, so I just tried to lock in with him more and more." 
During NBA All-Star Weekend 2018, while working on his own mixtape, he finally found himself in a studio with the artist he had idolized when he transitioned from rapping to singing.
"I pulled up on him in Conway Studios in L.A. for the first time and it was crazy," he remembers. "I was hella nervous. I was slapped off drank. I was the most slapped off drank I've ever been in my life when I met this guy. It was crazy. I don't know how that happened. I ended up doing an on-the-spot record, too. It was pretty nerve-racking, but he ended up fucking with me the long way."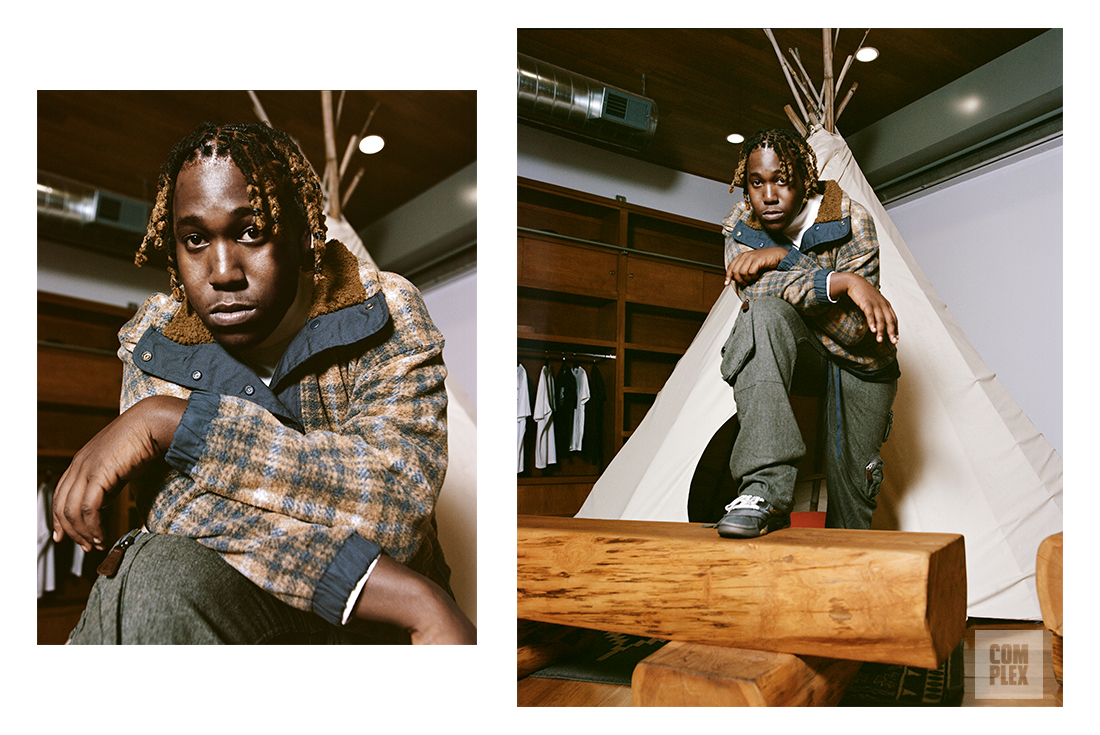 Act V
That July, Don Toliver received an invite to Hawaii for the final ASTROWORLD studio sessions. 
"I recorded about 10 records," he remembers. "Travis liked 'Can't Say,' so he jumped on that. And now a couple of those records are going on Heaven or Hell." 
Sure enough, in Look Mom I Can Fly, Scott admits "Can't Say" is "a Don song." From the Hawaii sessions, "Cardigan," "Spaceship," and "After Party" all wound up on Heaven or Hell.
"'Can't Say' really changed my life completely," he says. "I had to focus harder than I've ever focused. I had to move different." 
So he went ghost for nearly six months. Publicly, at least. 
"I wanted a certain mystique for myself," he explains. To his credit, he's remained committed to that mystique, staying mum about the influences on Heaven or Hell. 
Privately, though, he began working with producers like the hot-handed WondaGurl. He also linked with Mike Dean, the legendary producer responsible for helping Travis and Kanye West craft their sound, and who cut his teeth producing for Texas icons like Scarface, Selena, UGK, Z-Ro, Devin the Dude, and Big Mello. 
After his self-imposed hiatus, the public's first taste of Toliver's Wonda-Dean braintrust was "No Idea," an end-of-the-night, club-closing anthem that sounds like it was made for a speakeasy on Neptune. In the song, Toliver holds a croon with the same phrasing Carlos Santana uses when he holds a note on his guitar. It was released just before his 25th birthday, at the end of May 2019, but didn't take off until the end of the year, when Toliver released a music video for the chopped-and-screwed version of the song. 
"Somebody took that record and uploaded the slow version to Apple Music," he explains. "And you know how TikTok is. I felt like that slo-mo version was going really nuts. Then the regular version started going really nuts. Then they started making their own version with knife slashes and all that other stuff that they do on TikTok. So by the time it did all that, it was going nuts."
The song wound up on the Billboard Hot 100 chart at the top of 2020, peaking at No. 43. To date, it has been shared in over 8 million individual videos on TikTok, with many of its most popular shares clocking over a million likes. Each. But he wasn't finished.
"Then, right after that, we dropped JACKBOYS, and it was a big bomb," he says, referring to Travis Scott, Sheck Wes, and Don Toliver's collaborative album. After a year of breakout moments, Toliver's appearances on JACKBOYS minted his star potential. 
Two days after our joyride, Toliver will follow this up with Heaven or Hell, an album that represents his first fully-formed output, using the tools (Mike Dean and WondaGurl) that molded the La Flame sonic universe. As Le$ said, this album is Toliver's planet within that universe. Heaven or Hell is a psychedelic exploration of Toliver's duality. 
On "After Party," Toliver finds community in the strip club. With this Sonny Digital-produced gift to all the strip club DJs he once badgered, we're dropped back into the McLaren, riding shotgun as Toliver tries to shake the feds he first rapped about on "12 Comin." Mike Dean's production, especially on songs like this where Toliver's hook scrapes the sky, is made for the stadium experience. On the other side of the coin, "Candy" is Toliver's most pronounced confession, owing much of its sonic anatomy to fellow cosmonauts Funkadelic—Dean's guitar channels Eddie Hazel's solo on "Maggot Brain" while Don sings that he's "been living a lie" and compares his sin to genocide. 
Heaven or Hell is an explosion of so many fresh melodic ideas that the concept of Toliver as a straight-on rapper seems like a fleeting and distant memory.
Epilogue
Moments before the life-changing arrival of Heaven or Hell, Don Toliver is posted up in his home city, and he still has a level head about it all.
"I'm locked in crazy right now," he says calmly. "I'm just maintaining my vibe. Making sure I never lose the shit that keeps my shit running, my thought process. The shit that makes me happy: recording. I'm making sure I don't lose sense of that. Recording is the most humbling, grounding thing. I just lock in, block out the outside world, and create my own universe." 
"Do you think about outer space ever?" I ask. "Like, literally."
"Yeah I think about outer space, but I be looking at this shit," Toliver gestures up and around, "Like what is it?"
"Do you think about simulation theories?"
"Yeah. Hell yeah. It's definitely a simulation, but I believe in God."
"He's the programmer."
"Type shit."
"But I'm sure there are days where you're like, 'The simulation is out of control.'"
"Facts. This shit's finna crash. Plug me outta the Matrix."
"And that's when you go into the studio."
"Exactly." 
With Toliver's locs twisted proper, and our smoothies finished, he turns to his friends and makes another decree: "We finna turn this bitch into Avant [Garden] tonight! Prepare your limbs!"
We spill out into the alley behind Space Village and he hops back into the McLaren. There's one stop they have to make before heading to the Heaven or Hell album release party: "We gotta stop by my mama's crib first," he says with that same tooth-filled smile. 
He closes the butterfly doors and zips off westward, into the sunset.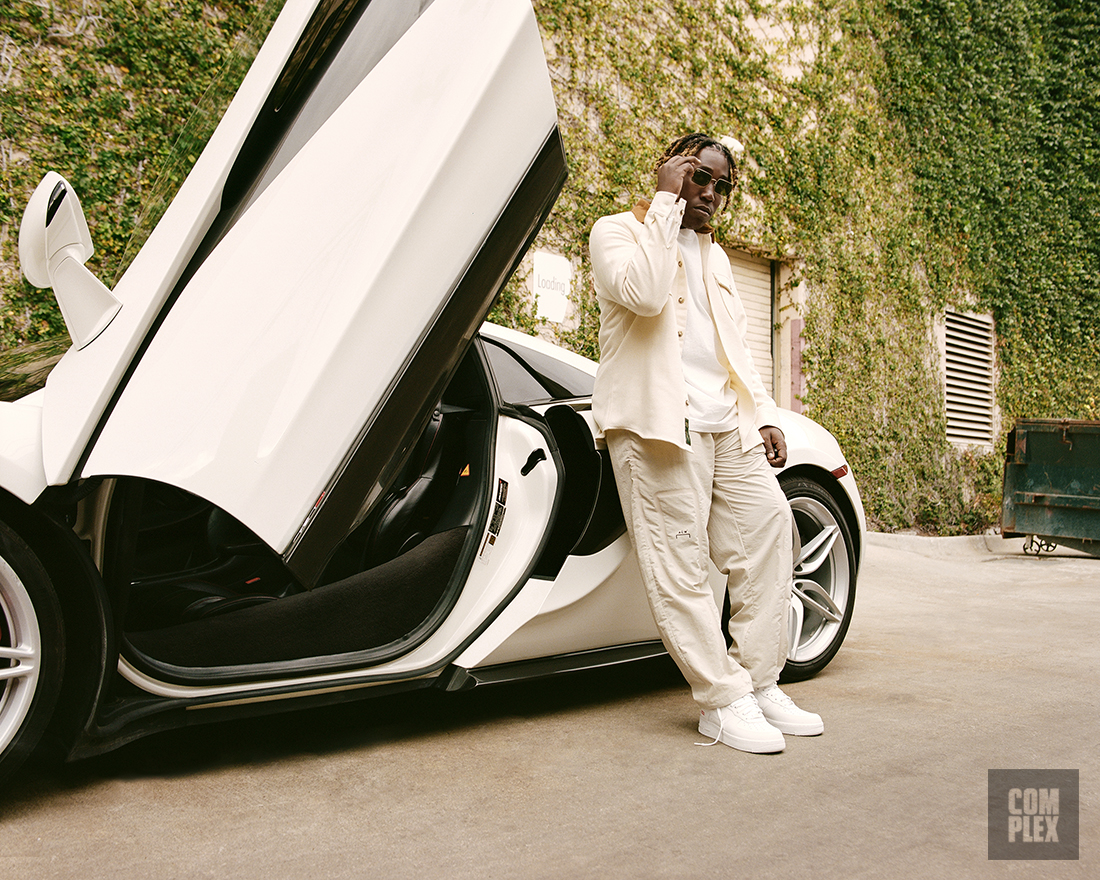 Styled by Mack and Alex Grandquist. Assisted by Sarah Salinas. Look 1: Lack Of Color pink bucket hat, John Elliott pants, cream cotton Citizens T-shirt, vintage Stone Island puffer, Nike x Supreme sneakers. Look 2: Ray Ban sunglasses, Aimé Leon Dore x Woolrich button-down, A Cold Wall trousers, cotton Citizen white T-shirt, Nike x Supreme sneakers. Look 3: Stussy plaid, Archive Ralph Lauren Polo cargos, cotton Citizens white T-shirt, Jordan sneakers