There's no denying that the UK has been in need of an it-girl in its music scene of late, somebody with the creative vision, the vocals and the energy to remind us of the thrill of a homegrown pop star.
However, in 23-year-old East Londoner Äyanna, we may have found that. With a self-described 'pop sound with an essence of R&B', her music explores the musings of a twenty-something anywhere in the world—love, life, and all its wonderful complexities. Having begun releasing music only three years ago after dropping out of law school and faced with the pandemic as soon as she focused on music full-time, Äyanna has gone from strength to strength, especially since being signed to R&B powerhouse label LVRN, home to the likes of Summer Walker and 6lack.
Only a couple of years into her career, she's bagged a Stormzy co-sign and provided backing vocals alongside Afrobeats star Oxlade on his single "Hide & Seek", and as she has grown into her own sound, the time has come for her debut EP: a five-track offering called In A Perfect World, which includes the singles "Girlfriend" and "Say You Love Me". Counting Erykah Badu as one of her all-time faves, Äyanna's musical diet of pop, rock, gospel and R&B has formed her unique blend of R&B-tinged pop that has been guided by her honest songwriting.
We caught up with Äyanna to talk about her creative processes and preparations for global stardom.
"I grew up in a British-Jamaican household, so there was a lot of Caribbean music being played. I don't know if this is common knowledge, but Jamaicans love them some Barbara Striesand! There was a lot of pop, soft-rock…"
COMPLEX: Hey, Äyanna! Great to speak with you today. How is the rollout going for your debut EP?
Äyanna: It's been surreal! Being able to experience my vision come to life through the music videos we've shot with the director and creative director Priya Minhas—who manifested all my ideas in a six-day-long shoot for every video—was amazing. It's my first rollout and I've been learning so much about what goes into it. I've been so involved and eager in every part, even down to post-production, and found so much joy in the process. This is what I've always wanted to do and it's been in the making for a while.
Although this is your debut EP, you've been making music for a couple of years now.
I've been singing since I was 4 years old; I've always wanted to be a singer. I was super academic but did drama school and other creative outlets throughout my school career, going just as hard for that as I was for the academic side. When I turned 18, the plan was to complete a law degree then focus fully on music once I'd graduated, but I couldn't do it! I dropped out of law school because I couldn't stand sitting in boring, colourless rooms devoid of any joy and not caring because it wasn't my future. I just felt like I wasn't supposed to be there. I dropped out and released my first track, "Party Tricks", at the end of 2019, then the pandemic hit and I used that time to build myself as an artist. Luckily, although my parents have a strong academic background themselves, they eventually got onboard. My mum has supported me from the very beginning and always supported my creative endeavours; she's the one that put me into drama school and now she's my manager! We both told my dad it was a gap year—he would keep asking me when I was going back, until I invited him to an open-mic night in Shoreditch that I was performing at one time. He came, saw me perform for the first time and never asked me when I was going back to university again [laughs].
Love that for you. Who and what were you listening to growing up?
I grew up in a British-Jamaican household, so there was a lot of Caribbean music being played. I don't know if this is common knowledge, but Jamaicans love them some Barbara Striesand! There was a lot of pop, soft-rock… My dad had a massive collection of CDs in the car that I would flick through on car journeys. My older brother played a lot of R&B. It was through him that I discovered Destiny's Child and Erykah Badu, one of my favourite artists. I went to a religious school and was in the choir, and that undoubtedly had an influence on the type of artist I am today, especially when it comes to the technical side.
How did you end up getting signed to LVRN Records?
So, initial conversations with them were for the publishing side, which focused on my songwriting skills. I signed my publishing deal at the end of 2021 in the hopes that I would be able to use that to propel my own career as well as writing for other artists. Funnily enough, even after I signed the publishing deal, I still didn't feel like a songwriter and was scared it would get in the way of my dreams. I was supposed to go over to LA for a writing camp, which got cancelled and rescheduled, but I was insistent so I went over to LA anyway with nowhere to stay. I think LVRN saw I wasn't going anywhere, and alongside my writing for others, I was gaining some traction on TikTok as a singer. I brought them into my world and explained the direction I wanted to take and it ended up aligning. My dreams are my North Star—everything I do is with the intention of it leading me there.
"Faith is a huge part of my journey and the life-changing decisions that I've made."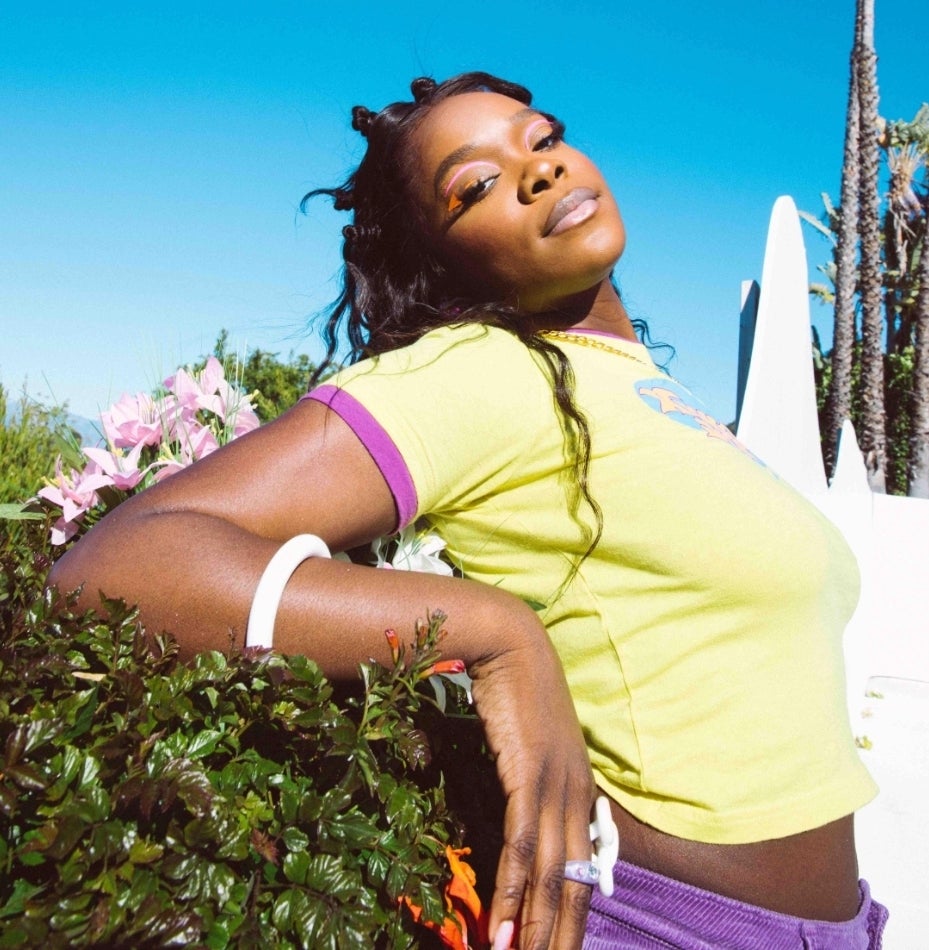 With your debut EP, In A Perfect World, it feels like you've created your own bubble; not just with your music, but everything that surrounds it—even coining your own word 'Cuiii'. Tell us more about that.
Cuiii describes my whole aesthetic. It's a stylised abbreviation of cute and innocent, and I made it up with my friends talking about how content and light we felt. In A Perfect World ties in with that; you're content in yourself and your life, and authentic to what you believe in with a decided commitment to a positive focus in your life. Taylor, my project manager, is actually behind the title of the EP—after spending so much time with me, it was her suggestion to name it from the first line on one of my favourite tracks on the EP, "Say You Love Me". The lyric goes, "In a perfect world, you would speak your truth," and it epitomised the idealistic outlook I have on life and on the EP. I have an optimistic worldview that's reflected in the honesty and vulnerability in my music. Sonically, the EP is an R&B-pop fusion that explores the different stages of being in love for the first time—from different angles, including when things don't go to plan. The process of writing the EP was cathartic because I was able to turn negative, real-life experiences into this positive end product that meant so much to me.
What about in terms of actually putting the tracks together and tapping into production? How long has this project been in the making?
Some songs were written on my dining room table in one sitting. "Change Your Life", for example, was written in lockdown and produced by the amazing PRGRSHN. His work is so ethereal, technical and advanced that I felt overwhelmed and didn't know how to write to something so beautiful. In some ways, the lockdown was perfect for my songwriting development in forcing me, like so many others, to be still and reflect. I literally wrote the hook for "Good Ex" whilst tidying my room! I've been lucky enough to work with some amazing producers from all over the world—Da Genius from Jamaica, producer duo Fisticuffs from the US, Ben Billions, and so many more.
It sounds like your journey so far, from quitting law school to getting signed by one of the most culturally important labels in R&B, is a reflection of your go-getting attitude.
It's delusion mixed with a healthy dose of manifestation! Faith is a huge part of my journey and the life-changing decisions that I've made. I remember when I discovered The Law Of Attraction in my university library, I would practise manifestation on tiny things like seeing a robin red breast, three brown coins and a red glass. It sounds crazy but I saw all three on my 20-minute walk home from the library to my student halls! That attitude of gratitude, alignment and purpose is something I definitely live by.