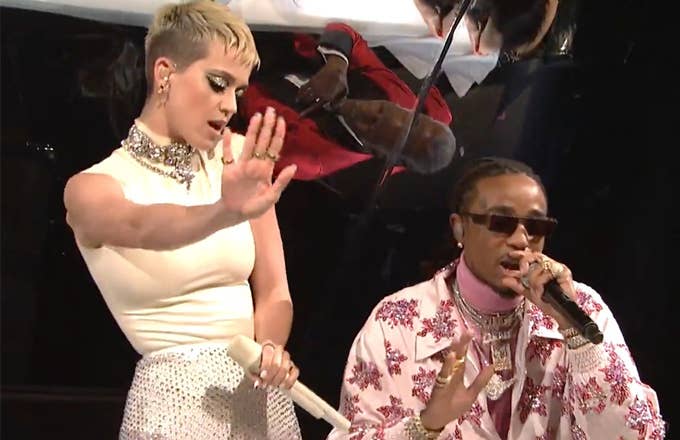 Katy Perry is no stranger to meme culture. Her Super Bowl XLIX halftime show inspired both memes and Halloween costumes (as well as its own Reddit AMA), and Perry's sartorial choices, which may or may not intentionally emphasize a certain part of her anatomy, can be found in various animated GIFs.
The memes from Perry's performance of "Bon Appétit" with Migos on Saturday Night Live seem to have inspired a different type of meme courtesy of Perry's dancing.
Things took an interesting turn at the 1:48 minute mark of the performance, as Perry sang "Bon Appétit" planted on her hands and feet with her back arched toward the faux table being used as a stage. But the source of the memes appears to be whatever type of Abe Simpson-inspired dancing Perry was attempting to do when she broke from the choreographed routine during Migos' verses.
Between the random arm-rolling dance routine, some type of attempt at the now-dated dab, and erratically nodding along, there was plenty of material to choose from. A few Twitter users got particularly creative.
Internet slander aside, Perry may ultimately prevail here. "Bon Appétit" entered Billboard magazine's "Hot 100" singles chart at the No. 76 spot, while its predecessor, "Chained to the Rhythm" had a 13-week stint on the same chart while peaking at No. 4. 
You are her fans you should buy all her songs so the songs will finally chart. If as many as tweeted me bought her last 3 .. the'd be hits

https://t.co/lrnBNP3S1E
Being mean doesn't suit me and leaves me feeling dirty. Truth is being mean leaves more leaks in your camp than the titanic and I ..
Get so triggered when I think bullies don't get held accountable and it makes me think I should say something.. but it's not place.