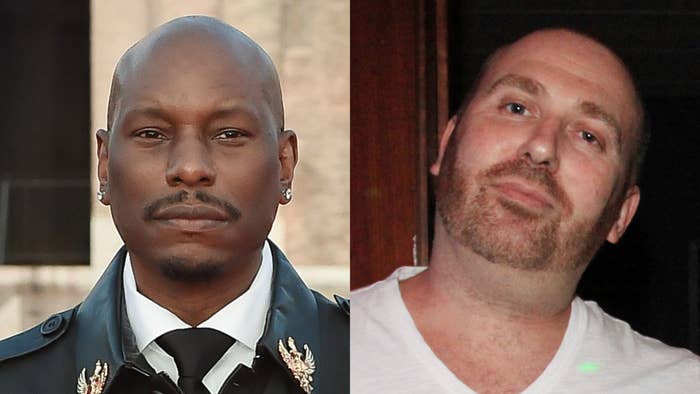 Tyrese has thrown shots at DJ Vlad for continuing to bring up his personal life with guests on VladTV and allegedly being a culture vulture.
The 44-year-old took offense to a clip Vlad released this week of an interview with Boosie Badazz reflecting on the singer being the most hurt person on Instagram. In his post, Tyrese shared snapshots of a DM conversation between himself and Vlad trying to set up an interview which didn't end up happening.
In his caption, Tyrese dragged Vlad for being upset that the singer turned down a $10,000 offer to appear on VladTV and continue to leech off of Black culture. According to Tyrese, Vlad should be stopped.
"Haven't you used BLACK PEOPLE ENOUGH??? What's the dudes name who talks off camera who owns VLAD TV?? Can y'all pull his tax returns????????," Tyrese wrote. "How much is he leaching off of BLACK CULTURE???? This dude is already have four people on his show and he randomly keeps bringing MY NAME UP… laughing about my divorce traumas laughing about my crying video and trying to milk my traumas and pains in the Clickbait for his goofy ass show…."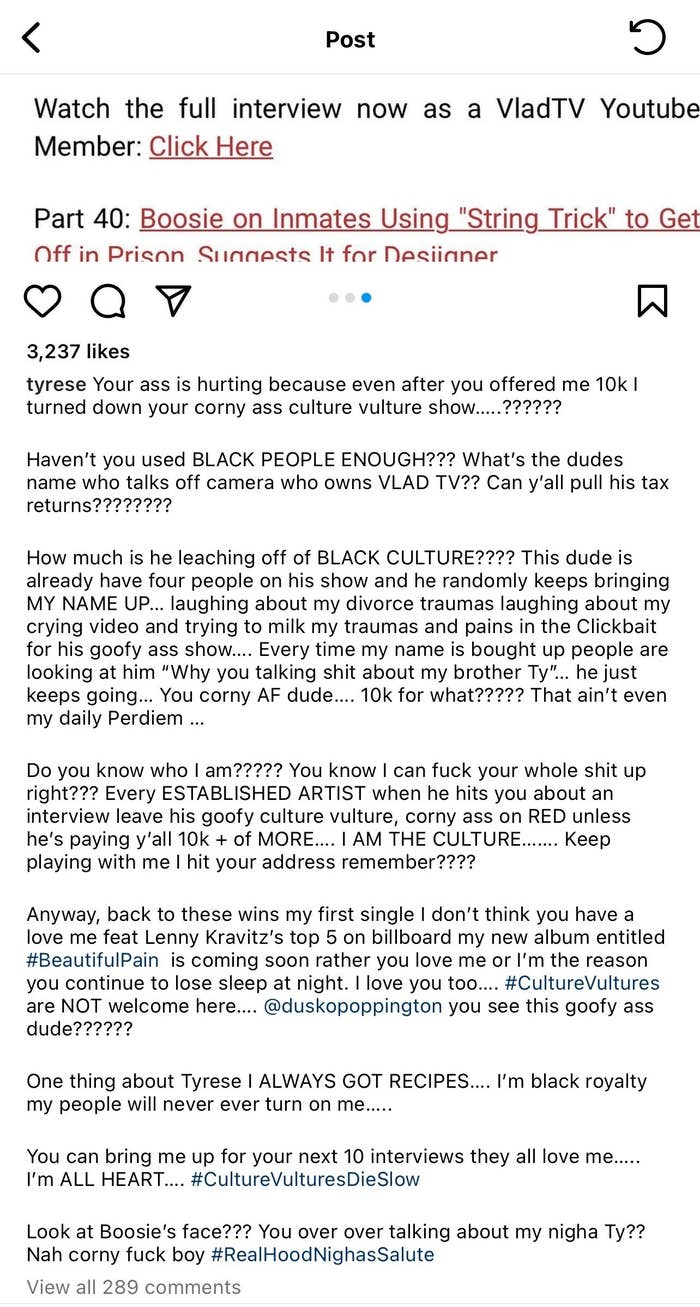 He continued, "Every time my name is bought up people are looking at him 'Why you talking shit about my brother Ty'… he just keeps going… You corny AF dude…. 10k for what????? That ain't even my daily Perdiem …"
Tyrese told the VladTV host, "You know I can fuck your whole shit up right," and advised his fellow "established artists" to ignore Vlad's interview requests until he coughs $10,000 or more. He also claimed that he is "The culture" and that he had Vlad's address.
"One thing about Tyrese I ALWAYS GOT RECIPES…. I'm black royalty my people will never ever turn on me…..," Tyrese added. "You can bring me up for your next 10 interviews they all love me….. I'm ALL HEART…. #CultureVulturesDieSlow Look at Boosie's face??? You over over talking about my nigha Ty?? Nah corny fuck boy #RealHoodNighasSalute."
DJ Vlad has yet to respond to Tyrese's post, and this isn't the first time someone has called him out. Several people, including Benny the Butcher, Asian Doll, NLE Choppa, Top Dawg Entertainment President Terrence "Punch" Henderson, and many more, have voiced their displeasure with Vlad's popular platform.
In 2022, Soulja Boy also dissed Vlad and claimed he was offered $20,000 to do an interview on VladTV, but he ultimately turned it down.