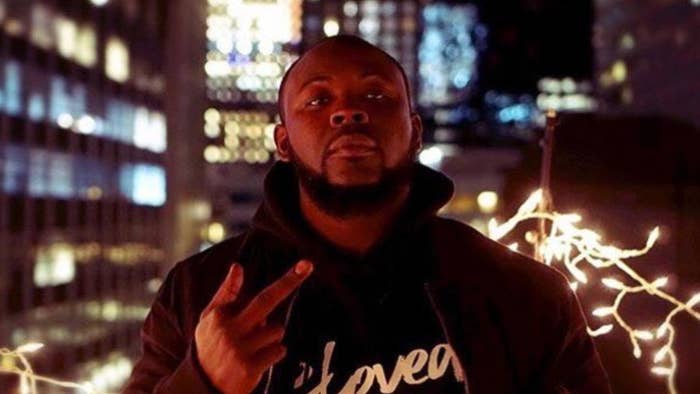 UPDATED 6/20, 5:36 p.m. ET: Former podcast host Taxstone has received his sentencing for shooting and killing Troy Ave's bodyguard at Irving Plaza during a T.I. concert in 2016.
According to a tweet from reporter Shawn Setaro who was present at Taxstone's hearing on Tuesday, a judge handed the Brooklyn native a sentence of 35 years in prison for his role in the shooting on that fateful night.
Setaro also tweeted that Tax gave a defiant statement inside the courtroom, saying, "Half the stuff that was told on the stand by Troy Ave is a complete lie to protect himself from going to jail." That didn't bode well for him as the judge clarified during the hearing that Tax was "obviously" involved in "the procurement of false testimony."
In March, Taxstone was found guilty of shooting and killing Troy Ave's bodyguard, Ronald "Banga" McPhatter, during the T.I. concert at Irving Plaza in 2016. A grand jury acquitted him of murder and attempted murder, but he was convicted of manslaughter along with three assault charges and two weapons charges.
Troy Ave was set to perform that night at Irving Plaza right when a fight broke out between his and Taxstone's respective camps. Gunfire soon erupted, and in addition to McPhatter, three other people were seriously injured. Troy Ave was one of the victims as he received treatment for a self-inflicted gunshot wound to the leg.
Video surveillance showed Troy firing a gun, which later led to him being apprehended at NYU Langone Hospital, where he received treatment for his injury. Authorities found the weapon used in the shooting inside Troy's car, but the rapper claimed his innocence and self-defense.
In January 2017, Taxstone was arrested in connection to the shooting and charged with one count of possession of a firearm by a convicted felon and one count of receipt of a firearm in interstate commerce. The charges came after Tax's DNA was reportedly found on the semiautomatic handgun used in the fatal shooting.
From that point on, Taxstone and Troy Ave hurled shots at each other on social media. Following his testimony in March, Troy Ave released a diss record aimed at Taxstone titled "Black Church," where he reflects on his life and plans now that he took the stand.
Reporter Matthew Russell Lee also posted a short video explaining why Taxstone blames Troy Ave for his conviction.