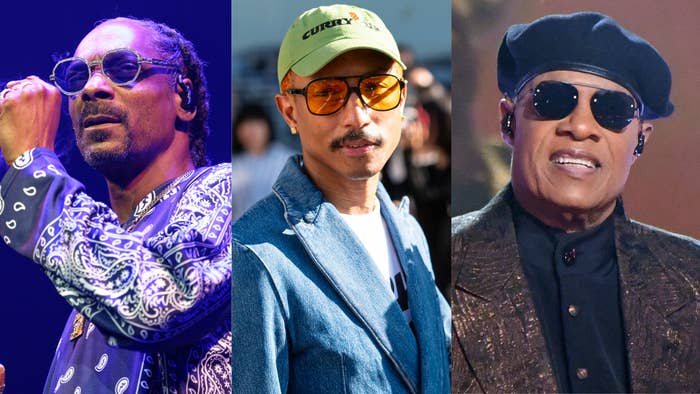 Snoop Dogg has shared a hilarious story about Pharrell getting so high during a studio session that he left him alone to produce some tracks for the legendary Stevie Wonder.
In a new interview with Rolling Stone, the Grammy-nominated rapper shared a story about him linking with Pharrell and Wonder in the studio. According to Snoop, Pharrell caught a secondhand high off the weed cypher and left the rapper in quite a predicament.
"Pharrell, and Stevie Wonder was in the studio. We smoking. We in a little-ass room," Snoop recalled. "Pharrell's done got high, he got secondhand smoke. Now Stevie in the booth and Pharrell ain't saying shit. Stevie in that motherfucker trying to figure out what to do. I'm like, 'Pharrell, produce this nigga.' This nigga's so high, he leaves Stevie in the booth and don't give him no direction."
Snoop said he was trying his best to work with Wonder, but he didn't know "what the fuck to do," and it got to the point where he told the 73-year-old to "just play anything."
"When we finished, Pharrell took all of the good shit that he played," Snoop continued. "Because he was playing harmonica, singing, and shit, and it ended up working. But it was funny to me that this n***a been around me this long, but today he finally gets so high that he leaves Stevie in there. They left a n***a in there, where he had to walk out by himself. Shout-out my nigga, Stevie."
During a visit to Jimmy Kimmel Live! last week, the Doggfather confirmed a story Mike Epps shared about the rapper getting him weed all the way out in Iceland.
"Well, last time I checked, I was the plug to yo plug; I'm the connect," said Snoop. "You know, it's good to have friends that have friends that, uh, you know, [are] international and global. They're able to get you medicated and dedicated no matter where you at."