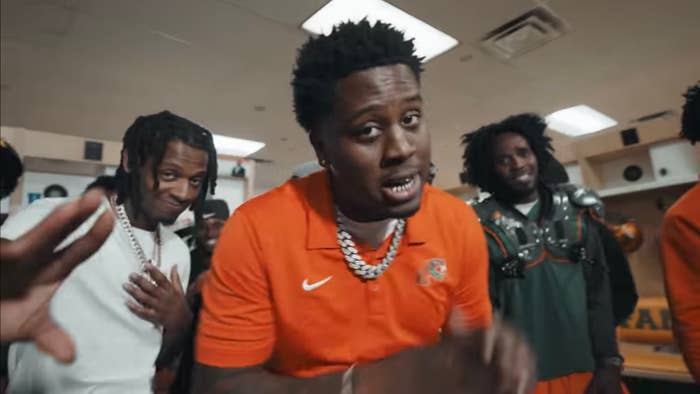 Real Boston Richey got the Florida A&M football team in some trouble after he recorded a music video in their locker room.
On Friday, FAMU football coach Willie Simmons announced all team activities were suspended and an internal investigation was launched to determine who gave the rapper authorization to use the locker room and equipment. In the video for "Send A Blitz," Richey and his team are seen turning up in the FAMU locker room at the Galimore-Powell Fieldhouse while wearing FAMU gear, including a football helmet.
The Tallahassee native released the music video on Friday and it's already up to 228,000 views as of press time. The investigation can lead to the team being found in violation of university branding and licensing.
In his statement shared on Twitter, Coach Simmons said the music video contained graphic language "that is not consistent with Florida A&M's core values, principles and beliefs." Simmons then shifted attention to his players stating they have failed to live up to what the school is known for.
"It is a privilege to wear the Orange and Green and as a football program our young men have failed to live up to the standard set before us," he wrote. "They will all learn from this mishap and we will continue to work hard every day to become the e st version of ourselves and continue to make Rattler nation proud."
On Saturday, Coach also scheduled a team meeting on Monday to get more information on Richey infiltrating the FAMU locker room.
"We are trying to talk to the right people to do everything not only to cover ourselves, but the young man (rapper Real Boston Richey) in the video," Simmons said. "There are some legal issues (with the release of the video)."