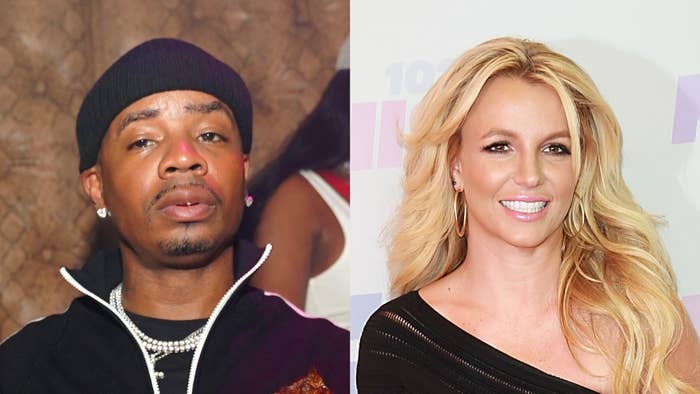 Plies was able to revel in his Britney Spears fandom when a lookalike of the singer joined him on stage during a performance.
On Monday, Plies took to his Instagram with footage from the concert, showing himself and a fan he thought was the Princess of Pop. The Florida native embraced the fan and told the audience he thought Britney came to see him perform.
The woman's name turned out to be Tasha, and Plies told her the DJ was going to play a record, and she had to bust a move. Juvenile's "Back That Azz Up" glared throughout the venue, and Tasha did her best twerk attempt as the crowd cheered her on.
"🤣🤣🤣🤣 I Thought Brittney Had Popped Up On Me Bih But It Was Tasha," Plies captioned his post. "🤣🤣🤣🤣 Well Tasha We'll Turn Your Azz Up Too!!!! 🤣🤣🤣 That Got Damn Tasha Was Tryin To Get It Together!!!! 🤣🤣 (Thanks For Participating An Being A Good Sport)..🤣🤣🤣 #Plies #IGotMotion."
Plies has made it clear he's a huge fan of Britney over the last few months. In September, he compared her to Beyoncé and highlighted her dance moves in some of her Instagram posts. One post in particular had Plies excited about Britney dancing on a pole.
"There she go, she got them ta-tas out," he said in the clip, holding a photo playing the Instagram video of Britney dancing. "Look at my little cheetah, look at my lil hot Cheeto... She made it jiggle!"
He added in the caption, "This My Beyonce U My Beyonce!!!!! I'm Drunk In Love Bih!!!!!."