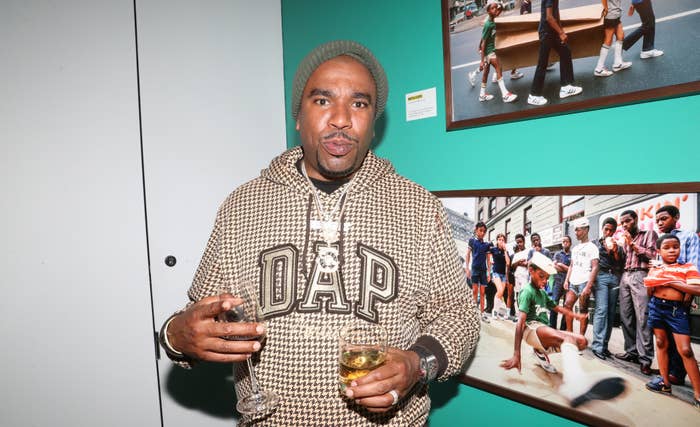 N.O.R.E. has issued a response to Cam'ron following the back-and-forth he and Joe Budden were engaged in last week. 
On April 30, the LeFrak City native took to his Twitter to clear the air between himself and Killa Cam. Noreaga shared a video in his post that featured archive footage of himself and Cam'ron speaking highly of each other. 
In his caption, N.O.R.E. reminded Cam of their friendship that started in the 90s, and claimed that all it took was a phone call to ease any tension between them. He also couldn't understand why the Purple Haze rapper went to social media instead of approaching him. 
"Me and you are friends from the 90s. You have my real life phone number. You hung out with me for days before you did Drink Champs just to make sure I was the same yalla that you know," N.O.R.E. said. "If you thought at any time I was going at you, Why would you go to the internet 1st?"
The drama between these three men started after Cam shared a clip from The Joe Budden Podcast, where Budden and N.O.R.E. had a discussion about rappers who tried to transition into the podcast game with little to no success.
"You know what's crazy? I'm looking at these rappers trying shows now—you know, rappers from our era—and they are so failing," N.O.R.E. said during the sit-down. "… They doing sports shows, they doing comedy shows. They talkin' about, 'Yo, I'm up. I'm just doing this for fun.' No, you are not!"
Budden laughed and co-signed N.O.R.E.'s statement saying: "It's great to see people fail … You can't take the blueprint and hire different contractors. They sellin' ass out here, huh?"
Neither artist mentioned anyone by name, but Cam'ron was sure Noreaga and Joe Budden were referring to his sports podcast It Is What It Is. The Harlem native suggested he was still cool with N.O.R.E., but advised he stay away from "Hoe Buddens" the "crackhead."
"Damn @therealnoreaga told you I couldn't trust you. Lolol. Im just fucking wit ya," Cam wrote in the caption. "But what other rapper from the 90's got the sports and cooking show? U know u my n***a for life. But ya man hoe buddons threw u under the bus on the very Nx episode said he didn't know who u was talking bout. I don't give a fuck how his numbers is N.O. Stay away from that crack head!!!!"
Joe Budden fired back with a post of his own, warning Cam'ron to back off from starting any static with him. According to Budden, his Harlem counterpart is "too sensitive" to go toe-to-toe with him in any capacity. 
"Now that n***a know he too sensitive to do this w me," he wrote. "Chill before I feel like playin' back & you start makin' calls again. Focus on your suits and pink set, that 'crackhead' lapped you lonnggggggggggg ago."