Joe Budden and Cam'ron are going at it again.
The drama seemingly began Friday night after Cam shared a clip from The Joe Budden Podcast, featuring special guest and fellow podcaster N.O.R.E. The episode, which premiered back in February, included a discussion about rappers who tried to transition into the podcast game with little to no success.
"You know what's crazy? I'm looking at these rappers trying shows now—you know, rappers from our era—and they are so failing," N.O.R.E. said during the sit-down. "… They doing sports shows, they doing comedy shows. They talkin' about, 'Yo, I'm up. I'm just doing this for fun.' No you are not!"
Budden busted out laughing and co-signed the remarks: "It's great to see people fail … You can't take the blueprint and hire different contractors. They sellin' ass out here, huh?"
Though Budden and N.O.R.E. didn't drop any names, Cam was convinced the men were referencing him and his new podcast, It Is What It Is. He suggested he was still cool with N.O.R.E., but urged him to stay away from "Hoe Buddens" the "crackhead."
"Damn @therealnoreaga told you I couldn't trust you. Lolol. Im just fucking wit ya," Cam wrote in the caption. "But what other rapper from the 90's got the sports and cooking show? U know u my n***a for life. But ya man hoe buddons threw u under the bus on the very Nx episode 🤦🏾‍♂️said he didn't know who u was talking bout. I don't give a fuck how his numbers is N.O. Stay away from that crack head!!!!"
To no one's surprise, it didn't take long for Budden to fire back. Just minutes after Cam's post, the former Slaughterhouse member shared an Instagram Story in which he warned Cam to fall back.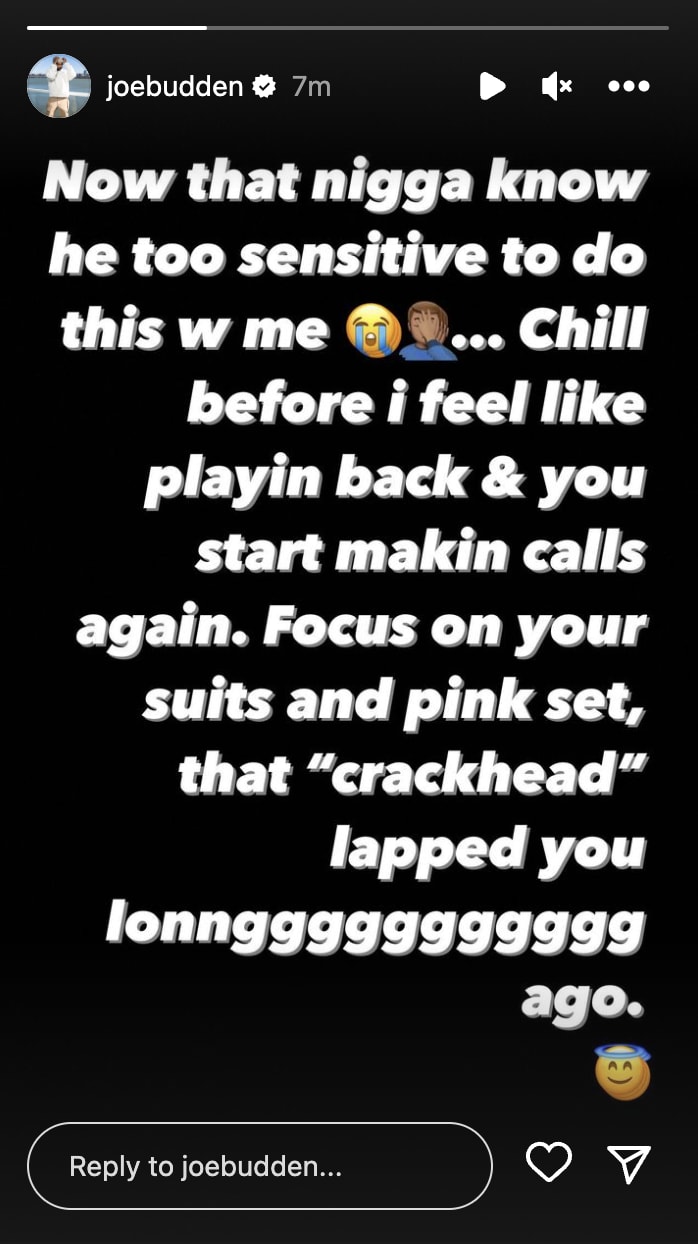 "Now that n***a know he too sensitive to do this w me," he wrote. "Chill before I feel like playin' back & you start makin' calls again. Focus on your suits and pink set, that 'crackhead' lapped you lonnggggggggggg ago."
N.O.R.E. faced backlash shortly after the Budden interview, as many believed he was shading Combat Jack. Budden addressed the controversy in episode 600, titled "The Pandy's," insisting he didn't know which rapper-turned-podcaster N.O.R.E. was referencing.
"N.O.R.E. sat there and sent some shots at, seemingly, Loud Speaker Network and Combat Jack," Budden said. "He didn't name names. He said 'Tax' but he didn't name names. Anybody that know Joe know the respect that I have for Combat Jack. You will never hear me utter one bad word about Combat Jack … If I would've known that that's what N.O.R.E. was trying to do, and I still don't know that 'cause I'm not taking the internet's word for anything. But if I thought that he was doing that, I would've stopped him in his tracks."