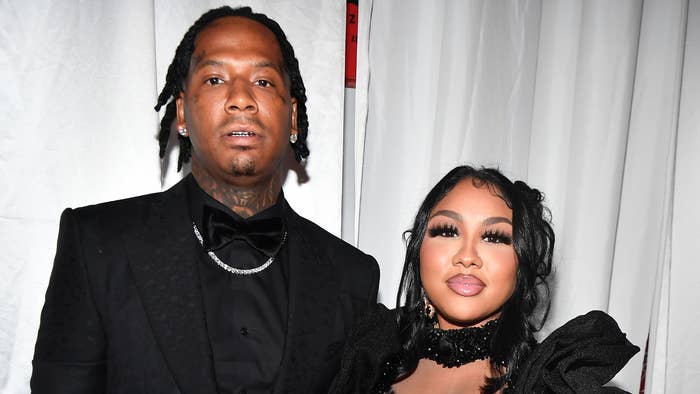 Moneybagg Yo has given some insight on how he got back in Ari Fletcher's good graces after cheating on her.
During his latest interview with Angie Martinez on the IRL Podcast, Moneybagg reflected on the tumultuous time he put himself and Fletcher through because of his infidelity. According to Moneybagg, he admitted he messed up in the past but went through the washer to make things right with his longtime partner.
Moneybagg claimed his relationship with Fletcher was the first real union he's ever had with a woman in his life, and he knew he had to pay for his transgressions if he wanted to stay with her.
"I had never been in no real relationship before. That's a big transition, so of course, you know I made some mistakes," Moneybagg said. "[Ari] ain't take that well, and it got crazier, too, like it's different when you do something, and it's like you have the person call them and tried to tell them everything, so that made it even worse on her."
He continued: "But I kept it G though like, 'You know I did that. I'm sorry, baby. I made mistakes that was then.' I really come from a pure place when I say that. I apologized, and I just wanted to work through it and get through it, and she with it and she helping me work through it. That's why I rock with her so tough cause it's like, 'I get it. I understand you. Don't let it happen again.'"
Moneybagg Yo and Ari Fletcher started dating in October 2019 and never shied away from expressing their love to each other with lavish gifts and more. Things weren't always peachy as the two unfollowed each other on Instagram several times, and by January 2021, they broke up.
They patched things up a month later, only to unfollow each other again. Things seemed to work themselves out as the two were back on in 2022, but they went through a rough patch once again after Moneybagg Yo was hit with cheating allegations.
Moneybagg Yo recently sat down with 360 With Speedy Morman and spoke about why Fletcher's love holds him down.
"That's my homie, that's my dog," he said. "Lover, friend, everything. The whole relationship. Us as men, like we need that. Some dudes feel like tough or so entitled to the point like a woman can't tell them nothing. You can't feel like that. You gotta know she got your best interest, sometimes."
2023 has been a pretty calm year for the couple, as they are still together despite the whirlwind of infidelity rumors. Most recently, Ari announced she'd join OnlyFans if her hubby's upcoming mixtape Hard to Love: Heartless Edition went No. 1 on the charts.